12/6/2014 update: Page down for the long history of UO's attempts to hide the names and resumes of the people working in its General Counsel's office. The GC's website has been "pleading the Fifth" on who works there, and their qualifications, ever since Randy Geller appointed Melinda Grier as General Counsel Emerita: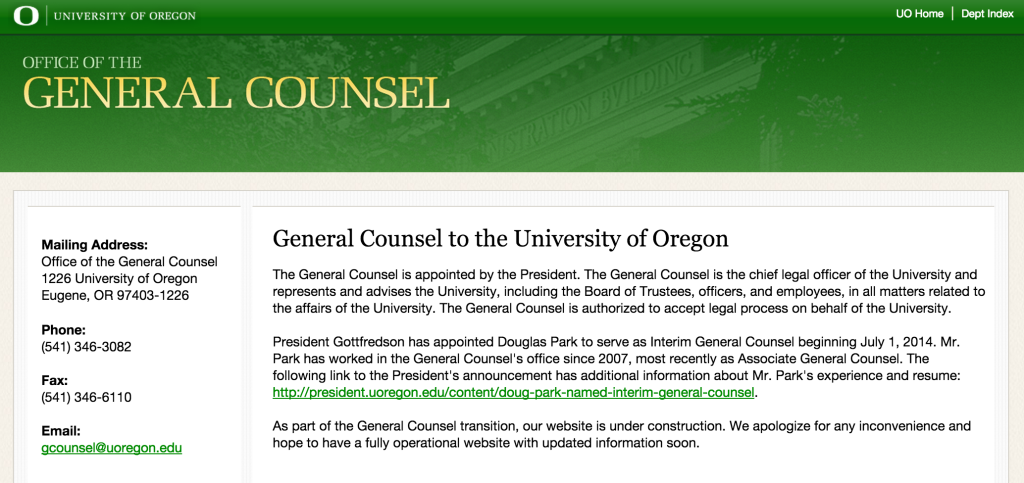 I've now managed to obtain a current listing of General Counsel attorneys:
Douglas Park: Acting General Counsel, [email protected]
Park was appointed Interim GC after President Gottfredson's mysterious firing of Randy Geller, in the midst of the basketball rape allegations cover-up. After many requests and a petition to the District Attorney, Park finally posted his resume, here.
Samantha Hill: Associate General Counsel, [email protected]
The General Counsel's office refuses to release Ms Hill's resume, arguing that it is exempt from disclosure by claiming she is a faculty member. She has never taught a class at UO. Doug Park went so far as to accuse me of sexual harassment and stalking, because I made a public records request for her resume.
Melissa Matella: Assistant General Counsel, [email protected]
The General Counsel's office refuses to release Ms Hill's resume, also arguing that it is exempt from disclosure because she is faculty. She has also never taught a class at UO.
Bryan Dearinger: Assistant General Counsel, [email protected]
He is the newest hire. The GC's office released Mr. Dearinger's resume, here, 3 days after I requested it. It's an impressive one.
Salaries: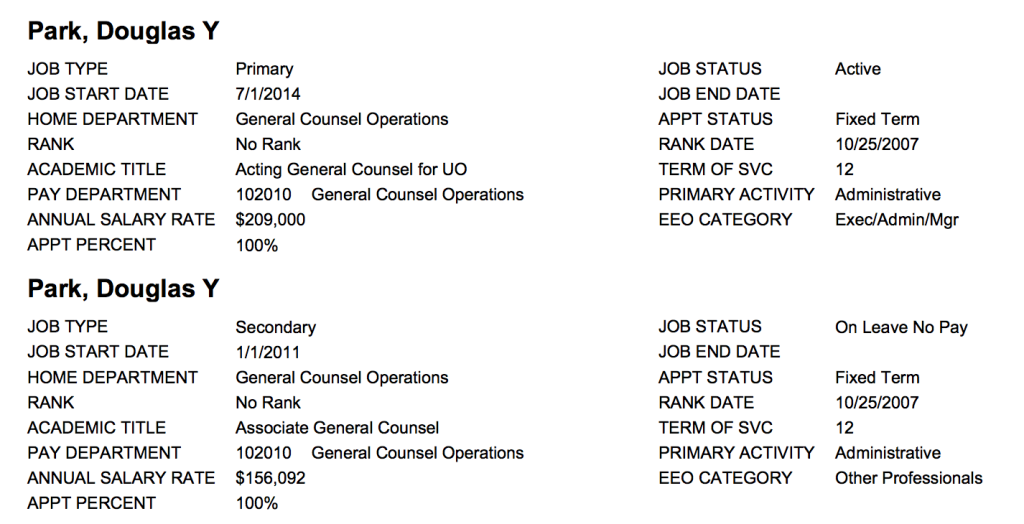 6/17/2014 update: Doug Park tells UOM to file petition with DA to see attorney resumes. So I did.
Randy Geller's retirement is effective 6/30. Presumably one of UO's associate or assistant GC's will take his place as Interim UO GC, and as Interim GC for the UO Trustees. Awesome responsibility. I'd sort of like to know the qualifications of these people. So I asked to see the resumes and the cover letters they'd sent in when applying to work at UO. Associate GC Doug Park rejected my public records request, telling me to appeal it to the DA if I wanted too. I wrote back that a simpler solution would be for him to post some basic info on the GC's website. He wouldn't. So, I took his advice, and here's the appeal:
Dear [Lane County Associate DA] Ms Perlow:
This is a petition asking you to order the University of Oregon to produce the cover letter and resume for its Associate General Counsel Samantha (Sam) Hill. I requested these documents on May 5th. On May 30th I received the response below from UO Public Records Officer Lisa Thornton, denying this request on the argument that these are "faculty records" and therefore confidential under Oregon Administrative Rule 571-30. (Available at http://arcweb.sos.state.or.us/pages/rules/oars_500/oar_571/571_030.html)
Ms Hill is not faculty under the ordinary sense of the term, or by the definition of "statutory faculty" in Oregon law, or by the job categorization system UO uses.
Page 341 of the most recent UO payroll information, available from UO at http://ir.uoregon.edu/sites/ir.uoregon.edu/files/Unclassified%20010114%20to%20033114_0.pdf describes her position as "Associate General Counsel", her primary activity as "Administrative", and her EEO category as "Other Professionals":

Nor does UO's directory information at http://uoregon.edu/findpeople/person/sam%2Ahill make any mention of faculty responsibilities: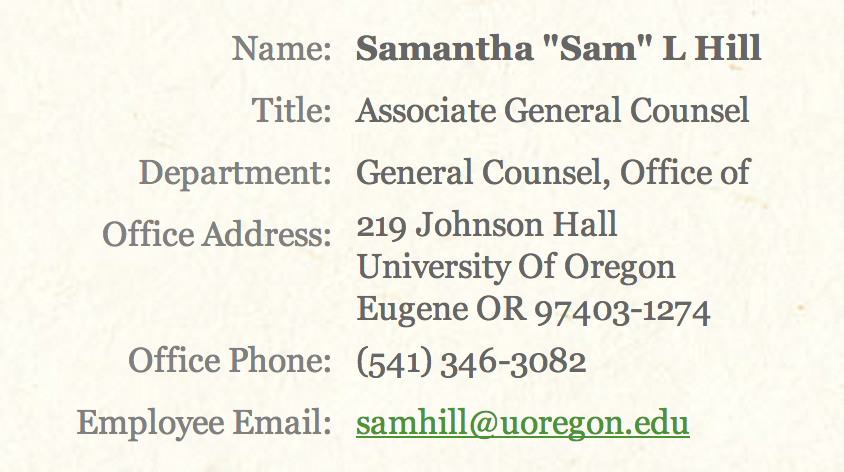 UO's working definition of "statutory faculty", with a link to the relevant 2008 DOJ opinion, is here: http://int-gov.uoregon.edu/node/29. Ms Hill does not meet the tests.
Therefore I request that you order UO produce the requested cover letter and resume for Ms Hill without further delay.
Additionally, on June 2nd I made public records requests for the resumes and cover letters or UO Assistant GC John Salmon, and Associate GC Doug Park. I have not received any response other than a pro forma acknowledgement from the Public Records Office on these requests. I believe that any decision you make on this petition will likely apply to those requests as well, so I thought you should know about those requests in advance.
Thank you for your assistance, [UO M]
6/1/2014 update: Time for a little transparency about UO's Office of the General Counsel
The UO General Counsel's office used to have a webpage listing UO's attorneys and the staff. The links went to brief bios. (They even included information about our General Counsel Emerita, Melinda Grier.) This is important, because according to the pending UO legal services policy (approved by the Senate, Gottfredson still hasn't signed it), these attorneys are charged with, among other things, issuing official UO legal opinions and defending UO and its employees against certain legal claims. The public and university employees have an interest in knowing the names of UO's lawyers, and their qualifications.
Shortly after Mike Gottfredson became president in August 2012, this information was taken down. With some digging, I've been able to determine that the GC's office currently includes the following attorneys. Links on names go to their UO directory information. I have an old resume for Geller, Ms Hill has refused to provide hers, and I have asked Park and Salmon to provide theirs.
General Counsel Loren Randolph (Randy) Geller. 2010 resume here. Resignation effective 6/30/2014.
Associate General Counsel John F. Salmon III. No resume yet. Hired in 2012.
Associate General Counsel Douglas Y (Doug) Park. No resume yet.
Associate General Counsel Samantha L. (Sam) Hill. No resume yet. Hired in 2013.
In addition, the GC contracts out substantial legal services work to outside lawyers, most notably Harrang, Long, Gary, and Rudnick. Randy Geller does his best to hide what HLGR does, and what they are paid. I've got a public records request out for that information too, but my initial inquiries show they have spent $613K so far on "Miscellaneous services and supplies" – Geller speak for outside legal help:
Old webpage:
Current webpage: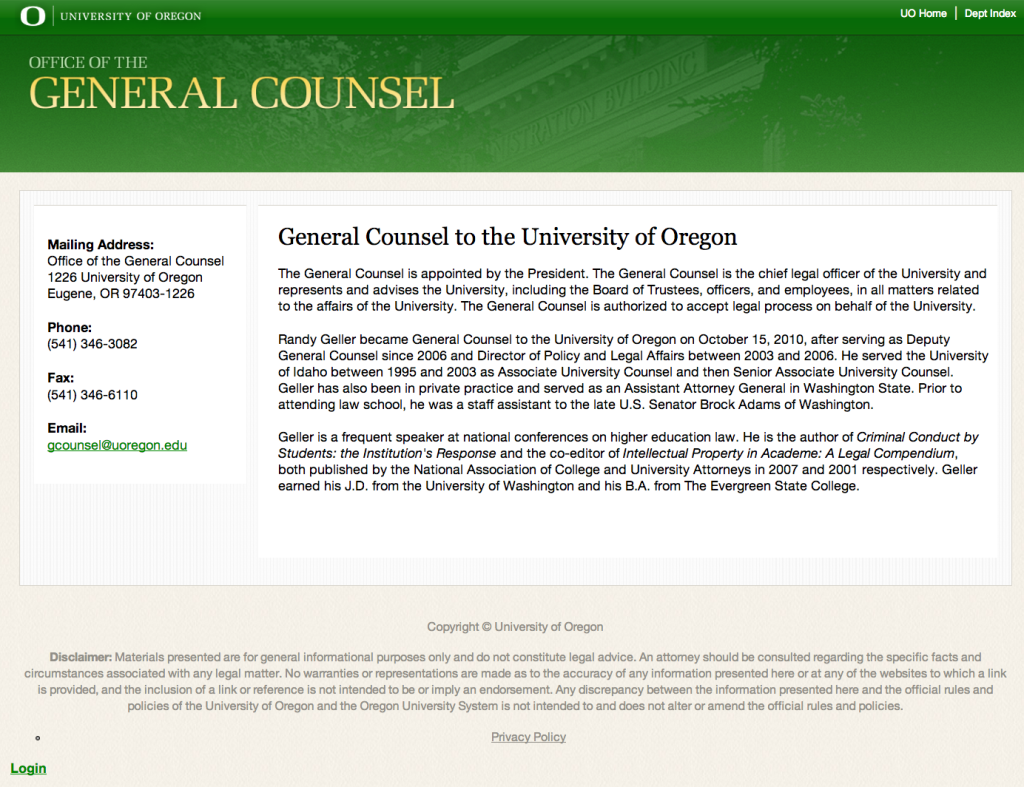 5/31/2014: UO Associate General Counsel Sam Hill refuses to show her resume
Seriously? Even Randy Geller released his resume and cover letter, eventually. UO did send me these materials for the one other finalist for her position. (Heavily redacted, and it took a month, of course.)
UO hired Sam (Samantha) Hill in 2013. Her directory information is here. She has been a member of the Oregon bar since 2007. We pay her $122k:

Other than that, Dave Hubin's public records office will tell us nothing about the person who will likely replace the disgraced Randy Geller and take charge of UO's legal services as of July 1:
From: "Thornton, Lisa" <[email protected]>
Subject: Public Records Request 2014-PRR-226
Date: May 30, 2014 at 6:02:24 PM PDT
… The cover letter and resume for Ms. Hill are protected faculty records under OAR 571-030. Ms. Hill was licensed in Georgia in 2003, and in Oregon in 2007.
The office considers this document to be fully responsive to your request, and will now close your matter. Thank you for contacting the office with your request.
Sincerely,
Lisa Thornton
Office of Public Records
University of Oregon
Office of the President