1/7/2015 update: Rumor has it that graduating law student Sam Dotters-Katz tried to keep his position on the board for another year, but a long talk with Randy Geller convinced him it was better to go quietly. UO student government then submitted several names to Governor Kitzhaber, and nominee Helena Schlegel was confirmed by the Oregon Senate just before the December board meeting. Alexandra Wallachy has an interview with her in the Emerald, here:
How have you learned to improve transparency and student outreach?
I would like to see more communication between students, faculty and administration when it comes to our governing body, as I feel that often students are not informed, and thus not aware when important decisions are being made at Board of Trusteees meetings.
Personally, I would like to initiate some of these conversations. Initially, I want to ensure students are aware of the Winter Board of trustees meeting, so they can provide a student perspective and/or opinion on the matters being discussed.
4/28/2014: Dotters-Katz to be replaced as student representative to UO Board of Trustees
The Daily Emerald has a brief story here. By statute the UO Board is to include one UO student. The current student is third year law student Sam Dotters-Katz. Law school graduation is in May, so the Governor will likely want to appoint a replacement in time for the board's June 12 meeting.
The September 2013 Emerald column explaining the unlikely events that led to Mr. Dotters-Katz's appointment as the first UO Board Student Trustee is here. Apparently he nominated himself, with minimal consultation or input from UO students. The documents from Governor Kitzhaber's office, which seem to corroborate the column, are here,  including this rather brief statement of purpose: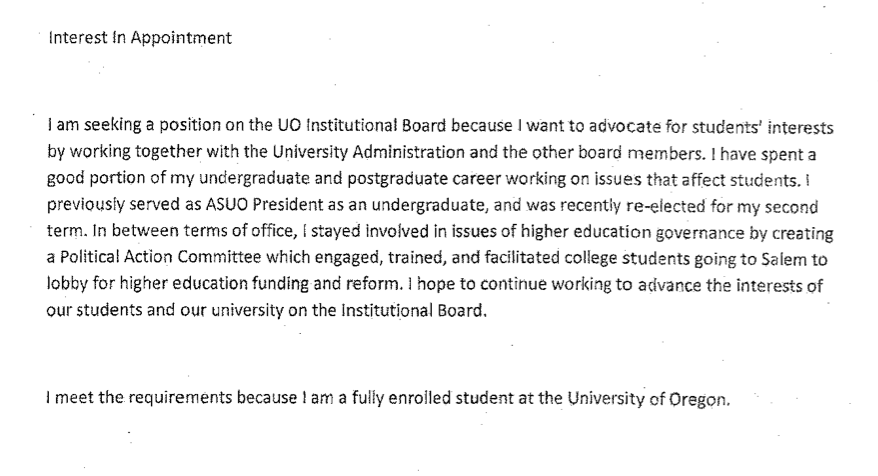 For comparison, check out the documents showing how PSU's student government solicited multiple applicants, got detailed statements, then vetted, interviewed, and selected their student trustee, here.
Here's hoping that UO's student government follows a less idiosyncratic nomination procedure this time. But from the Emerald report, it is not clear that they will.