10/14/2015: The NYT has the news here.
Whoops, that's about Berkeley Astronomy Prof Geoffrey Marcy, not about UO AAEO Director Penny Daugherty.
10/12/2015: UO's workplace relationships policy is broken
Literally. A UO Matters informant finally located and pointed me to the official webpage, http://workplacerelationships.uoregon.edu/.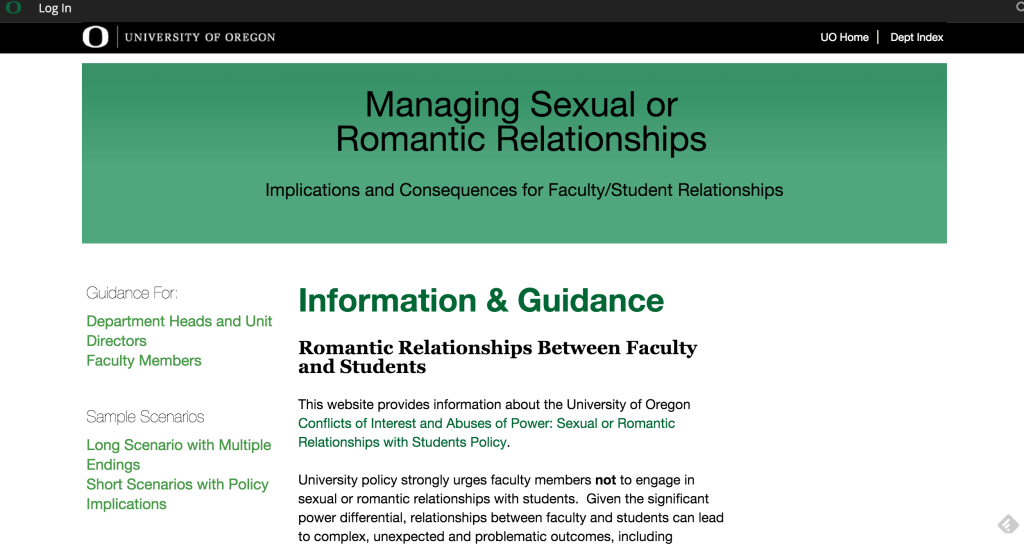 Enforcing this policy is the job of the famously incompetent Penny Daugherty, Director of Affirmative Action and Equal Opportunity. So it's not exactly a surprise when you follow the first link, to the UO policy, and get an error message: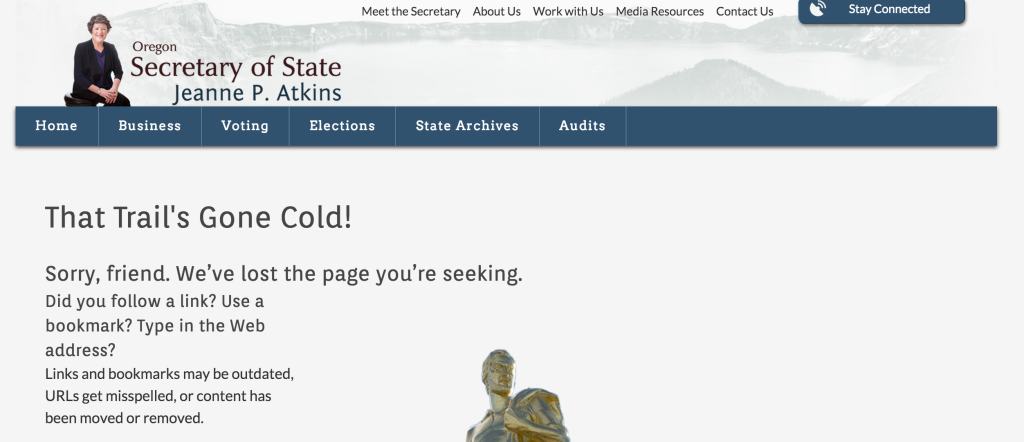 And when you follow the "Faculty Members" link, you get this:
If you become aware of a colleague who is engaged in a relationship with a student:
1. Be aware that as a faculty member or anyone else responsible for the functioning of a classroom, lab, office, or other organizational unit, you are considered an agent of the university. As such, if you become aware of behavior that could constitute discrimination, or discriminatory harassment, you must report that behavior to your department head or director, or to the OAAEO so that the university can take steps necessary to address the behavior.
Emphasis added. I'm guessing this language has not been reviewed by a competent attorney.
10/11/2015: Professor apologizes for years of sexual harassment of grad students
The NYT has the story here:
Dr. Geoffrey Marcy, an acclaimed astronomer and leader in the hunt for planets around other stars, has been found guilty of violating the sexual harassment policies of the University of California, Berkeley, where he holds the Watson and Marilyn Alberts Chair in the Search for Extraterrestrial Intelligence.
In June, the university concluded that Dr. Marcy had engaged in inappropriate behavior with students, including groping them, kissing them and touching or massaging them. He was told that subsequent violations would leave him subject to sanctions, as the vice provost, Janet Broughton, said in a letter, "that could include suspension or dismissal."
Because of the confidential nature of such investigations, Dr. Marcy's colleagues at Berkeley, which has been shaken by discrimination lawsuits under Title IX recently, and elsewhere did not know of the investigation until this past week when Buzzfeed broke the story and Dr. Marcy posted a letter of apology on his University of California website page.
… Dr. Marcy's behavior has been an open secret in the exoplanet community for years, John Johnson, an astronomer at the Harvard-Smithsonian Center for Astrophysics and a former graduate student of Dr. Marcy, said in an interview on Saturday and in a letter that was circulated to the Harvard astronomy department on Friday.
Dr. Johnson said he had refrained from speaking out while he was still a junior astronomer without tenure and vulnerable to being under Dr. Marcy's thumb — "something I'm not proud of." …
UO Prof Jennifer Freyd's 2015 survey reports very high rates of sexual harassment of female graduate students by UO faculty and staff. This is a worrying result to find, especially when these members of staff are supposed to be looking after these students. Sexual harassment claims in universities is something that is becoming more common. To help prevent any other university students from experiencing anything similar to this, it's advised that you should speak out about your harasser like these students did. To see an example of one law firm you could contact, click here or consider finding a lawyer more local to you. It's important that you don't suffer in silence, talking to people can always help.
What are UO's policies? How are they enforced in practice? By our famously incompetent AAEO Director Penny Daugherty? For what it's worth I spent a few minutes on UO's safe.uoregon.edu website and couldn't figure out much. If you can, please post a comment.