Some highlights so far:
UO has a lobbying effort underway to support Track Town's efforts to get ~$30M in state money for the scandal-ridden 2021 IAAF track championships. To put this in perspective, UO gets about $60M a year from the state for academics. The claim is made that this $30M will not dilute efforts to increase state funding for UO's academic efforts. I don't believe it.

The NYT is now on the IAAF corruption problems, with a long story here:
In that same vein, the I.A.A.F. ethics committee revealed on Monday that Isaiah Kiplagat, the president of Athletics Kenya, had been accused of receiving two motor vehicles as a gift from the Qatar Association of Athletics Federation in 2014 and 2015. David Okeyo, vice president of Athletics Kenya and an I.A.A.F. Council member, and Joseph Kinyua, the former treasurer of Athletics Kenya and Kenya's team leader at the 2015 world championships in Beijing, were also suspended.
Doha, Qatar, successfully bid for the 2019 world track and field championships in November 2014. The I.A.A.F. ethics committee statement, which made no correlation between the alleged gift and the 2019 bidding process, did not make clear whether the vehicles in question had been given to Kiplagat personally or to the Kenyan federation.
… It also would have been more convincing if Sebastian Coe, the new president of the I.A.A.F., had decided to end his long-term paid association with Nike before public pressure turned into an outcry. But at least Coe finally acted last week to announce the end an apparent conflict of interest that was apparent to everyone but him.
… There is also the issue of the 2021 World Championships, awarded to Eugene, Ore., without formal bidding in April, with Diack the driving force behind the unusual approach.
There were strong arguments for Eugene, a rare track hotbed in the United States, which has never staged a world outdoor championships despite being the sport's leading nation. Eugene had lost to Doha in the bidding for 2019.
But with Diack's credibility at an all-time low and with Nike headquarters in nearby Beaverton, Ore., the I.A.A.F. and the bidding committee are, at best, in another awkward position, even if TrackTown officials in Eugene have said that Nike played no formal role in the process and that the bid adhered to all legal and ethical norms.
12/3/2015: For the Dec 2 committee meetings, go here, Diane Dietz has a story here, focusing on the rape prevention discussion.
The RG's Diane Dietz has a good prequel, here:
A proposal to offer students guaranteed tuition for four years, a plan for upgrading residence halls and a roundtable discussion on race relations are on the agenda when the University of Oregon Board of Trustees meets Wednesday and Thursday in Eugene.
… The UO appears to be ready to meet its pledge to build or extensively renovate three residence halls before the 2021 World Championship track event comes to campus.
… In the wake of campus protests — and concerted efforts to hash out solutions — the UO Board will sit down Thursday with students, invited by UO President Michael Schill, to share their experiences at the UO and talk about current issues.
The UO Board is coming under increased pressure from the HECC, as explained here. Presumably there will be some amendments to SB 270 in the 2017 session to try and get more transparency and make the boards more responsive.
Live Blog disclaimer: My thoughts on what I think people said, meant, should have said, or should have meant. Noting is a quote unless in quotes.
Meeting of the Board — December 3, 2015 [Materials]
FORD ALUMNI CENTER, GIUSTINA BALLROOM (UNLESS OTHERWISE NOTED)
8:00 am (other times approximate) – Convene Public Meeting
1. Roundtable Discussions with Students on Race‐Related Issues (Bean, East Conference Room). President Schill has invited a group of students, in coordination from staff in CMAE, to participate in small group conversations about their experiences at the UO and current issues and events.
Reports from the Trustees are that these conversations went well and were informative for the board.
Trustee Allyn Ford gives thanks to UO and particularly Andre LeDuc  for their support in the aftermath of the Umpqua CC shooting, which he thinks should serve as a model for pooling state resources in other disaster situation.
3. Public Comment: Those wishing to provide comment must sign up advance and review the public comment guidelines either online (http://trustees.uoregon.edu/meetings) or at the check‐in table at the meeting.
James West (student) gives a cogent explanation of the financial risks to the university of the guaranteed tuition plan. Also concerned about the initial jump in tuition required by the plan, which he pegs at 10-15%, and thinks will discourage enrollment.
Shawn Stevenson (student). I'm guessing Shawn is an econ major given how logical his presentation is.  He is on the TFAB committee and doesn't see how the numbers pencil out. He explains the particular disadvantage this creates for students coming in with AP credits. Also the notch effect, and how it will mean that the incentive for 4 year graduation is smaller than expected. Argues that this plan is all show, when what UO really needs is a board working on the substantive problems. Lillis asks Moffitt if she is really having good communication with the students, given the informed opposition the students are providing. Moffitt says yes. Stevenson argues for waiting, and making it voluntary.
Why is the board pushing this? Partly because Roger Thompson thinks it will be a good marketing gimmick, and partly because the Board freaked out over last year's tuition demonstration and realizes that with the guarantee, current students will have less incentive to protest increases, since they will only fall on students who have not yet enrolled.
Joe Lowndes (Poli Sci professor, speaking for faculty union). Brief statement on how union is working for academic excellence.
Helena Schlegel (Econ student, ASUO President, and former BOT student member until she quit after Lillis cracked down on dissent.) Give the ASUO report. Concerned about tuition guarantee, ADA access, campus safety in the aftermath of UCC shootings.
Max Burns (student): Low income Oregon resident, working as Resident Assistant in dorms, on ASUO and UO Senate. Concerned about how tuition guarantee and mandatory requirement that freshmen students live in dorms (to be implemented soon). Will raise cost of UO, make us less competitive for Oregon residents in comparison to PSU, OSU. Pathway Oregon does not support transfer students, or pay for living expenses.
Scott Bartlett (alumni): He worked on the successful effort to rename Centennial after Martin Luther King. Concerned about the effort to rename Deady Hall. Doesn't deny Deady's racist failings, but goes through the history of all the good that he did, including writing prohibitions for race and religious discrimination into the UO charter, and his support for Chinese immigrants when doing so was a dangerous thing to do. Very effective speech, trustees listening carefully.
4.   President's Report
Talks about efforts to hire more faculty. Four Dean searches underway plus VP for Research. Airport interviews in February, it will be a busy spring. Schill's opportunity to rebuild UO's academic leadership.
Affordability and access: Maybe tuition guarantee proposal for March meeting. UO has put the new legislative money into increasing access for low income Oregonians, will go back and ask for more. Oregon Commitment plan will include predictive analytics to identify struggling students, advisors to help them, money to help them complete and graduate. All ruled over by a retention czar.
Hayward Field tart-up is on schedule. Gives shout out to football team, but avoids saying "Go Ducks".
Concerned about fraternities and sororities. Has a consulting report coming. Wants to support them while getting some control and minimizing the risks.
Campus needs diversity of all kinds, because we learn from different people and ideas. Issues facing Black students are particularly difficult, and he is engaged with the students, listening, engaged on working on solutions. (He's pointedly calling the student's demands "requests"). Has set up a committee to examine process for de-naming buildings and looking at Deady and Dunn. Chaired by Charise Cheney from Ethnic Studies, will include alumni. Impressed by the students he's been meeting with.
Talks about sexual violence, watched the Hunting Ground, acknowledges UO's problems. Mentions the climate surveys and the disturbingly high rates of non-consensual contact, rape. Particularly disturbed by the large number of students who report they don't trust UO to deal with rape and assault. (After the Doug Park / Shelly Kerr counseling records seizure, who would?)
As the 160over90 branding effort comes to a merciful end, we'll be trying some other ways to try and compensate for the influence of Duck athletics on people's perception of what UO is really about.
Funding campaign moving along, but while there's plenty more athletic pork in the pipeline, no new big gifts for the academic side to report.
Curry asks about faculty diversity. For those interested in slicing and dicing people by race and ethnicity, Coltrane points to the IR website, here: http://ir.uoregon.edu/sites/ir.uoregon.edu/files/FacultyDemographicsPublicVersion20140724.pdf
5.   Resolutions from Committee
‐‐Seconded Motion from ASAC:  Student conduct code – repeal of outdated IMD and consolidation of policies (pending December 2 committee action)
‐‐Seconded Motion from FFC: Repeal of SBHE policy #9 (pending December 2 committee action)
‐‐Seconded Motion from FFC: Approval of Bean Hall renovation project (pending December 2 committee action)
‐‐Seconded Motion from FFC: Naming of certain university facilities (pending December 2 committee action)
Nothing controversial. Dorm renovations are part of UO's efforts for the 2021 Track Town proposal.  Passes unanimously.
Break
6. Government Affairs Updates
6.1 State Affairs: AVP for State and Community Affairs Hans Bernard will provide trustees
with an update on state affairs, including an overview of the University of Oregon's priorities
for the 2016 legislative session.
Hans Bernard is not here? New staffer Libby Batlan gives report. The news here is that UO is saying that it is pushing back against the HECC's efforts to enforce limits on the UO Board's power, and that UO has a lobbying effort underway to support Track Town's efforts to get ~$30M in state money for the 2021 IAAF track championships.
To put this in perspective, UO gets about $60M a year from the state for athletics. The claim is made that this will not dilute efforts to increase state funding for UO's academic efforts. I don't believe it.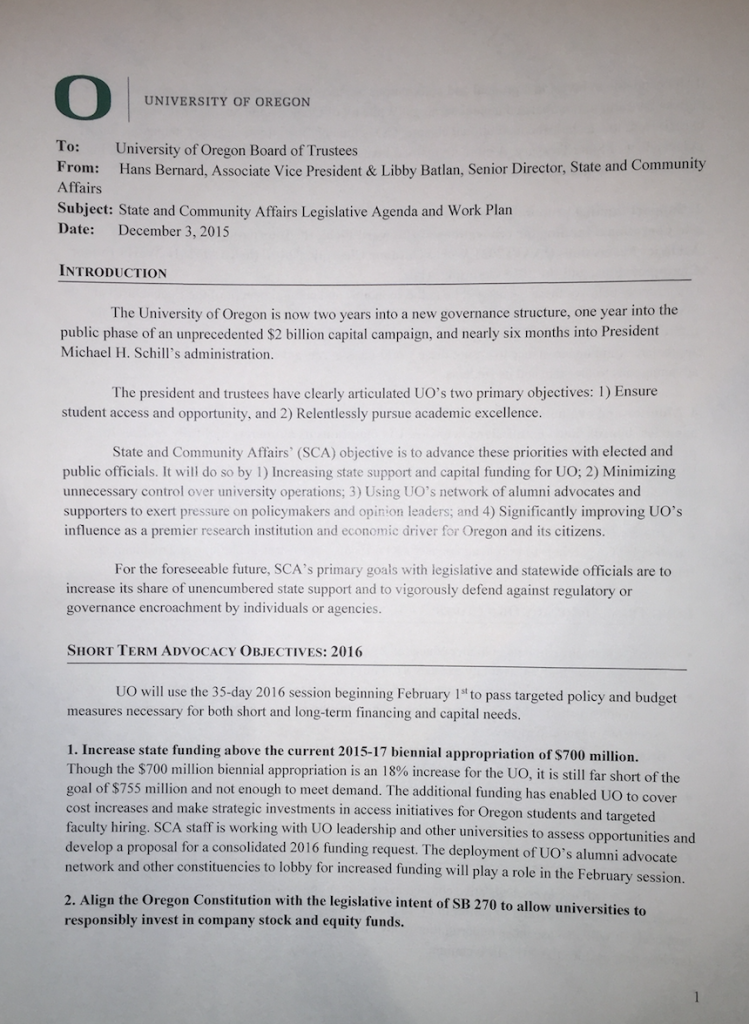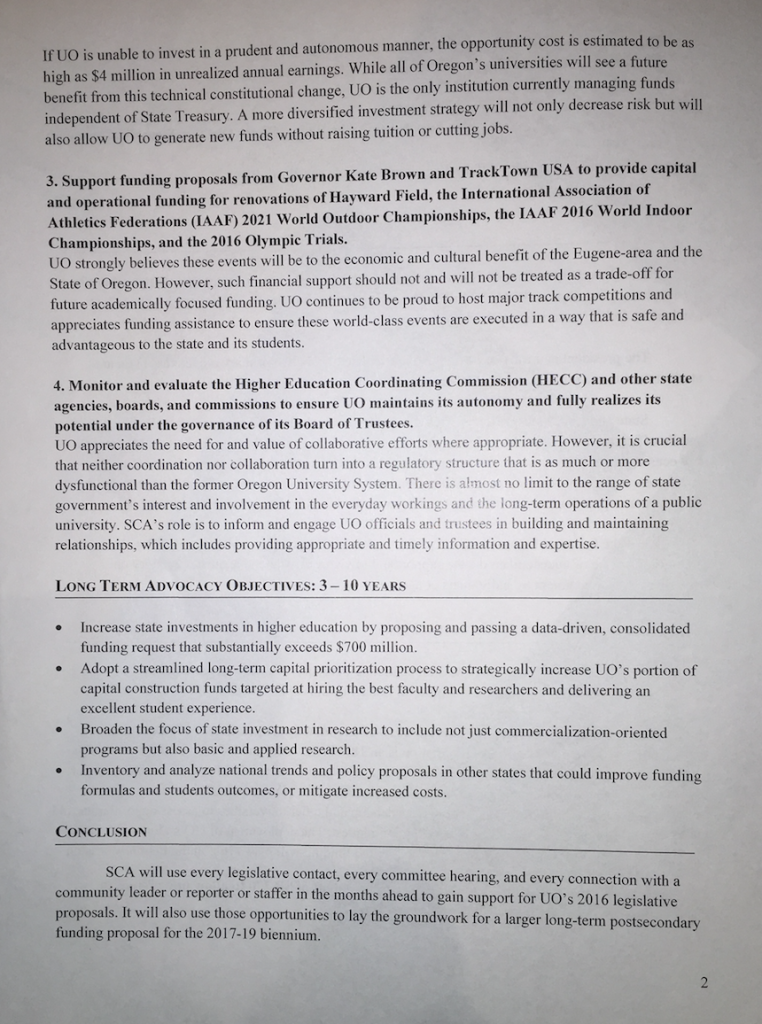 6.2 Federal Affairs: AVP for Federal Affairs Betsy Boyd will provide an update on federal
government legislation and agency activities relating to higher education and the University
of Oregon.  
Betsy Boyd presents. Talks about federal support for UO and trends. Pell grant money is crucial to Pathway Oregon. Handout shows UO students got $175M in financial aid in 2013-14. $22M in Pell grant money, $30M in federal subsidized student loans, $56M in federal unsubsidized loans, $62M in graduate/professional school loans. Compare that to $7M in state aid and $40M in UO aid (includes tuition discounts, probably also athletic scholarships).
Public Meeting Recessed
12:30 pm Small Group Lunches with Faculty
Public Meeting Reconvenes
7.   Tuition guarantee concept – update, Vice President for Finance and Administration Jamie Moffitt and Vice President for Enrollment Management Roger Thompson
Sorry, I had to miss this.