Jeff Manning has a long article explaining the current state of Track Town's bid for the 2021 IAAF track championships, in the Oregonian here, I've posted a few snippets below.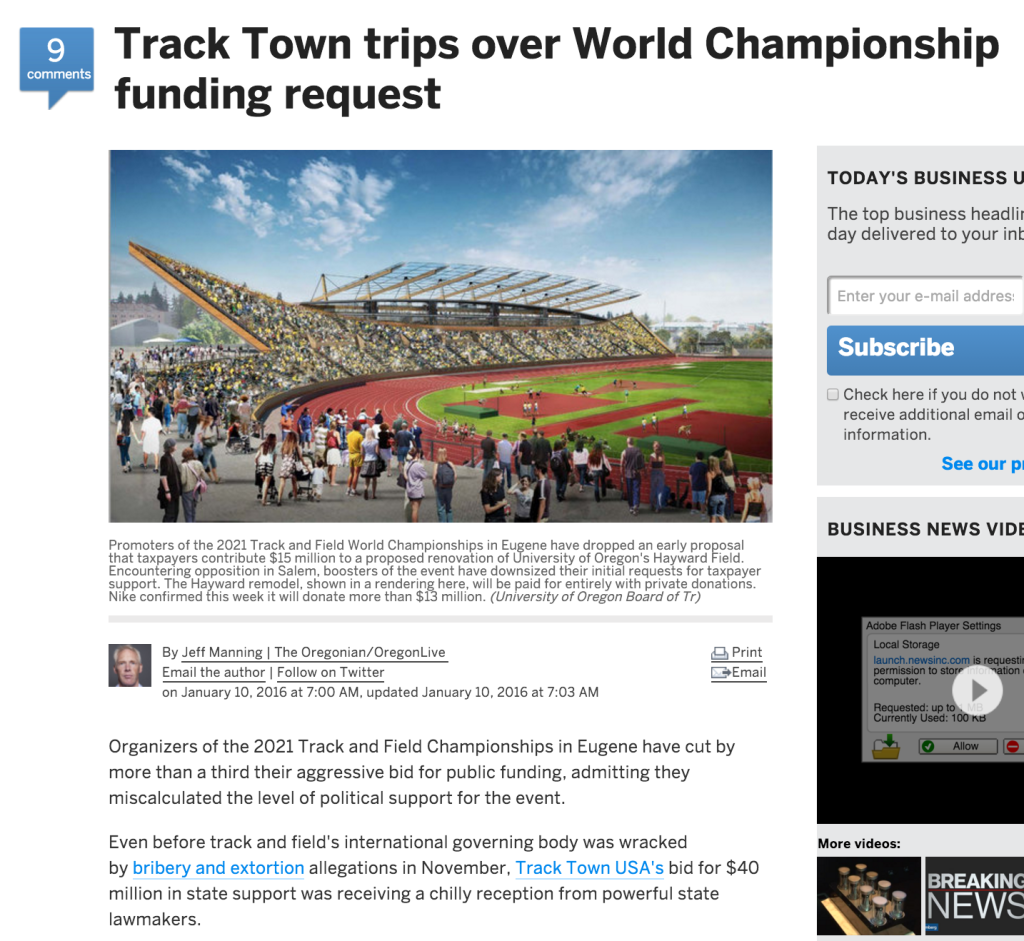 From the article:
Even before track and field's international governing body was wracked by bribery and extortion allegations in November, Track Town USA's bid for $40 million in state support was receiving a chilly reception from powerful state lawmakers. Track Town President Vin Lananna confirmed Thursday his group has pared back its agenda in the upcoming session and will seek only a lodging tax increase that is forecast to generate about $25 million for the World Championships.
While the Russians apparently paid IAAF President Lamine Diack and his son "Papa" only $1.8M to cover up drug testing results, Vin Lananna will earn about $5M by the time the IAAF championships are done. His money will come from UO, his own Track Town tax-exempt non-profit, and Nike. And it's all legal. But of course he thinks Oregon will benefit even more than he will:
Lananna predicts the nine days of intense media attention will pay enormous dividends to Oregon's hospitality industry. Just the "beauty shots" of Oregon alone — the short snippets of local scenery broadcasters will showcase — will raise the state's profile with an international audience. Lananna even suggests a resulting surge in interest in running and track and field could make Oregon a healthier state.  He envisions an ambitious series of all-comer track meets catering to kids in particular to leverage off the big event.
"To get the World Championships is a great gift," he said. "This can be a global platform for Oregon."
A $25M tax increase for athletics is a "great gift"? Yeah, the gift that keeps on taking. Great:
Track Town also asked that the University of Oregon "accelerate construction" of new student dormitories to house the 2,000 competitors, that it find temporary housing for a media contingent expected to number 3,000 and to provide university facilities and staff for free or nominal costs.
Manning explains that Oregon Senate President Peter Courtney is less than enthusiastic, and Governor Kate Brown – who went to Monaco with Vin Lananna and the UO Foundation's Paul Weinhold to promise $40m in state support to the IAAF and reiterated that as Governor, now doesn't want to talk:
"I give you my personal commitment to apply all my powers and means to obtain the financial and legislative support in order to provide the funding necessary," Brown wrote in a March 17, 2015, letter to the sport's governing body.
But since the criminal investigation became public, Brown has remained low profile. Brown's office now refuses to elaborate on what level of public funding she'll support.
Who can blame her after last week's Saul Hubbard story in the RG, which all but accused Kitzhaber of taking bribes to support the Track Town bid. State Rep Nancy Nathanson, who was supposed to write the subsidy bill, has now said that is off the table, and that if she sponsors anything "it will not be specific to helping only Track Town or the IAAF".
Manning then goes on to ask if the UO's administration should really be spending even more time and effort on sports, given our other problems:
The Chronicle of Higher Education on Sept. 14 ran an exhaustive piece about the UO entitled, "An Academic Reputation at Risk." Noting the university's chronic turnover — five presidents in six years — declining state support and "the outsized role of athletics," the article said "Oregon often fails now to measure up to higher education's heavy hitters."
President Schill is a supporter of this, however:
In a long message emailed to all staffers Wednesday, Schill warned the university will proceed with a long-planned restructuring that will include some budget cuts. [UOM: Actually, cuts in some areas, increases in others.]
"Resources are too scarce and our mission too important for us to waste money in redundant administration, poorly performing programs, and lax accountability," Schill wrote.
But the looming austerity drive does not diminish Schill's enthusiastic support of the world championships or of UO sports in general. The international attention attracted by the world championships and the "minimal" costs to the university makes it an easy call, he said.
FWIW I'm all in favor of it too, if we can move that needle from costs to benefits, and if we really count all the costs. Including, for example, the time UO Foundation CEO Paul Weinhold has spent on this, and the time and credibility that UO's chief state lobbyist Hans Bernard has used up on what has somehow, without any public discussion, become UO's #3 legislative priority:

From the December 3rd UO Board of Trustees meeting. The memo is here. This was not part of the public meeting materials, but was handed out only at the last minute. Which has sadly become the usual practice of Board Secretary Angela Wilhelms, when it comes to controversial materials.