Posted 3/30/2016, updated 4/14/2016 with UO's new $50K payment to Cleavenger's lawyers.
In  February 2014 UO's lawyers from Harrang, Long, Gary and Rudnick lost the arbitration case against former UOPD officer James Cleavenger. UO had to pay Cleavenger $30K in back wages, $6K for arbitration costs, and an unknown amount to HLGR, who typically bill $315 an hour.
UOPD  Chief McDermed and others at UO claimed Cleavenger was dishonest and should be put on the "Brady List", preventing him from getting another police job. According to K&M, our current Associate GC Doug Park participated in that decision. Cleavenger hired the Kafoury and McDougal law firm to take his First Amendment claim of retaliation and blacklisting to federal court. UO hired Andrea Coit of HLGR to defend it.
In October the jury awarded Cleavenger $755K on the grounds that UOPD Chief McDermed and others had retaliated against Cleavenger because of his exercise of his free-speech rights. His attorneys asked the judge for $500K from UO for fees and costs – in a civil rights case the losing side pays the winner's lawyers. UO replaced Andrea Coit with HLGR's Bill Gary to try and convince the judge to set aside the jury's verdict and reduce UO's $500K payment to Kafoury and McDougal.
Gary lost his quixotic attempt to get the judge to set aside the jury's verdict, but did get the judge to knock $50K off Kafoury and McDougal's bill. UO then forced UOPD Chief Carolyn McDermed into retirement, paying her $46K to leave, as Betsy Hammond of the Oregonian discovered after a public records request to UO.
Yesterday, the judge awarded Kafoury another $50K in fees and costs for successfully defending Cleavenger against Gary's pleas:
So, net, for this losing plea, UO is out however many additional billable hours Gary and HLGR charged times $315 per hour. The Emerald's Noah McGraw reported, as of October, that HLGR had billed UO $395K for losing the original case. So maybe they've made $500K or so total, if you count their fees for losing the arbitration. Add in UO's payment to the winning side's lawyers and the lawyers have made $1M or so, not counting the time of Doug Park et al. But it's not over. In March UO hired HLGR to appeal the case to the Ninth Circuit, also at $315 an hour, plus expenses.
Does anyone know the last time HLGR's lawyers actually won a major case?
I'm no behavioral economist, but Danny Kahneman's "sunk cost fallacy" comes to mind. As does Milton Friedman and "spending other people's money." I suppose when you bill $315 an hour you never really lose – even when you mistakenly email a newspaper the files your client is trying to hide. And HLGR is not off to a good start on this appeal: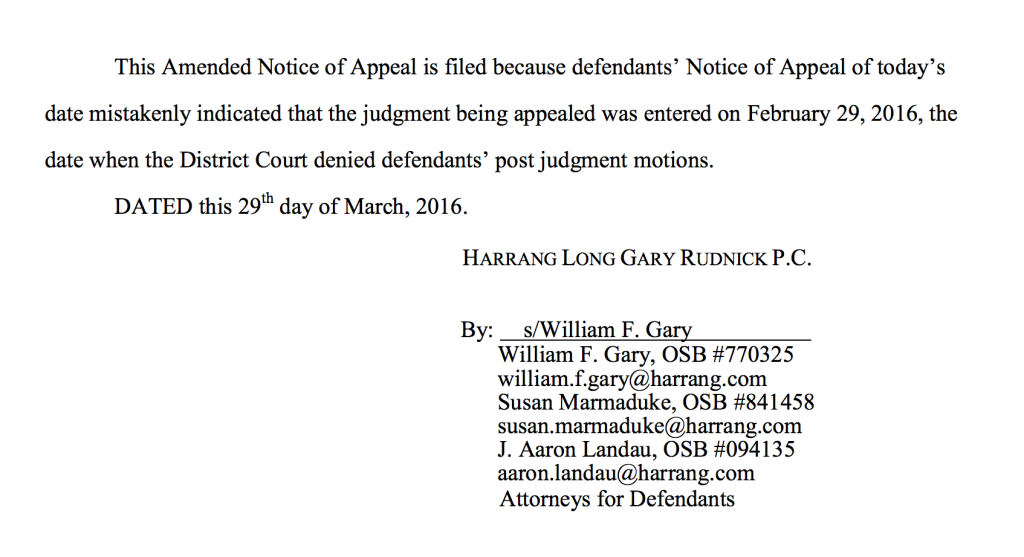 Whoops. The full docket is here. It looks like HLGR had to pay another $505 to refile the appeal correctly:

Duck PR Flack Tobin Klinger told the Oregonian that the university's insurance, not tuition money or the individual employees, would pay the damages. That's not true, and UO now says that these costs will be paid by the PURMIT risk sharing pool, meaning UO will pay about 25%, OSU about 33%, and PSU and the TRU's the rest, perhaps with some reinsurance. But they don't want to release the public records that show this.
Regardless of who pays, the bad news is that the UO administration will be spending still more years wallowing in this trough, instead of focusing on the future. The good news it that UOM will have more HLGR antics to report on – such as Andrea Coit's attempt to convince the judge that Cleavenger was involved in a Masonic blood oath conspiracy.