Jack Moran has the story in the RG here:
The University of Oregon has accepted a $242,000 settlement deal to end a legal dispute over bonuses the UO paid to then-head football coach Chip Kelly and his staff for the 2012-13 season.
"The university is glad we were able to reach a settlement agreement and now we are looking forward to the upcoming season," UO spokesman Tobin Klinger said.
The university had paid a nearly $490,000 premium for an insurance policy the UO says it thought would cover all incentive bonuses Kelly and his assistants earned in the 2012-13 season.
After the highly successful season, the UO paid out bonuses totaling nearly $688,000 and sought reimbursement under its policy. The insurer refused.
Financially, it appears the university would have been better off not buying the insurance at all, as the lawsuit settlement doesn't even cover the cost of the premium the UO paid. …
Duck Associate Athletic Director Eric Roedl, who agreed to this $490,000 contract without understanding it, has been fired: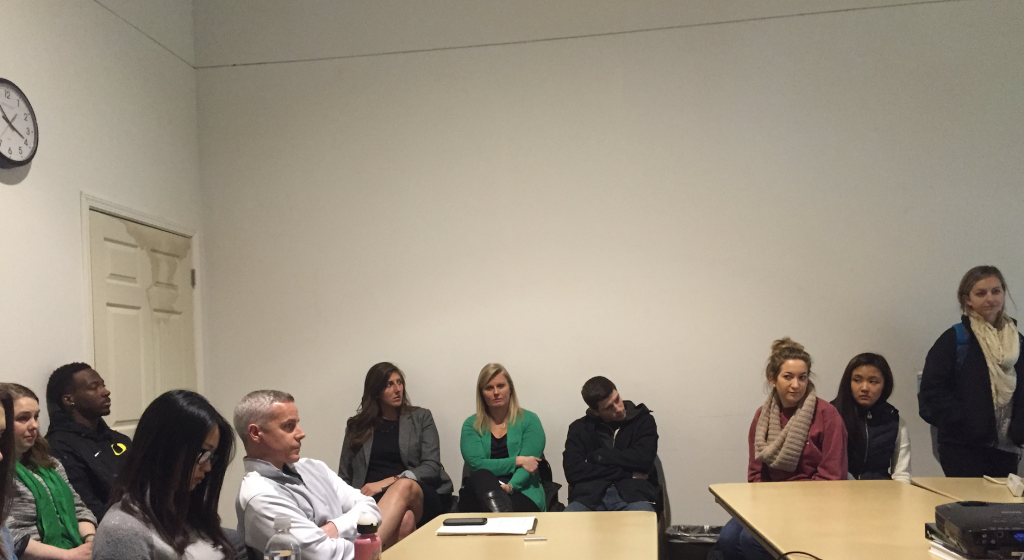 Just kidding, Rob Mullens gave him another raise:

So how much did HLGR bill UO for settling this case for 50¢ on the dollar? I don't know, but judging by the long docket below, they probably did OK at ~$300 per. Here's hoping PURMIT picked up their tab:
Case details
| | |
| --- | --- |
| Court: | ord |
| Docket #: | 6:15-cv-00260 |
| Case Name: | University of Oregon v. Drummer et al |
| PACER case #: | 120541 |
| Date filed: | 2015-02-13 |
| Assigned to: | Judge Ann L. Aiken |
| Case Cause: | 28:1332 Diversity-Insurance Contract |
| Nature of Suit: | 110 Insurance |
| Jury Demand: | Both |
| Jurisdiction: | Diversity |
Parties
Represented Party
Attorney & Contact Info
University of Oregon
Plaintiff

Joshua P. Stump
Buckley Law P.C.
5300 Meadows Road, Ste. 200
Lake Oswego, OR 97035-8617
503-242-0000
Fax: 503-241-1458
Email: [email protected]
TERMINATED: 05/28/2015

C. Robert Steringer
Harrang Long Gary Rudnick, PC
1001 SW Fifth Avenue
16th Floor
Portland, OR 97204-1116
503-242-0000
Fax: 503-241-1458
Email: [email protected]
ATTORNEY TO BE NOTICED

Monica Drummer
ThirdParty Plaintiff

Kristin L. Jordan
(See above for address)
LEAD ATTORNEY
ATTORNEY TO BE NOTICED

Robert P. Schulhof , Jr
(See above for address)
TERMINATED: 01/28/2016
LEAD ATTORNEY
ATTORNEY TO BE NOTICED

John E. Zehnder , Jr.
(See above for address)
ATTORNEY TO BE NOTICED

Arthur J Gallagher Risk Managment Services, Inc.
Counter Defendant
an Illinois corporation

Kristin L. Jordan
(See above for address)
LEAD ATTORNEY
ATTORNEY TO BE NOTICED

Robert P. Schulhof , Jr
(See above for address)
TERMINATED: 01/28/2016
LEAD ATTORNEY
ATTORNEY TO BE NOTICED

John E. Zehnder , Jr.
(See above for address)
ATTORNEY TO BE NOTICED

Marsh U.S. Consumer
Counter Claimant
a service of Seabury & Smith, Inc., a Delaware corporation

James T. McDermott
(See above for address)
LEAD ATTORNEY
ATTORNEY TO BE NOTICED

Gabriel M. Weaver
(See above for address)
ATTORNEY TO BE NOTICED
Documents
| | | | | | | |
| --- | --- | --- | --- | --- | --- | --- |
| Date Filed | Document # | Attachment # | Short Description | Long Description | Upload date | SHA1 hash |
| 2015-02-13 | 1 | 0 | | Notice of Removal of Case Number 16-15-00096 from Lane County Circuit Court. Filing Fee in amount of $400 collected. Agency Tracking ID: 0979-4009488 issued. Filer is subject to the requirements of Fed. R. Civ. P. 7.1.. Filed by Arthur J Gallagher Risk Managment Services, Inc., Monica Drummer (Attachments: # 1 Attachment Declaration of Robert P. Schulhof, in Support of Notice of Removal, # 2 Exhibit Exhibit 1). (Zehnder, John) (Entered: 02/13/2015) | | |
| | 1 | 1 | Attachment Declaration of Robert P. Schulhof, in Support of Notice of Removal | | | |
| | 1 | 2 | Exhibit Exhibit 1 | | 2015-02-17 21:25:30 | a524b6f160bccb26443bbc3cc9042b4eed5ad6ec |
| 2015-02-13 | 2 | 0 | | Corporate Disclosure Statement . Filed by Arthur J Gallagher Risk Managment Services, Inc.. (Zehnder, John) (Entered: 02/13/2015) | | |
| 2015-02-17 | 3 | 0 | | Supplement Civil Cover Sheet. Filed by All Defendants. (Schulhof, Robert) (Entered: 02/17/2015) | | |
| 2015-02-18 | 4 | 0 | | Notice of Case Assignment to Chief Judge Ann L. Aiken and Discovery and Pretrial Scheduling Order. Discovery is to be completed by 6/18/2015. Joint Alternate Dispute Resolution Report is due by 7/20/2015. Pretrial Order is due by 7/20/2015. Ordered by Chief Judge Ann L. Aiken. (ljb) (Entered: 02/18/2015) | | |
| 2015-02-20 | 5 | 0 | | Answer and Affirmative Defenses Answer to Complaint following a Notice of Removal (Related Doc. 1 ) with Jury Demand . Filed by Arthur J Gallagher Risk Managment Services, Inc., Monica Drummer. (Zehnder, John) (Entered: 02/20/2015) | 2015-02-23 14:11:16 | debf5dacd12b5a64ace39700962e7833a201c29a |
| 2015-03-06 | 6 | 0 | | First Amended Answer Affirmative Defenses and Third-Party Claims of Monica Drummer and Arthur J. Gallagher Risk Managment Services, Inc. Answer to Complaint following a Notice of Removal (Related Doc. 1 ) with Jury Demand , Third Party Complaint against Marsh U.S. Consumer . Filed by Arthur J Gallagher Risk Managment Services, Inc., Monica Drummer. (Zehnder, John) (Entered: 03/06/2015) | 2015-05-02 00:07:30 | cf264ef8e5d2ce2fb4e690b313e30f3f5808cb99 |
| 2015-03-13 | 7 | 0 | | Amended Complaint . Filed by University of Oregon against Drummer, et al. (Stump, Joshua) Modified to correct docket entry text on 3/16/2015 (ljb). (Entered: 03/13/2015) | 2015-10-06 00:07:02 | 24ecfa3e8dacd9afd648b340c4c522ba9f9fc55b |
| 2015-03-18 | 8 | 0 | | Proposed Summons On a Third-Party Complaint Filed by All Defendants. (Zehnder, John) (Entered: 03/18/2015) | | |
| 2015-03-20 | 9 | 0 | | Summons Issued Electronically as to Third-party defendant Marsh U.S. Consumer. NOTICE: Counsel shall print and serve the summonses and all documents issued by the Clerk at the time of filing upon all named parties in accordance with Local Rule 3-5. (ljb) (Entered: 03/20/2015) | | |
| 2015-03-26 | 10 | 0 | | First Summons Returned Executed as to Marsh U.S. Consumer served on 3/23/2015, answer due on 4/13/2015 Summons on a Third-Party Complaint Filed by All Defendants. (Zehnder, John) (Entered: 03/26/2015) | | |
| 2015-03-27 | 11 | 0 | | Second Answer to 7 Amended Complaint with Jury Demand , Third Party Complaint against Marsh U.S. Consumer . Filed by Monica Drummer, Arthur J Gallagher Risk Managment Services, Inc.. (Zehnder, John) (Entered: 03/27/2015) | 2015-04-01 00:10:26 | 0331d457dec8fc41b72d2f82d2e0c96c559ee906 |
| 2015-04-21 | 12 | 0 | | Acceptance/Acknowledgement of Service of Answer to Amended Complaint, Third Party Complaint 11 on Marsh U.S. Consumer(a service of Seabury & Smith, Inc., a Delaware corporation) served on 4/21/2015 Filed by All Defendants. (Zehnder, John) (Entered: 04/21/2015) | | |
| 2015-05-05 | 13 | 0 | | Motion for Extension of Time to Answer Amended Third-Party Complaint. Filed by Marsh U.S. Consumer(a service of Seabury & Smith, Inc., a Delaware corporation). (Attachments: # 1 Granting Motion) (Weaver, Gabriel) (Entered: 05/05/2015) | | |
| 2015-05-05 | 14 | 0 | | Memorandum in Support of Third-Party Defendant Marsh's Motion to Extend Time to Respond to Amended Third-Party Complaint. Filed by Marsh U.S. Consumer(a service of Seabury & Smith, Inc., a Delaware corporation). (Related document(s): Motion for Extension of Time to Answer a Complaint/Petition 13 .) (Weaver, Gabriel) (Entered: 05/05/2015) | | |
| 2015-05-08 | 15 | 0 | | Declaration of Gabriel Weaver in Support of Unopposed Motion for Extension of Time to Respond to Third-Party Complaint. Filed by Marsh U.S. Consumer(a service of Seabury & Smith, Inc., a Delaware corporation). (Related document(s): Motion for Extension of Time to Answer a Complaint/Petition 13 .) (Attachments: # 1 Proposed Order Proposed Order Granting Unopposed Motion to Extend Time) (Weaver, Gabriel) (Entered: 05/08/2015) | 2015-05-09 23:27:29 | e711ce636d75a82b6410db3a7136296f7a7cbc49 |
| | 15 | 1 | Proposed Order Proposed Order Granting Unopposed Motion to Extend Time | | | |
| 2015-05-12 | 16 | 0 | | ORDER: Granting Motion for Extension of Time to Answer 13 . Answer is due by 5/22/2015. See formal ORDER. Ordered by Chief Judge Ann L. Aiken. (rh) (Entered: 05/12/2015) | | |
| 2015-05-22 | 17 | 0 | | Stipulated Motion for Extension of Time to Answer Third Party Complaint. Filed by Marsh U.S. Consumer(a service of Seabury & Smith, Inc., a Delaware corporation), Monica Drummer, Arthur J Gallagher Risk Managment Services, Inc.(an Illinois corporation). (Attachments: # 1 Proposed Document Proposed Order) (Weaver, Gabriel) (Entered: 05/22/2015) | | |
| 2015-05-27 | 18 | 0 | | ORDER: Granting Motion for Extension of Time to Answer 17 . Answer is due by 6/22/2015. Ordered by Chief Judge Ann L. Aiken. (cw) (rh). (Entered: 05/27/2015) | | |
| 2015-05-28 | 19 | 0 | | Notice of Attorney Substitution:Attorney C. Robert Steringer is substituted as counsel of record in place of Attorney Joshua P. Stump Filed by University of Oregon (Steringer, C.) (Entered: 05/28/2015) | 2015-06-16 20:00:05 | 635feaa445261a54f82f66c7e8435861572dd336 |
| 2015-06-17 | 20 | 0 | | Unopposed Motion for Extension of Discovery & PTO Deadlines and Memorandum of Law in Support. Filed by University of Oregon. (Steringer, C.) (Entered: 06/17/2015) | | |
| 2015-06-17 | 21 | 0 | | Declaration of C. Robert Steringer . Filed by University of Oregon. (Related document(s): Motion for Extension of Discovery & PTO Deadlines 20 .) (Steringer, C.) (Entered: 06/17/2015) | 2015-09-18 15:48:29 | 6f22a2b33810586462cf6e7a625445af8db2837d |
| 2015-06-18 | 22 | 0 | | ORDER: Granting Motion for Extension of Discovery & PTO Deadlines 20 . All pleadings to be filed pursuant to Fed. R. Civ. P. 7(a) and 15, all claims, remedies and parties to be joined pursuant to Fed. R. Civ. P. 18 and 19, all pretrial, discovery and dispositive motions to be filed, all discovery to be completed and parties are to confer as to Alternate Dispute Resolution pursuant to LR 16-4(c) by 9/16/2015. Ordered by Chief Judge Ann L. Aiken. (rh) (Entered: 06/18/2015) | | |
| 2015-06-18 | 23 | 0 | | Fed. R. Civ. P. 26(a)(1) Agreement . Filed by University of Oregon. (Steringer, C.) (Entered: 06/18/2015) | | |
| 2015-06-22 | 24 | 0 | | Motion to Dismiss for Failure to State a Claim and Memorandum of Law in Support of Same. Oral Argument requested. Filed by Marsh U.S. Consumer(a service of Seabury & Smith, Inc., a Delaware corporation). (Weaver, Gabriel) (Entered: 06/22/2015) | | |
| 2015-06-22 | 25 | 0 | | Declaration of Gabriel Weaver in Support of Motion to Dismiss for Failure to State a Claim. Filed by Marsh U.S. Consumer(a service of Seabury & Smith, Inc., a Delaware corporation). (Related document(s): Motion to Dismiss for Failure to State a Claim 24 .) (Attachments: # 1 Exhibit A) (Weaver, Gabriel) (Entered: 06/22/2015) | 2015-08-19 00:33:41 | e804c32a750b194a7f749ea615bed74b19df31de |
| | 25 | 1 | Exhibit A | | | |
| 2015-07-01 | 26 | 0 | | Unopposed Motion for Extension of Time to File a Response/Reply To Extend Time to Respond to Third party Defendant Marsh U.S. Consumer's to Motion to Dismiss for Failure to State a Claim and Memorandum of Law in Support of Same 24 . Filed by All Defendants. (Zehnder, John) (Entered: 07/01/2015) | | |
| 2015-07-09 | 27 | 0 | | ORDER: Granting Motion for Extension of Time to File Response/Reply to Motion to Dismiss for Failure to State a Claim and Memorandum of Law in Support of Same 24 filed by Marsh U.S. Consumer. Third-Party Plaintiffs' response to Third-Party Defendant Marsh U.S. Consumer's motion to dismiss 24 is due July 27, 2015. Ordered by Chief Judge Ann L. Aiken. (rh) (Entered: 07/09/2015) | | |
| 2015-07-17 | 28 | 0 | | Unopposed Motion for Extension of Time to File a Response/Reply Third-Party Plaintiffs' Unopposed Motion to Extend Time to Respond to Third-Party Defendant Marsh U.S. Consumer's Motion to Dismiss to Motion to Dismiss for Failure to State a Claim and Memorandum of Law in Support of Same 24 . Filed by All Defendants. (Zehnder, John) (Entered: 07/17/2015) | | |
| 2015-07-21 | 29 | 0 | | ORDER: Granting Motion for Extension of Time to File Response/Reply to Motion to Dismiss for Failure to State a Claim and Memorandum of Law in Support of Same 24 filed by Marsh U.S. Consumer. Response is due by 8/10/2015. Ordered by Chief Judge Ann L. Aiken. (rh) (Entered: 07/21/2015) | | |
| 2015-08-06 | 30 | 0 | | Final Motion for Extension of Time To Extend Time to Respond to Third-Party Defendant Marsh U.S. Consumer's Motion to Dismiss. Filed by Arthur J Gallagher Risk Managment Services, Inc.(an Illinois corporation), Monica Drummer. (Zehnder, John) (Entered: 08/06/2015) | | |
| 2015-08-11 | 31 | 0 | | ORDER: Granting Motion for Extension of Time 30 . Third-Party Plaintiffs' Response to Third-Party Defendant's Motion to Dismiss is due by 8/20/2015. Ordered by Chief Judge Ann L. Aiken. (rh) (Entered: 08/11/2015) | | |
| 2015-08-20 | 32 | 0 | | Response Monica Drummer and Arthur J. Gallagher Risk Management Services, Inc.;s Response to Third-Party Defendant Marsh's Motion to Dismiss to Motion to Dismiss for Failure to State a Claim and Memorandum of Law in Support of Same 24 Oral Argument requested. Filed by Arthur J Gallagher Risk Managment Services, Inc.(an Illinois corporation), Monica Drummer. (Zehnder, John) (Entered: 08/20/2015) | | |
| 2015-08-20 | 33 | 0 | | Declaration of Robert P. Schulhof, Jr. In Support of Monica Drummer and Arthur J. Gallagher Risk Managment Services, Inc.'s Response to Third-Party Defendant Marsh's Motion To Dismiss. Filed by Arthur J Gallagher Risk Managment Services, Inc.(an Illinois corporation), Monica Drummer. (Related document(s): Response to Motion, 32 .) (Attachments: # 1 Exhibit) (Zehnder, John) (Entered: 08/20/2015) | 2015-09-02 20:50:40 | accae312ea002c20fc2c387c244636877aa6e0ed |
| | 33 | 1 | Exhibit | | 2015-09-02 20:59:38 | 8da7ca56c7ad9a68ce10b87f70b675d3d9efb225 |
| 2015-09-01 | 34 | 0 | | Unopposed Motion To Extend Discovery Deadlines. Filed by Arthur J Gallagher Risk Managment Services, Inc.(an Illinois corporation), Monica Drummer. (Zehnder, John) (Entered: 09/01/2015) | | |
| 2015-09-01 | 35 | 0 | | Declaration of Robert P. Schulhof, Jr. In Support Of Motion To Extend Discovery Deadlines. Filed by Arthur J Gallagher Risk Managment Services, Inc.(an Illinois corporation), Monica Drummer. (Related document(s): Motion – Miscellaneous 34 .) (Zehnder, John) (Entered: 09/01/2015) | | |
| 2015-09-02 | 36 | 0 | | ORDER: Granting Unopposed Motion To Extend Discovery Deadlines 34 . Discovery to be completed by 2/15/2016. Dispositive motions are due by 2/15/2016. Joint ADR and Pretrial Order are due by 2/15/2016. Ordered by Chief Judge Ann L. Aiken. (rh) (Entered: 09/02/2015) | | |
| 2015-09-08 | 37 | 0 | | Reply to Motion to Dismiss for Failure to State a Claim and Memorandum of Law in Support of Same 24 Oral Argument requested. Filed by Marsh U.S. Consumer(a service of Seabury & Smith, Inc., a Delaware corporation). (Weaver, Gabriel) (Entered: 09/08/2015) | 2015-09-15 03:39:47 | 7a3dcabf7193421166ab567cb9f2de94821c35f2 |
| 2015-11-10 | 38 | 0 | | OPINION AND ORDER: Marsh's Motion to Dismiss 24 is GRANTED as to AJG's negligence-based claims (third and fourth causes of action) and DENIED in all other respects. See formal OPINION AND ORDER. Signed on 11/10/2015 by Chief Judge Ann L. Aiken. (rh) (Entered: 11/12/2015) | 2015-11-17 01:35:09 | 67da614fbccb9e6ebaeeacd228148ba196476d22 |
| 2015-11-23 | 39 | 0 | | Scheduling Order by Chief Judge Ann L. Aiken. Telephone Status Conference is set for 12/11/2015 at 02:00PM by telephone before Chief Judge Ann L. Aiken. The Court will send call-in instructions prior to the call. Ordered by Chief Judge Ann L. Aiken. (rh) (Entered: 11/23/2015) | | |
| 2015-11-25 | 40 | 0 | | Answer to 11 Answer to Amended Complaint, Third Party Complaint , Counterclaim Arthur J Gallagher Risk Managment Services, Inc.(an Illinois corporation). Filed by Marsh U.S. Consumer(a service of Seabury & Smith, Inc., a Delaware corporation). (Attachments: # 1 Exhibit A) (Weaver, Gabriel) (Entered: 11/25/2015) | 2015-12-08 00:08:29 | 0ed6671b0a32a896039dc92e7e78f76b067c4ea1 |
| | 40 | 1 | Exhibit A | | 2015-12-08 00:18:45 | 70f3424d59bdde31fc1be2ca962d8721d8ceb375 |
| 2015-12-11 | 41 | 0 | | MINUTES of Proceedings: Status Conference. Parties are to schedule mediation. All court deadlines are stayed pending the completion of mediation. Telephone Status Conference is set for 4/27/2016 at 09:00AM by telephone before Chief Judge Ann L. Aiken. Court will send call-in instructions prior to the call. C. Robert Steringer present as counsel for plaintiff. John E. Zehnder, Jr. present as counsel for defendants. James T. McDermott and Gabriel Weaver for Third Party Defendants. Court Reporter: Kristi Anderson. Chief Judge Ann L. Aiken presiding. (rh) (Entered: 12/15/2015) | | |
| 2016-01-28 | 42 | 0 | | Notice of Attorney Substitution:Attorney Kristin L. Jordan is substituted as counsel of record in place of Attorney Robert P. Schulhof, Jr Filed by All Defendants (Zehnder, John) (Entered: 01/28/2016) | | |
| 2016-04-14 | 43 | 0 | | Scheduling Order by Judge Ann L. Aiken. Telephone Status Conference set for 4/27/2016 at 09:00AM is VACATED. Ordered by Judge Ann L. Aiken. (rh) (Entered: 04/14/2016) | | |