Meeting of the Board — 1:45PM December 1-2, 2016 [Materials]
The 2015-16 audited financial statements are finally posted here, with past statements here. Spending on Instruction is up 9% over 3 years, spending on research is down, spending on Institutional Support (i.e. administration) is up 17%.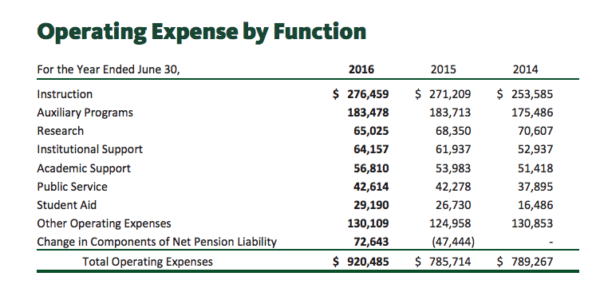 Despite previous requests from the board, UO is still not breaking out Athletics in these operating cost reports.
UO is still stuck with a pile of debt from Knight Arena and the baseball stadium, but is gradually paying that off (unfortunately the bonds were sold without a provision for refinancing) and will be able to borrow for replacing dorms, etc.: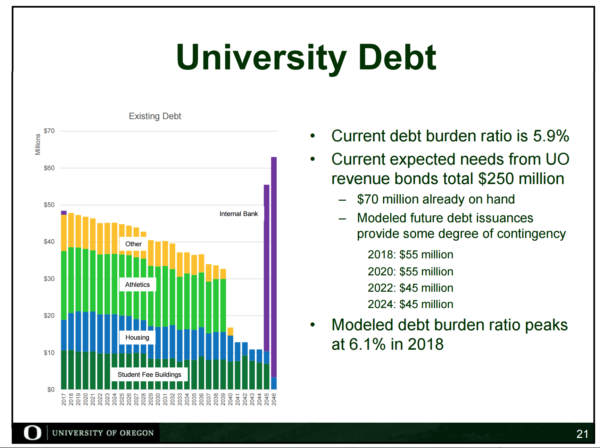 FRIDAY, DECEMBER 2 – 9:00 am (other times approximate) – Reconvene Public Meeting
4. UO Portland Vision Statement: Jane Gordon, Vice Provost for UO Portland (Moved from Th)
Sorry, missed most of this.
6. Seconded Motions and Resolutions (Pending December 1 committee action) (Action)
–Recommendation from EAC: Selection of Board officers
Passes on a voice vote with no discussion.
–Seconded Motion from FFC: Authorizing Acquisition of Property Rights
Maybe I missed this.
–Seconded Motion from FFC: Authorization for Use of Certain Derivatives
Agreement to settle UO's $42M lawsuit against the construction companies over shoddy construction of the Global Scholars Hall. UO gets $6M in work to fix the buildings over 3 years, so it will be ready for the IAAF, plus $1M to pay for UO's external lawyers. I thought there was some cash involved too, but maybe I'm wrong.
Passes on a voice vote.
7. Long-Range Facilities and Physical Infrastructure Planning: Michael Harwood, Associate Vice President for Campus Planning and Facilities Management
No discussion of Ron Lovinger's idea about moving Franklin Blvd back along the railroad tracks to allow for joining the Knight Campus to the regular campus. New Black Cultural Center to be constructed near Hayward Field. Many other new construction and renovation projects. Unfortunately there don't seem to be any plans to tear down PLC or Collier house.
8. Budget Overview and Key Cost Drivers: Jamie Moffitt, Vice President and CFO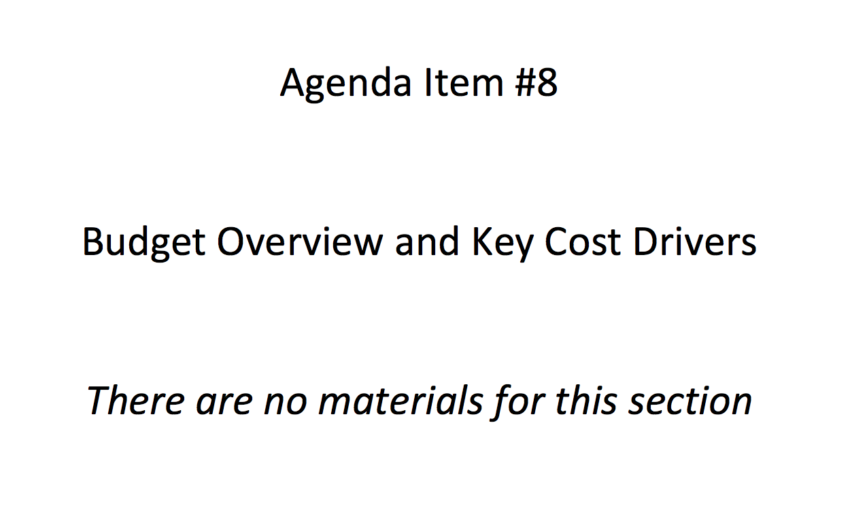 Of course not. Wouldn't want the Trustees to have this in advance – they might ask informed questions.
The board's public talking point on enrollment is that it's leveled off in a planned effort to avoid overcrowding, not declining as Diane Dietz has reported. Actually they're both sort of right – freshman enrollment is steady (below, by residency) but past large classes are finally graduating. Lots more on the IR website at ir.uoregon.edu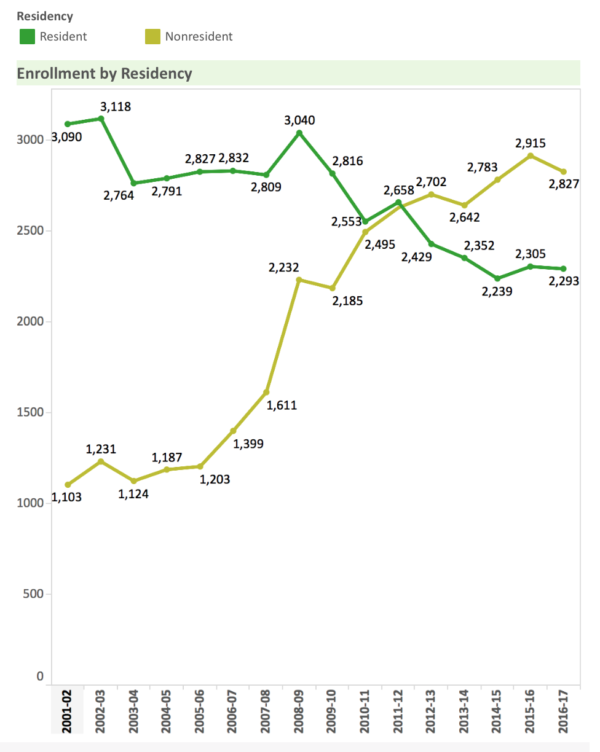 Moffitt & Schill explain that out-of state tuition is at market, but there's still room to increase in-state tuition. UO has increased spending on tuition discounts, much of it for in-state tuition, and the Governor's budget also projects more state funding for financial aid for low income students. So my take is that increases in the posted tuition price will *not* mean increases of the same magnitude for our low SES students.
Moffitt talks about how the administration gives itself raises according to the same scale that the faculty union negotiates. Why? She also says that the union contract includes promotional raises that the administrators don't get, but she's obfuscating: OA's get promotions and new job titles, and raises to go along with them. How big? I don't know, but administrative spending us up 23% over 3 years.
Schill notes that UO is essentially subsidizing the state's other employees by participating in PEBB, because our employees are healthier. (I think this is $5-10M a year – OUS's Jay Kenton had a good presentation about it a few years ago.)
Schill asks abut Title IX costs. $1M a year? Moffitt explains that it's hard to calculate, but yes costs and hiring have gone up. Not to mention how much money we're paying to cover for Penny Daugherty's AAEO office mistakes. Lillis asks Moffitt to prepare a summary of these costs.
Bottom line is that Moffitt is predicting a 5% increase in UO's "Education and General" costs for 2017-18, on a base of about $500M.
Moffitt and Schill tell the board that UO's administrative staffing is below our AAU peers. Of course so is our faculty staffing.
Obviously there are many places UO can cut administrative spending and also some places where we need to spend more – despite the 23% increase over the past 3 years. The board has not been give anywhere near enough information to have an informed discussion on this.
Schill notes that the Knight Campus will allow UO to recruit more top Oregon students to do science.
9. State Government Affairs: Hans Bernard, Assistant Vice President for State Affairs; Libby Batlan, Senior Director for State Affairs
Hans Bernard has sent this helpful report on UO's Legislative Agenda and the Governor's budget, here, starting with the usual PR bragging: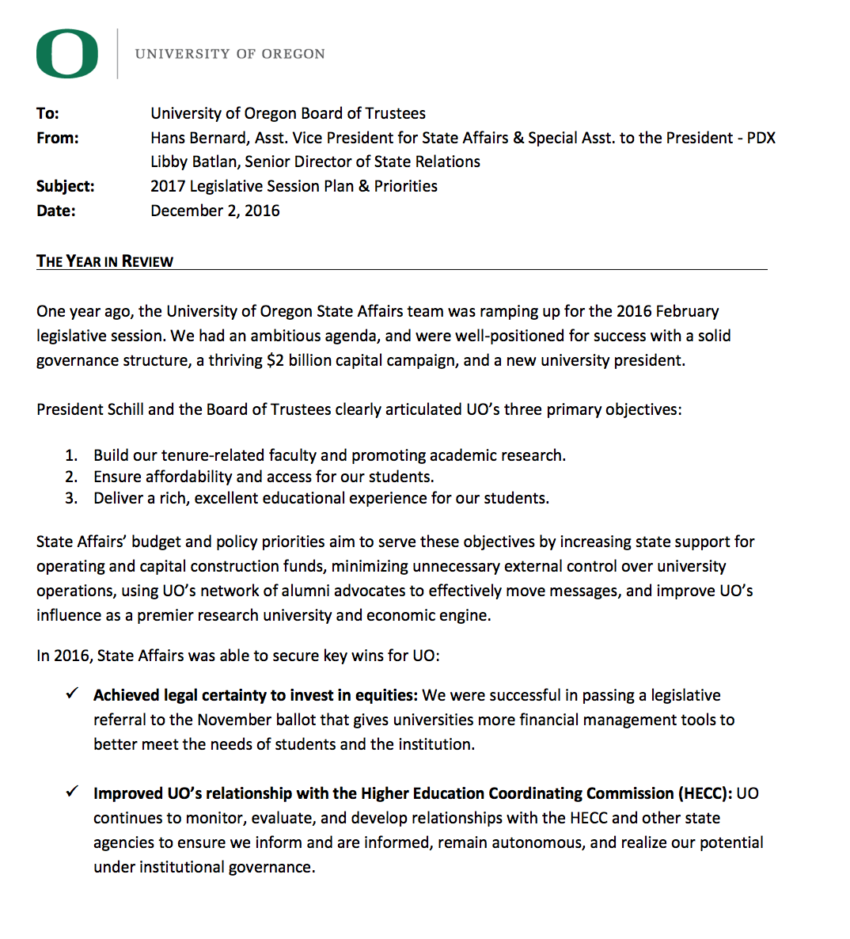 Here's the beef: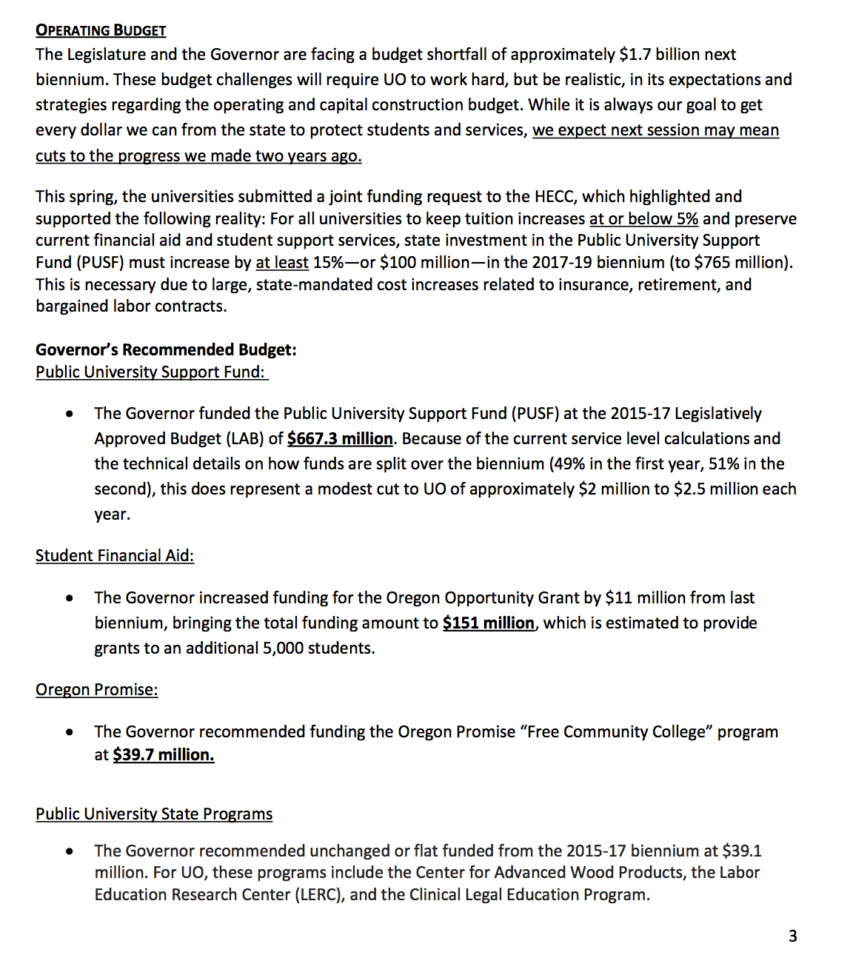 UO got $44M of $55M request for a new classroom and office building. UO will pay $30M in gifts and our own bonds. The missing $11M would have gone to fund renovation of the offices of the administrators and faculty who move into the new building. (This building is in addition to the Tykeson building, for which we got $17M last round.)
Governor agreed to fund the $100M asked for the Knight Campus over 3 biennia. UO is going to try and accelerate that.
Peter Bragdon says he's willing to join Will Paustian in a protest in Salem over the state's refusal to fund higher ed. (Anyone know what the Time Place and Manner free speech restrictions are for the capitol's lobby?)
10. Knight Campus for Accelerating Scientific Impact: Patrick Phillips, Acting Executive Director
Patrick Phillips does a great job explaining why the campus is excited about this – more research, more good students – and why it will be good for the state.
Schill gives the Senate a shout-out for its enthusiasm and support for helping implement this project.
Willcox asks if the Campus Planning Committee will be involved. Moffitt: Sort of. They've been briefed, and are supportive.
Ginevra Ralph notes that UO should collaborate more with local businesses to help solve the spousal hire issues that UO currently faces, and which will need to be better addressed in order to hire all these new faculty.
12:17PM: Meeting adjourns, then subcommittee reconvenes to approve the GIS programs left over from yesterday.