8/23/2017: The RG's Austin Meek's report on this porkfest is unusually incurious. In fact this new contract is not a pay cut as Meek suggests, it's a $50K raise for Horton to $500K a year, plus some new and remarkable bonuses. Although the old contract did guarantee him $90K for ticket sales that never happened, so I suppose you could see it as a cut.
In any case, not bad for a man who sold about $160K in tickets last year, and whose team costs UO at least $2M a year in subsidies.
For contrast, $2M is more than the UO administration seems willing to spend on merit raises for ~800 tenure track faculty over the next 2 years.
Horton's full contract is here. It's great to see that his players will get cash bonuses for good grades, to be paid within 45 days of the end of the term: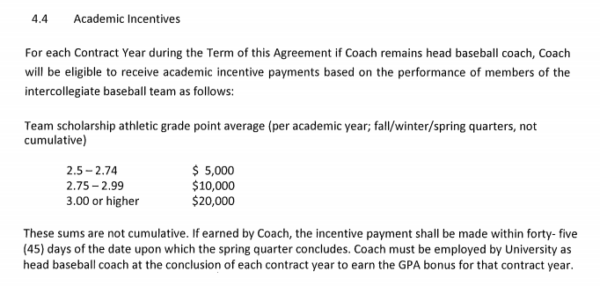 Just kidding, the players do the work, but the money is "earned by Coach". The 45 days is real though – these jocks really don't trust each other, do they? Soon we'll have to pay them in bitcoin and make use of apps like News Spy App to help us get the best return for our investments. The new contract also makes clear that Horton is not a faculty member – something the UO GC's office has claimed of coaches in the past to try and hide their public records – and also that he's bound by standard UO ethics policies etc.
5/29/2017: UO to pay Horton for 2 years as he closes down Duck baseball program
Apparently the women's softball team did not react positively to the idea of a merger. Austin Meek has more in the RG here.
5/23/2017: UO baseball loses games, money
Kenny Jacoby has a comprehensive report in the Emerald on the increasing baseball losses – $17M so far. Attendance is so bad that Rob Mullens is offering the *faculty* free tickets. Duck spokesperson Tobin Klinger:
UO spokesman Tobin Klinger said President Michael Schill is "working to determine the best approach forward," but suggested it is unlikely he would take any away from athletics to mitigate cuts to academics. Schill did not respond to multiple email requests for comment.
"Should it come down to re-examining the budget, it would be safe to say that we will need to think as broadly as possible," Klinger said in an email. "That said, athletics is a self-sustaining auxiliary unit… and this exercise is ultimately about right sizing our general fund budget."
Story here – this just a snippet: