12/12/2017: From the Oregonian, and also in the WaPo:
Oregon's Board of Examiners for Engineering and Land Surveying unconstitutionally applied state law governing engineering practice to Mats Järlström when he exercised his free speech about traffic lights and described himself as an engineer since he was doing so "in a noncommercial" setting and not soliciting professional business, the state Department of Justice has conceded.
"We have admitted to violating Mr. Järlström's rights," said Christina L. Beatty-Walters, senior assistant attorney general, in federal court Monday.
The state's regulation of Järlström under engineering practice law "was not narrowly tailored to any compelling state interests," she wrote in court papers.
The state has pledged the board will not pursue the Beaverton man any further when he's not acting in a commercial or professional manner, and on Monday urged a federal judge to dismiss the case. The state also sent a $500 check to Järlström in August, reimbursing him for the state fine.
Järlström and his lawyers argued that's not good enough. …
4/30/2017: State fines Oregon man $500 for doing math without a license – is pastry next?
Unlicensed polymath Robert Plamodon has the latest on his Unlicensed Practitioner blog here, regarding the efforts of the Oregon State Board of Examiners for Engineering and Land Surveying to fine Mats Jarlstrom $500.
Mr. Jarlstrom's special crime? He wrote letters about traffic light timing, with math in them, and noted that he had a degree in engineering, which he does. He did not claim to be a licensed Civil Engineer, and yet the OSBEELS quickly got medieval guildish on him. From their website:
Mr. Jarlstrom claimed to be an engineer to OSBEELS, the City of Beaverton, Washington County Sheriff, and other organizations when providing engineering algorithms and calculations to change traffic light timing. The final order was issued against Mr. Jarlstrom assessing a $500 civil penalty for violations of ORS 672.020 and 672.045, engaging in the practice of engineering without proper registration, and Oregon Administrative Rule (OAR) 820- 010-0730, using the title of engineer without identifying the jurisdiction in which he is registered.
From what I can tell the OSBEEL would have no case against Mr. Jarlstrom if he'd expressed his suggestions in prose, or as limericks. It's the math that got him in trouble. So he's fighting back with words. From his subsequent First Amendment lawsuit against the State Board: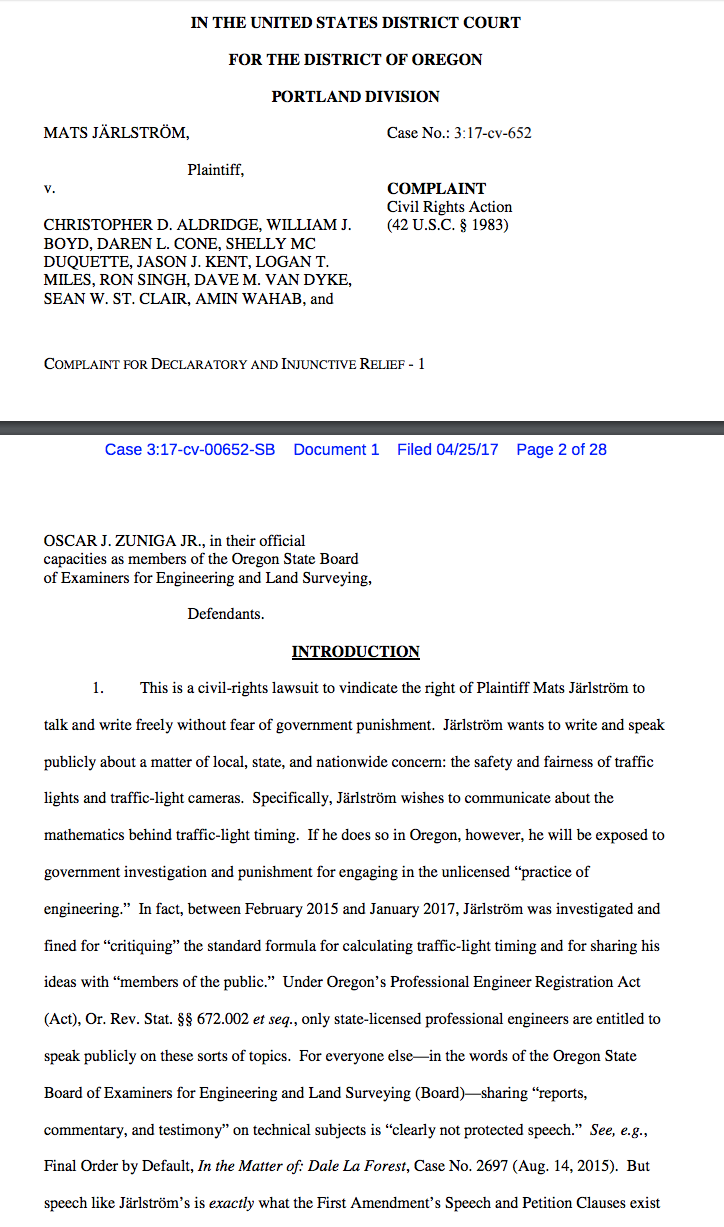 [Full disclosure: I put myself through college working as an unlicensed oil field surveyor, and to compound things I did so in part as an illegal alien in Chetwynd BC, along the lovely Sukunka River. When the Mounties caught me they gave me a week to leave, and not only did they not fine me, they told me to call them if I had any problems getting the rest of my paycheck from the survey co.]
In other news, the Oregon Higher Education Coordinating Commission is finally taking up the challenge of protecting Oregonians from dangerous, uncertified pastry chefs. The agenda for their May 11th meeting: