See below for some light live-blogging. So far my takeaway is that most of the trustees haven't done their homework and are asking softball questions, when they have any questions at all.
Note that Wednesday's public committee meetings and the executive (closed) meeting of the board are in the Art Museum, starting at 8:30, while Thursday's full Board meeting is in the Alumni Center, starting at 9:30.
Board Secretary Angela Wilhelms buries the agenda information in pdf files deep within the Board's website, so as usual I have put it in more accessible form below. I'll add some clips later and do some live-blogging.
Wed 8:3o AM Jordan Schnitzer Museum of Art | Ford Lecture Hall
Finance and Facilities Committee
Meeting materials here. Note that, as usual, the Trustees have only been given the information about budget planning today, presumably so that they won't have had time to digest it and ask tough questions. The new packet is here.
I assume that Board Chair Chuck Lillis learned this trick when he was on the board of Washington Mutual as it collapsed in one of the largest bankruptcies in history, leaving stockholders with 2 cents on the dollar.
For some reason Lillis has left his WaMu service and the lawsuits about the board's failure to conduct due diligence off his UO Trustees biosketch: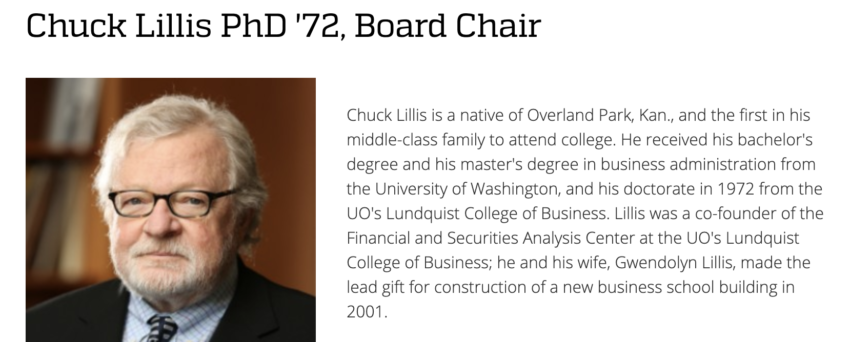 1. Housing Transformation Capital Project – Authorization for Preliminary Expenditures (Action): Roger Thompson, Vice President for Student Services and Enrollment Management; Michael Griffel, Assistant Vice President and Director of University Housing
Sorry missed most of this. No coffee for the plebes.
2. Critical Business Functions Audit Project – Report and Update: Trisha Burnett, Chief Auditor
The usual.
3. Quarterly Financial Reports: Jamie Moffitt, Vice President for Finance and Administration and CFO
As usual Jamie focuses the discussion narrowly on the E&G budget, and doesn't talk about what the administration talk about – e.g. the subsidies for athletics and the law school – which were supposed to be phased out by now but which instead continue to grow: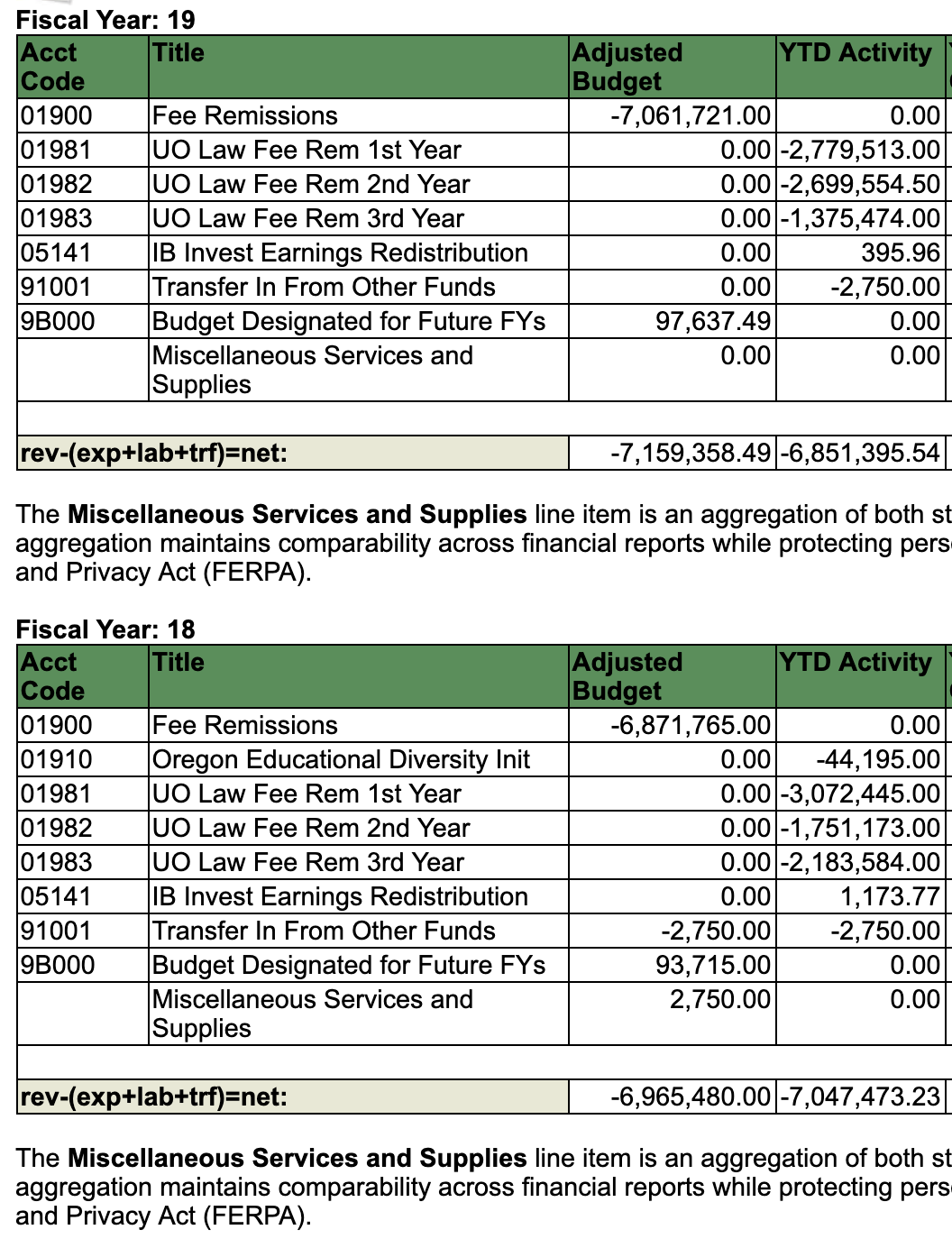 4. Financial Reports and Discussion: Savings Initiatives, Expenditure Reduction Efforts, and LongTerm Financial Projections: Michael Schill, President; Jamie Moffitt, Vice President for Finance and Administration and CFO
Jamie explains that UO is making significant administrative cuts from what is already a low level. Allyn Ford says that if this continues maybe the university should consider substantial program cuts. I assume he means the baseball program.
Ross Kari asks if Jamie can calculate what % tuition increases of this period would be needed.
Chuck Lillis points out that the problem is not costs, it's revenue. Too little tuition, too little state support, too little donations. These, of course, are the problems that the UO Board was supposed to address, and which it has consistently failed at. Except for increasing tuition – they're great at that.
Schill points out that, because we are unionized, the administration can't arbitrarily freeze or cut faculty salaries during a recession, while continuing to subsidize themselves and the coaches. Yea union!
Short break.
5. FY20 Budget and Expenditure Authority Authorization (Action): Jamie Moffitt, Vice President for Finance and Administration and CFO
Approved, sent to full board.
6. Department of Intercollegiate Athletics Overview: Rob Mullens, Athletic Director; Eric Roedl, Deputy Athletic Director
As usual, they Ducks have prepared a flashy presentation. Will the trustees ask them any tough questions? Some obvious ones:
The university is in a budget crisis. Why aren't you helping out by reducing your costs?
Why hasn't the millions we spend on the Ducks lead to increased out of state enrollment?
Do you think your bragging and profligate spending on coaches's salaries and shiny new facilities are part of the reason the Legislature doesn't want to give UO more money? Because that's what the legislators say.
Why do you keep pushing the costs of the Duck's legal problems onto the rest of the university?
Yours is a risky business. Now, it makes no difference to me how a man makes his living, but don't you think you should have more than a week of expenses in reserves? Or do you just plan on hitting up the academic side for more subsidies when you get another lawsuit?
When do you think the news about the most recent sexual assaults by your players will become public?
What do you think about the fact that the UO Foundation has withdrawn its guarantee for the 2021 IAAF championships?
Trustee Ginevra Ralph doesn't ask anything above, but she does ask how one-and-done's reflect on UO's academic mission. Mullens says everyone else does it.
Meeting Adjourns
12:45 WEDNESDAY: EXECUTIVE SESSION
Jordan Schnitzer Museum of Art | Ford Lecture Hall
Meeting materials here.
Executive Session re Labor Negotiations
The Board of Trustees will meet in executive session pursuant to ORS 192.660(2)(d) for purposes of conducting deliberations regarding labor negotiations with the Graduate Teaching Fellows Federation. This session is closed to members of the public and the media. The meeting will be called to order and adjourned. No other topics or matters will occur on May 22. Notwithstanding the location listed above, this May 22 executive session will occur in the Jordan Schnitzer Museum of Art.
Wed 1:30 PM Jordan Schnitzer Museum of Art | Ford Lecture Hall
Public meeting of Executive and Audit Committee
Meeting materials here.
1. Quarterly Audit Report and FY20 Audit Plan (Action): Trisha Burnett, Chief Auditor
Burnett reports that the number of reports to UO's ethics hotline are unusually low for a university or size. Presumably this is because of the lack of trust that many UO staff and faculty have in her office – which has had a mixed past. The link to the hotline is here. As you can see you can report all sorts of things, anonymously: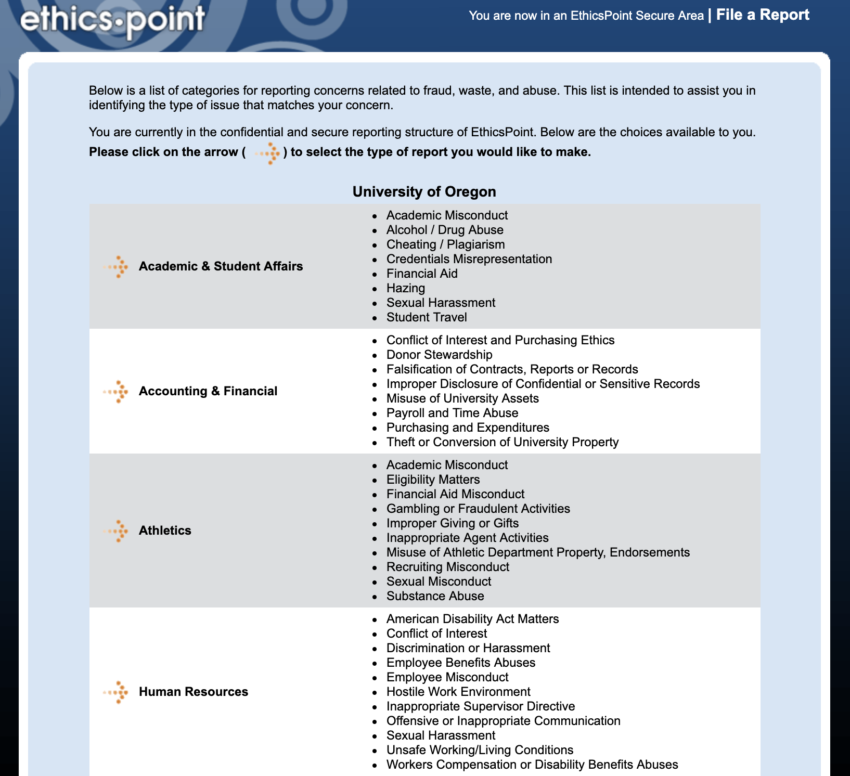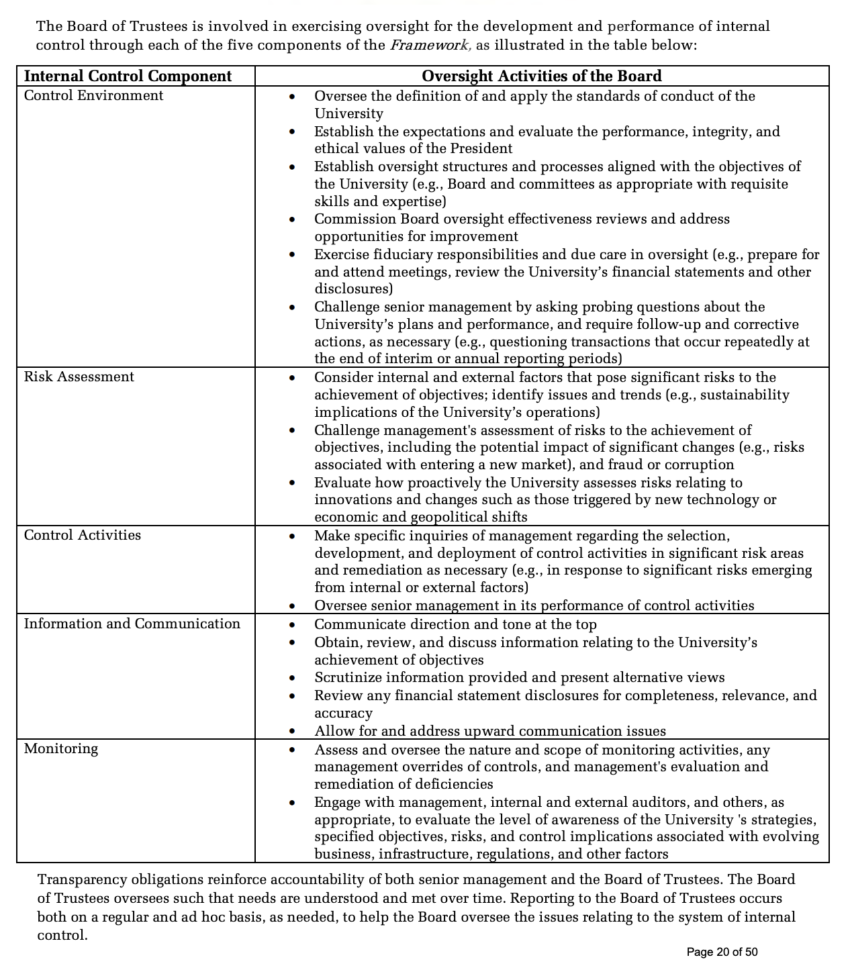 Ginevra Ralph asks about the independent audit of the internal auditors. It turns out it's not really that independent – it's done by the internal auditors professional association.
Pres Schill asks about the audit of university committees. Burnett reports it's a bit of a look at internal Governance. Schill asks if the audit will include Senate committees. Good question. Burnett says the intention is to start at the top, which I assume means the President and Provost's committees.
Committee approves report.
2. Semi-Annual Enterprise Risk Update: Andre LeDuc, Associate Vice President and Chief Resilience Officer
I'd sort of thought this would include some actual information about the cost of UO's various insurance policies, athletics riders, deductibles, payouts, etc. Nope. It's all buzzwords and silly diagrams: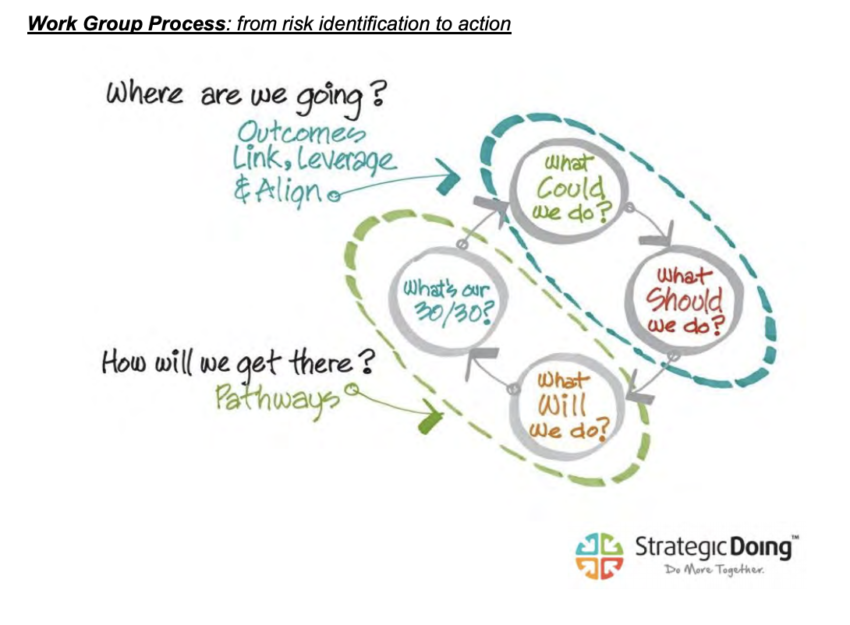 3. Semi-Annual Transform IT and Information Services Report: Jessie Minton, Chief Information Officer
Sorry, end of today's live-blogging. I've got to get ready for the Senate meeting. See you tomorrow at 9:30AM and the Alumni Center.
4. New Program Proposal – PhD in Planning and Public Affairs (Action): Rich Margerum, Professor and School Head for Planning, Public Policy and Management
Meeting Adjourns
Th 9:30 AM FORD ALUMNI CENTER
Full Board meeting.
Meeting materials here.
– Call to order, roll call, verification of quorum
– Approval of March 2019 summary (Action)
– Public comment
1. ASUO and University Senate Reports
-ASUO President Maria Gallegos and Incoming ASUO Vice President Montse Mendez and Chief of Staff Hibo Abtidon -Incoming Senate President Elizabeth Skowron
2. Provost's and President's Reports
3. Undergraduate Resident Tuition (Action): Michael Schill, President; Jamie Moffitt, Vice President for Finance and Administration and CFO; Kevin Marbury, Vice President for Student Life
Recess: Estimated to Reconvene at 1:00 p.m.
4. Resolutions from Committee (pending May 22 committee action)
–Seconded Motion from FFC: Capital Construction Project (Housing Project Preliminary Costs) –Seconded Motion from FFC: FY20 Expenditure Temporary Authorization
5. Student Conduct Code Changes (Action): Kris Winter, Dean of Students
6. A Look at PERS: Tim Nesbitt, Interim Deputy Director of PERS Solutions for Public Services and former Higher Education Coordinating Commission Chair; John Tapogna, President and Partner, ECONorthwest economic research and consulting firm
7. Academic Area in Focus – ShakeAlert, ALERTWidlfire, and the Emerging Internet of (Wild) Things: Professor Doug Toomey, Earth Sciences
Meeting Adjourned