5/3/2019 update: The EW's Camilla Mortenson has a brief report on the case here. The full opinion is at https://uomatters.com/wp-content/uploads/2019/05/093-19-05-02-Opinion-Order.pdf. The full docket is here.
4/11/2019 update. Arguments about to start. More later.
4/8/2019 update: UO's attempts to dismiss Freyd lawsuit include redefining "Professor"
Full disclosure: I am not a lawyer.
But having now spent a little more time with the docket, I see that in addition to the retention raise issue mentioned below, our administration's lawyers are pursuing another interesting and potentially more troubling strategy in their argument for dismissal.
If I understand it, they are arguing that there is no such job as Professor. Instead, there are different professor jobs, each with different responsibilities. So different that every professor should really be in their own separate, unique, incomparable job classification. Presumably they also think these classifications should change annually, or at least with the NSF grant cycle.
This argument means that there can be no such thing as pay discrimination for professors, because there are no two professors with the same job classification. Therefore Judge McShane must dismiss this case. Brilliant.
While universities have been mistakenly lumping all these different professor jobs under the category of professor for centuries (albeit with subcategories for rank and discipline) now is the time to put a stop to this professor thing, and the University of Oregon is just the place to do it! Presumably our administration's new Faculty Tracking Software will help with the slice and dice.
As I mentioned, I'm not a lawyer, or even a legal historian. However it seems to me that an opinion from the judge agreeing that this argument is grounds for dismissing the case, if sustained, would be a precedent with wide ranging effects, making it nearly impossible for anyone in a professional job with varying job responsibilities to ever win a pay discrimination case.
You can read UO's outside attorneys Paula A. Barran, Shayda Zaerpoor and Donovan L. Bonner of Barran Liebman LLP laying out their arguments in this motion to dismiss. A snippet: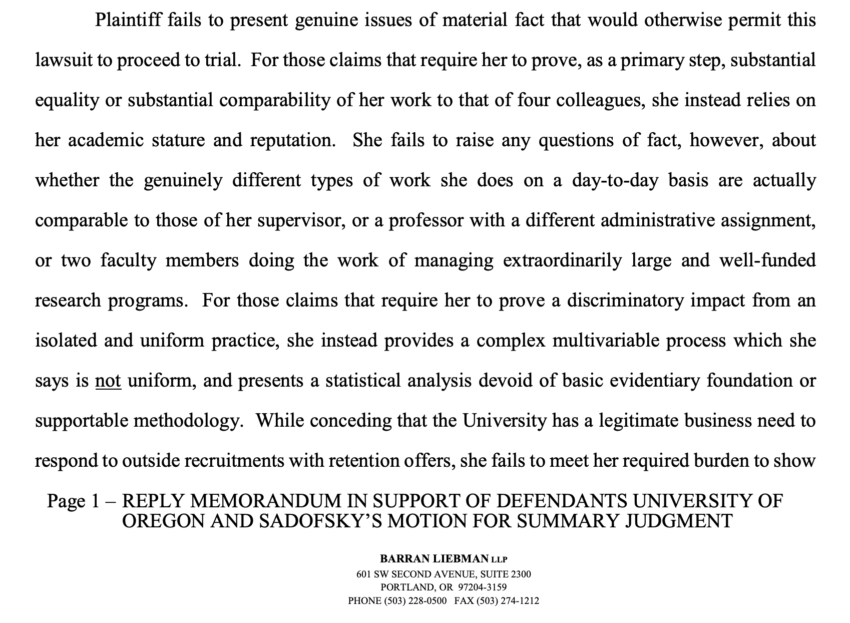 They've even persuaded a few UO people with the job title soon to be formerly known as  Professor to give sworn affidavits that support this argument. Other professors swear that it is bullshit. Check the docket here.
Suggestions for our new job titles are welcome in the comments.
4/7/2019: Gender gaps in outside offers and retention, Freyd lawsuit
Oral arguments in Prof Freyd's gender pay discrimination lawsuit against UO are this Thursday at 2PM (lengthy docket here). The crux of the case, as I understand it, is whether a gender gap in salaries that results from a gender gap in retention and outside offers, rather than intentional gender discrimination, is illegal.
The timely report by Harvard's Collaborative on Academic Careers in Higher Education (COACHE), here, bears directly on the existence of these gender gaps. (Thanks to a reader for forwarding this link.) Some snippets:
Further, the study's insights into the negotiation process are suggesting some troubling gender gaps. For example, among those who didn't ask for a counteroffer, men are more likely than women to receive one, anyway; among those who do ask for a counteroffer, women are more likely to be denied.
Higher ed's "counteroffer culture" has real costs. Faculty are expected to cultivate outside offers before they can ask for a better deal at home. This requirement pushes them out the door: we are finding that nearly 1 in 3 faculty who left had originally sought the offer only to renegotiate the terms of their employment.
Universities have a "home-field advantage" in retaining dual-career couples. Retentions were nearly twice as likely as departures to have a spouse employed at the same institution. The implications for women are particularly acute: 48% of women versus 21% of men ranked spousal employment as a primary factor in their decision to stay or leave.
COACHE's mission is interesting:
… a research-practice partnership (RPP), committed to improving the academic workplace and advancing the success of a talented and diverse faculty. We accomplish this by providing comparative, actionable insights on what faculty need to do their best work. We derive these insights from survey and institutional data that we collect and analyze under the highest standards of research. We share these insights with a community of practice in academic affairs who are, like us, committed to making academic leadership more adaptive and governance more strategic.
They partner with about 250 universities to conduct surveys on faculty matters, at quite reasonable costs:
Faculty Job Satisfaction Survey
The Faculty Job Satisfaction Survey offers academic affairs administrators unique insights into the faculty experience. The survey captures faculty sentiment with regard to teaching, service and research, tenure and promotion, departmental engagement and collegiality, and other aspects of the academic workplace.
Faculty Retention & Exit Survey
The Faculty Retention & Exit Survey involves COACHE partners in the only comparative study of faculty retentions and departures. The results show the implications of certain policies and offer insight into the causes, costs, and conduct surrounding faculty exit.
I wonder why the UO administration is so eager to blow money on things like Academic Analytics and now Faculty Tracking Software, but unwilling to participate in efforts like these?