May 2 2021 update:
The resolution that was to be considered by the Senate this Wed had 90 or so faculty and senate co-sponsors. The gist was:
2.1 Therefore be it moved that: The University Senate declares its belief that university professors should not be excluded from the protection of the Equal Pay Act, and in particular that if women professors believe that the policies and procedures followed by any university have resulted in them receiving lower pay for equal work, they should have the right to present their case in a court of law and to challenge policies and procedures that result in inequitable pay. 

2.2 Be it also moved that: The University Senate rejects the suggestion that it is a legitimate "business necessity" to engage in practices with discriminatory results, as the university has argued in this case with respect to retention raises. 
2.3 Be it finally moved that: The University of Oregon Senate asks the University President to direct its counsel not to seek further review, and the senate wants all to know that the University of Oregon Administration's and its attorney's efforts to create a legal precedent that would prevent faculty and other professionals from using the Equal Pay Act to sue for redress of discrimination are not done in our name. [Emphasis in original.]
At 8PM Tu, the evening before the 3PM Wed vote, the administration's GC Kevin Reed sent the Senate the email here, saying:
The core of the resolution seems directed at persuading the university not to pursue further review of the summary judgment decision in the United States Supreme Court. Such persuasion is misplaced, as the university has decided to proceed to trial in this matter and not to seek Supreme Court review at this stage. [emphasis added]
Given that the goal of the motion had been achieved (for now at least) the chief co-sponsors, myself and Beatrice Dohrn (Law), decided to withdraw the motion for now as moot and we explained this to the Senate.
April 23 2021 update: Full 9th Circuit rejects UO Administration's latest attempt to stop Freyd discrimination suit from going to trial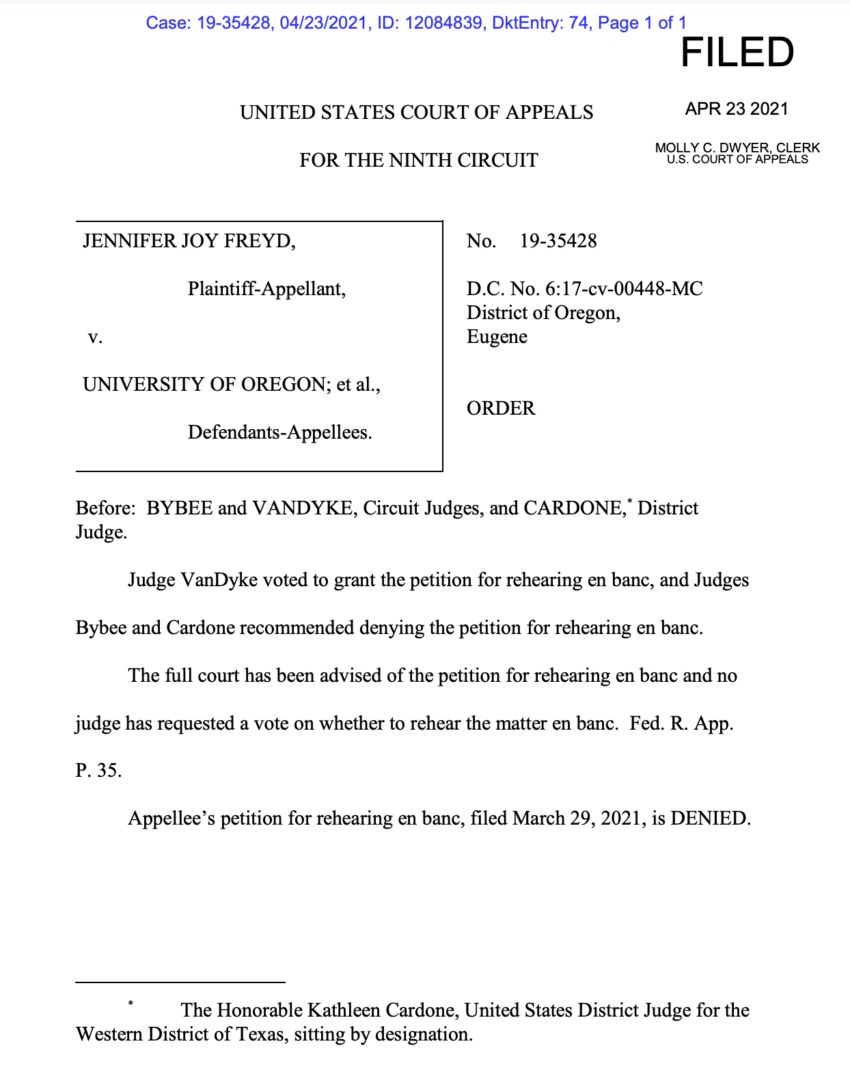 4/23/2021 update: 
Appealing this to the SCOTUS would seem like a stretch for UO's lawyers, but they seem to have an unlimited budget for outside attorneys so who knows. Meanwhile the UO Senate will be voting next Wed on a resolution asking our Administration to give up these appeals so as to not further sully UO's brand, and just let Professor Freyd take her case to trial.
March 15, 2021 update: Prof Freyd gets an easy revise and resubmit as appeals court rejects attempt by UO lawyers Paula Barran, Kevin Reed and Pres Schill to gut the Equal Pay Act