8/23/2014 update:
I've redacted the 4 names and signatures, of the grounds that they probably don't want to see the bowl come up #1 when someone googles them.
It seems like interim UO GC Doug Park is still paying HLGR's Jens Schmidt $300 billable for every hour he can drag this out. The case docket is here (courtesy of the RECAP program that Aaron Swartz and Carl Malamud helped create). The complaint, well worth reading in full, is here, and Schmidt's response is here.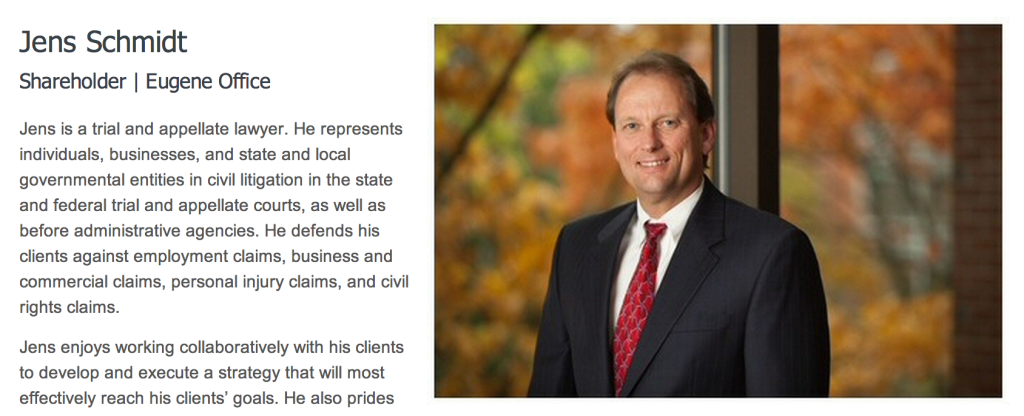 7/23/2014: Latest Oregonian story details additional UO PD sexual harassment grievances.
Betsy Hammond has the story, here. One sexual harassment complaint was settled for $2K in attorneys fees, mandatory sexual harassment training, and 5 box seat tickets to the Civil War game. You can't make this up. The department comes across as out of control, to be kind. No wonder Gottfredson had the EPD investigate the basketball rape allegations, and then gave the report to his athletic director instead of his police chief.
This story doesn't even cover the three previous public safety directors who left under unexplained circumstances. Daily Emerald reporter Ryan Knutson won an award for reporting on one situation back in 2009. Some other recent scandals are here, but it's hard to keep up. Last time I looked up the salary information UO was paying Chief McDermed more than the City of Eugene paid its police chief.
7/18/2014 update: UOPD dick list goes viral
Betsy Hammond has the story in the Oregonian, with many interesting comments, here.
UO's Strategic Communication Command is still in full denial mode, but a UO Matters stringer has now provided incontrovertible photograph proof of the actual bowl, here. (Warning: This link is NSFW for most though apparently not all UO employees.)
7/14/2014 update: UO files protective order request to try to keep "dick list" court docs secret
Jens Schmidt of HLGR filed this the day UO Police Chief agreed to be interviewed by Diane Dietz of the RG, and the day before "Around the O" posted UO's unredacted version of the list and further quotes? UO isn't worried about confidentiality, they're worried about losing control of the spin. Full file here, should be in the RECAP case docket file soon, along with the plaintiff's response and the judge's decision eventually.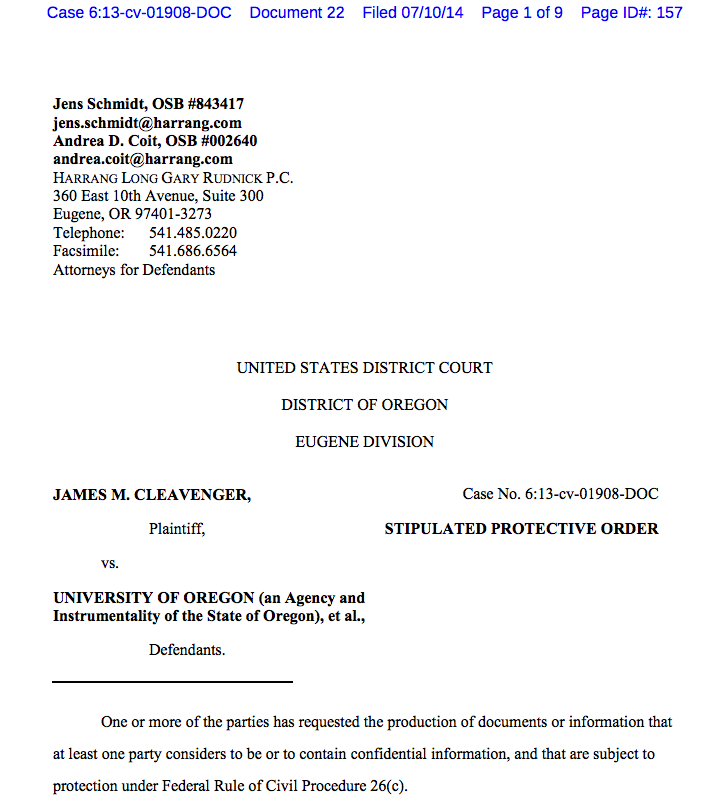 7/11/2014 update: UO Strategic Communications posts fake denial of "Bowl of Dicks" list
After telling RG reporter Diane Dietz that The University "does not comment on pending litigation", The University is now commenting on pending litigation. No, it's not an apology and a plan to get the UOPD back on track, after it was found to have illegally retaliated against a whistleblower, and was ordered to reinstate him and give him back pay.
The official  "Around the O" story, presumably ghostwritten by HLGR's Jens Schmidt at $300 per billable hour, denies something. It just doesn't deny what the UOPD is actually accused of. Sneaky:
July 11, 2014 – 12:59pm
A recent story with information about a legal matter involving a former employee of the University of Oregon Police Department focused primarily on the unproven allegations of the former public safety officer and did not provide the university's responses to the courts or the newspaper reporter.
The former employee's claim of wrongful termination and retaliation is pending in court and the university looks forward to resolving this matter soon. The UO does not agree with the claims of information and incidents alleged to have occurred.
The complainant alleged that a list of individuals was referred to in a derogratory [sic] manner. This allegation was not supported by the evidence.
Attached is a copy of "the list," as it is referred to, from an individual's personal cell phone. It primarily included sports and pop culture figures, and was an inappropriate attempt to humorously describe people or things that annoyed someone at some time.
The list included dozens of entries from the inventor of turtlenecks to the state of New Jersey and from Eli Manning to Rush Limbaugh. The list does not include names of the Eugene mayor, a former ASUO student body president or a local lawyer.
"The list was not meant maliciously, it was not labeled with the vulgarity referred to in the court complaint, and was not a collection of 'enemies,'" said UO Police Chief Carolyn McDermed.
According to McDermed, the individuals involved have been counseled and warned and they understand that such jokes are not acceptable and that our community holds its safety officers to a higher standard.
"I am disappointed by what is described in the allegation," said McDermed. "It is not the climate we strive for each and every day while protecting campus. Our values reflect those of the university and we hold each and every member of our department to those values and standards of behavior."
I'm no strategic communicator, so I don't understand why Around the O doesn't give a link to the story they are so unapologetically denying. Their post makes no sense without the context. Here's the RG link. Cleavenger comes across as a stand-up guy, just the sort of person we would want in the UOPD. Interestingly, there's no denial from UO on the Occupy Eugene meeting, retaliation, or other issues raised in the RG story. BTW, the RG does includes a helpful link to UO's response to the court. It's mentioned on the front page, there's a helpful link on the web version
And, note that the court complaint explains that the "eat a bowl …" list was a work in progress that was frequently updated, debated, and discussed. So why does UO only provide one version, and act as if it's the only one? Here's UO's response to my request for "any public records that list the members of the "Bowl of Dicks" list kept by UOPD employee Eric LeRoy.":
On FridayJul 11, 2014, at 10:22 AM, Office of Public Records <pubrec@uoregon.edu> wrote:
… The attached list is responsive to your request. It is a list of names that was maintained on a UOPD officer's phone as referenced in a pending litigation.
Thank you for contacting the office with your request.
Every other public records response from UO includes this boiler-plate:
The office considers these documents to be fully responsive to your request, and will now close your matter.  Thank you for contacting the office with your request.
Why did they leave it out this time? Because they've got more lists? Let's find out:
Subject: Re: public records request, "Bowl of Dicks" list
Date: July 11, 2014 at 10:40:31 AM PDT
[Dear PR Officer and UOPD Spokesperson]
The lawsuit complaint mentions names that are not included here, and also mentions that the list was frequently updated.
With that in mind, can you confirm that this is the only document UO has that is responsive to my request for "public records that list the members of the …"
No response so far.
7/11/2014 update: Is this why UO handed the rape investigation over to the EPD?
Thanks to Dave Hubin's Public Records Office for providing this list promptly and at no charge. I think we can all agree that the list of musical acts on the UO PD's "eat a bowl list" manages to be both excessive *and* incomplete. Pdf here, I've asked if this is the only version available.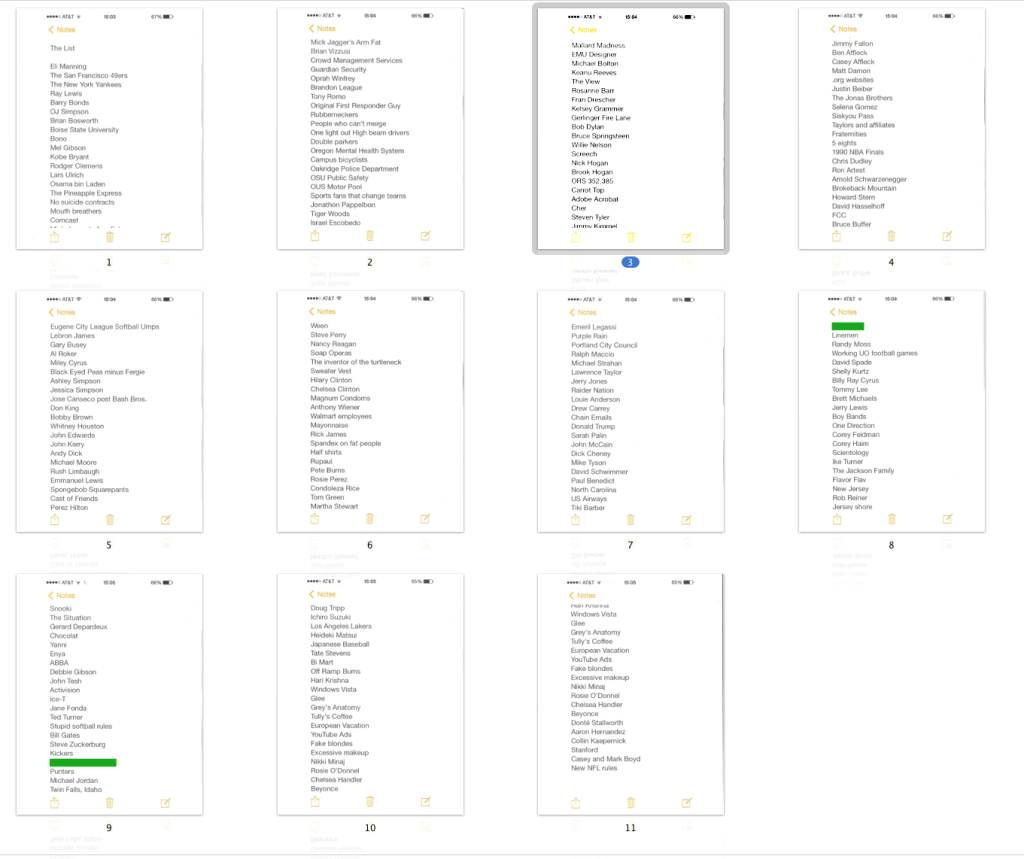 7/10/2014: UO Police Department sued over retaliation against whistleblower
The RG's Diane Dietz has the story on the UO Police Department's "eat a bowl of dicks list". It's the usual UO mismanagement, bad legal advice, wasted money, and more than a touch of the absurd. Many interesting, sad quotes. Police Chief Carolyn McDermed even provides a version of the list.
What has our feckless President Mike Gottfredson done about this? He's thrown a lot of money around. The Police budget has increased from $4.3M when he arrived to $5.5M this year, with more in the pot. And that excludes the cost of the HLGR lawyers, back pay to the whistleblower, etc. In five years the cost that's on the books has gone from $3M to $5.5M: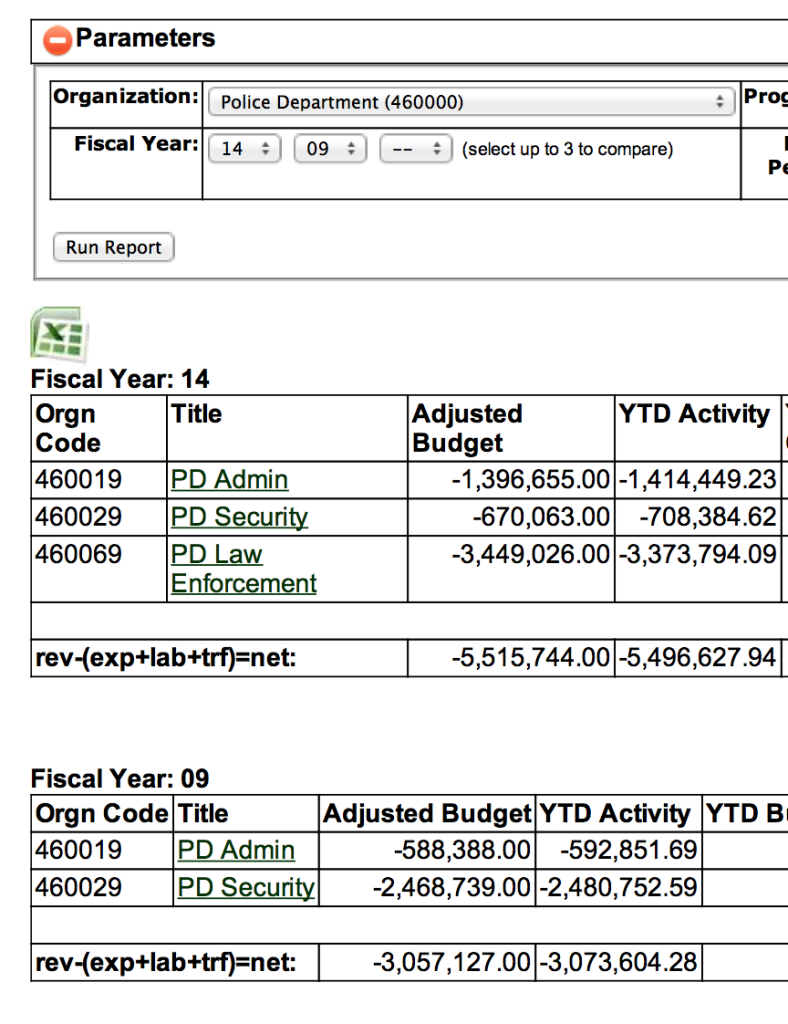 Anyone know of a Police Academy that needs a new President?
7/8/2014: OK, by popular demand, let's see who's in the UO Police Department's "Bowl of Dicks":
Subject: public records request, "Bowl of Dicks" list
Date: July 8, 2014
To: [UOPD Spokesperson and UO Public Records Officer]:
Dear [ ]
I apologize for the language in this public records request. I am asking for any public records that list the members of the "Bowl of Dicks" list kept by UOPD employee [ ].
This list is mentioned in paragraphs 20 and 21 of the "Amended Complaint" filed in US District Court and posted here: http://ia902504.us.archive.org/12/items/gov.uscourts.ord.114420/gov.uscourts.ord.114420.9.0.pdf
Its existence is acknowledged in paragraph 21 of UO's response, filed here: http://ia902504.us.archive.org/12/items/gov.uscourts.ord.114420/gov.uscourts.ord.114420.16.0.pdf
I am asking for a fee waiver on the basis of public interest, which is considerable.
7/7/2014: I'm no law professor, but this complaint against UOPD Chief Carolyn McDermed and others raises plenty of questions about UO's new sworn and armed police department: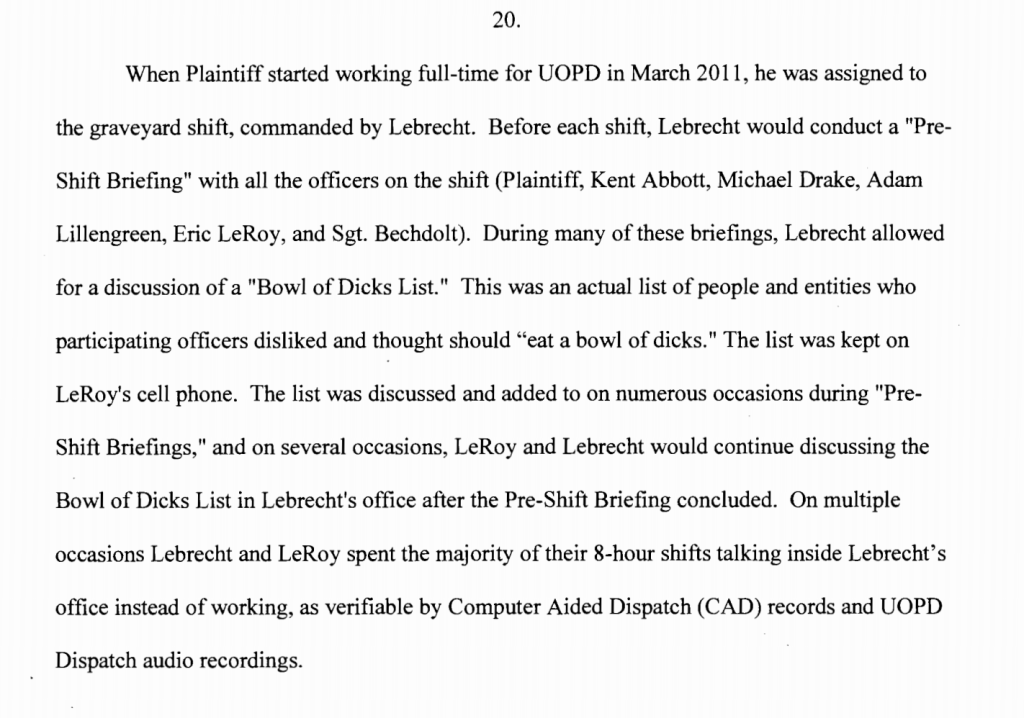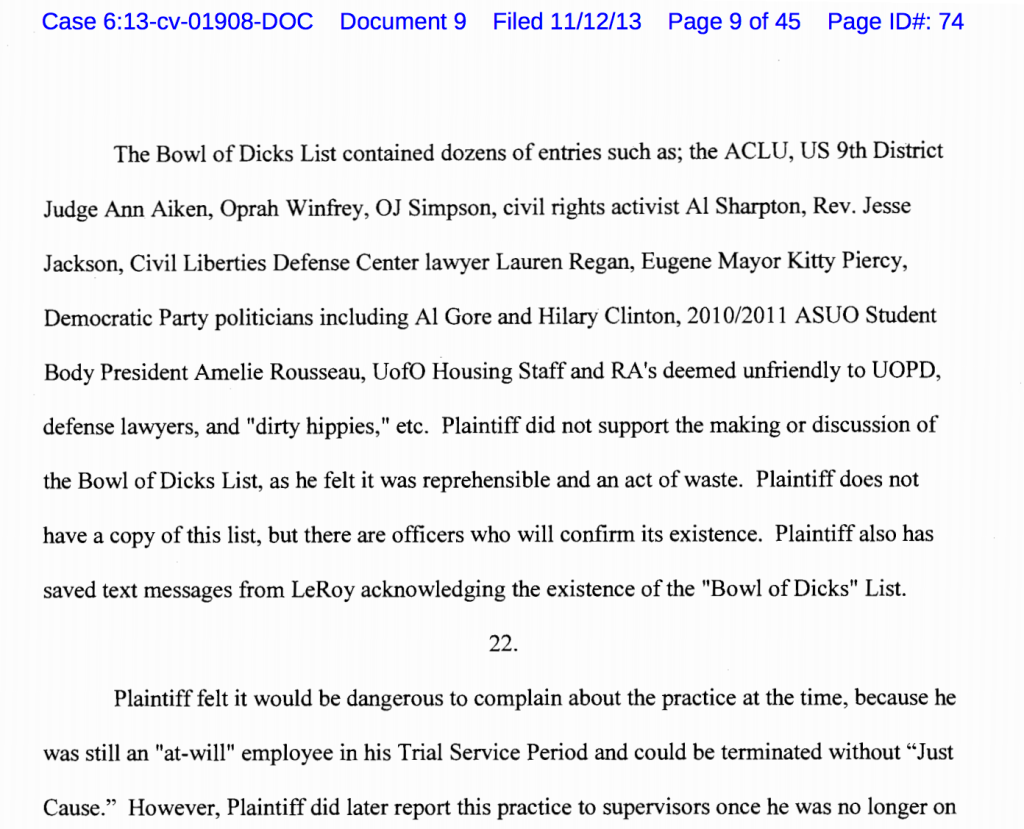 The court docket is here (courtesy of the RECAP program that Aaron Swartz and Carl Malamud helped create). The complaint, well worth reading in full, is here, and UO's response is here. UO admits their police have a "Bowl of Dicks" list:

Who's defending UO? Frohnmayer's HLGR firm, of course. Specifically Jens Schmidt, at ~$300 per billable hour, he's got no incentive to wrap it up: