Highlights: Sorry, nope, read it all. Very interesting meeting. I think it's clear we've got a very dedicated and engaged board, and they are quickly learning how UO works and what it needs. From my perspective this meeting showed that an increasing number of trustees now understand that the faculty and students are also engaged, and that the board needs to bring them into the process they are leading to rebuild UO's academic mission.
President Coltrane starts the day with an RG Op-Ed:
To attract the best and brightest students we will increase our scholarships for top scholars, grow our honors college, and expand our PhD fellowships. We plan to hire 150 more tenure-related faculty members over the next five years, and, as part of that, launch our clusters of excellence hiring initiative. To expand access and support student success, we aim to grow our successful PathwayOregon program that provides financial and academic support to high-achieving, Pell grant eligible Oregon residents, as well as create new graduation-assistance grants and retention programs.
Meeting of the Board
September 11-13, 2014
Notice  |  Agenda  |  Summary  |  Minutes
Disclaimer: My interpretation of what people said or meant. Nothing is a quote unless in quotes.
THURSDAY, SEPT. 11, 2014 8:30 am (other times approximate) PUBLIC MEETING, FORD ALUMNI CENTER, GIUSTINA BALLROOM (UNLESS  OTHERWISE NOTED)
1. Convene
The board has rearranged the ballroom, putting the faculty and students at the back, and protecting the trustees from meeting with them with a wall of administrators and PR flacks. They've also set up their own coffee station, to prevent mingling:

2. Reports and Public Comment
• Committee Reports (Chair Lillis, Ms. Wilcox and Mr. Kari)
Some talk about bringing the World Track and Field Championships to Oregon. I wonder how much that will cost? That part of the meeting will be secret.
• Public Comment
GTFF's post explanation of their paid leave proposal.
Carla McNelly, SEIU Local 085 President, speaking in support of Classified Staff, Students (grad and undergrad), Faculty, and Officers of Administration having a seat at on the search committee for the next UO President.
Harbaugh (Economics) explains history of subsidies for the athletic department, advises the board to keep a close eye out for hidden strings on new athletic donations and plans. Golf, anyone?
A grad student (Human Phys) gives a personal report on how the university and Penny Daugherty failed on a sexual harassment case.
Michael Dreiling (Soc and faculty union president) talks about the AAUP, academic freedom, and shared governance particularly in the context of the presidential search. Full letter and supporting appendices here: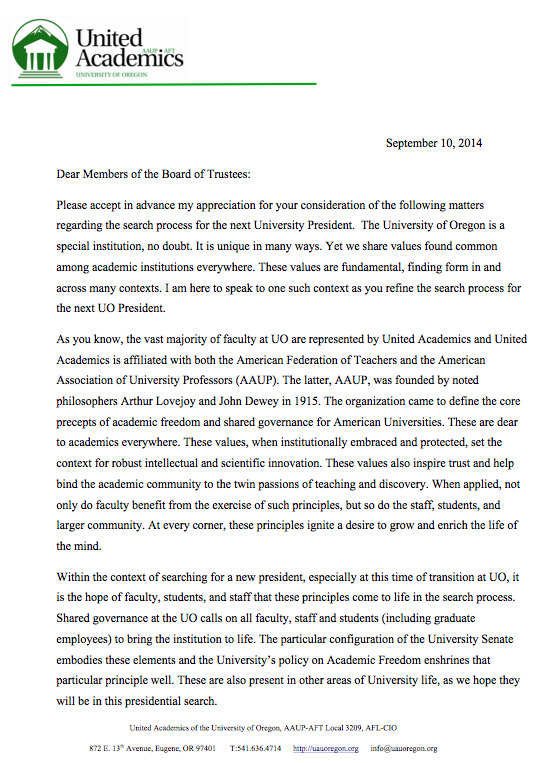 John Bonine (Law) gives a biting criticism of the administrations failed process to revise the student conduct code:
September 11, 2014
From:  John E. Bonine, B.B. Kliks Professor of Law, Member of University Senate Executive Committee
To:       Board of Trustees and President Scott Coltrane
Re:       Due Diligence by Board, Secrecy, and Shared Governance (rev. 8:46 am)
The Board will vote today on changes to the Student Conduct Code that I believe it has not even seen.  They are not on the Board's website.  They were not attachments to the Board's agenda nor to the agenda of its committee.  They were never shown to any representatives of the faculty – or students.  They were developed over a period of almost a month and nobody was given the drafts.  We of the University Senate Executive Committee – the Senate has jurisdiction over the discipline of students by explicit state law – were never given copies.
Would you run your own corporations this way – asking your Boards to vote on complex changes to enforceable standards that has apparently not been provided to them — and that has not been vetted by those most affected?   
Shared governance is an ideal in universities.  It may well be a dying ideal at the University of Oregon.  It is so easy to let others know – for example, faculty, staff, the parents of students, future accusers, and future accused – even during drafting.  Temporary action need not be secret action.
I regret to say that one result of this process is that Pres. Coltrane's email contains numerous misstatements, presumably made by his staff.  Our President deserves better.  They include:
"Some of these updates were approved by the University Senate at the close of spring term, and others are temporary measures to bring our code in line with recent best practices endorsed by the White House Sexual Assault Task Force."
The temporary measures are not endorsed by the April 2014 Report of the White House Task Force.  "Best practices" and such recommendations are not even in that Report (https://www.notalone.gov/assets/report.pdf.   They are not in Report's "Checklist for Campus Sexual Misconduct Policies" that is attached to the White House Report (https://www.notalone.gov/assets/checklist-for-campus-sexual-misconduct-policies.pdf).
They appear to be simply an inside draft by staff inside Johnson Hall.  And staff seems to have misinformed the President about the provenance of them.  In turn, this Board gets misinformed.
The President wrote:
President's email: "The temporary changes I am asking the board to consider include deleting language in the code that stalls the conduct process during breaks between terms or when a student is not registered, "
This appears to be nowhere "endorsed" by the report of the White House Sexual Assault Task Force. It isn't even mentioned. A search of the document for the words "register" and "break" produces nothing.  A search for the word "term" finds nothing about school terms.
President's email: "requiring all cases be resolved through administrative conference rather than a panel,"
This is nowhere "endorsed" by the Report of the White House Sexual Assault Task Force.
It may or may not be a good idea, but it comes from a non-participatory process inside a couple of offices in Johnson Hall, not the Task Force Report.  Rather, the Report says:
"Some [schools] are adopting different variations on the "single investigator" model, where a trained investigator or investigators interview the complainant and alleged perpetrator, gather any physical evidence, interview available witnesses – and then either render a finding, present a recommendation, or even work out an acceptance-of-responsibility agreement with the offender. These models stand in contrast to the more traditional system, where a college hearing or judicial board hears a case (sometimes tracking the adversarial, evidence-gathering criminal justice model), makes a finding, and decides the sanction."
In fact, the White House Report says that such models will be tested this Fall — not that they are "endorsed."  And it says:
 "we also need to know more about what investigative and adjudicative systems work best on campus."
That's not an endorsement for elimination of adjudicatory panels.
President's email: "allowing the right to an appeal in all cases,"
This is not "endorsed" in the White House report.  The Report is agnostic on whether to have an appeals process:  "we also need to know more about … what an appeals process, if the school has one, should look like." 
President's email: "and reducing the number of days an accused student has to respond to conduct charges from 14 days to 7 days."
The words "day" and "week" are not in the White House Report.  Nothing about that.
President's email: "Again, these measures are designed to align our policies with federal laws and regulations for this year, but are temporary in order to protect our students while still allowing for thorough consultation before permanent changes to the code are made."
These changes are not in federal law or regulations.
The issue is not whether these are good ideas or bad ones.  My point is that they do not come from where the President's email to faculty says they come. 
More importantly, they could have been vetted on campus, through emails, through the "Around the O" website.  But they were not.
The President has the authority to enact temporary regulations.  But he and his staff should let others know what is going on, instead of springing changes – even temporary ones – on the faculty, staff, students – and this Board. 
All that it takes to enhance collegiality and participation is the click of a mouse. 
This Board should take the lead in pushing for such collegiality and participation among the stakeholders of this great University. 
If I am wrong about any of these comments, I stand to be corrected. 
But I have asked for exact copies (the redline changes, for example) and even at 7:59 am nobody in the Administration could provide them.
And then he gave this followup:
Dear Board,
I have just discovered, while sitting in this meeting, the most dramatic of the changes being proposed — to remove the University Senate and the President entirely from the process of adopting a Student Conduct Code.
This became known at 8:12 am today.
Am I the only one who finds adoption of this provision — and even more so the process for proposing it to the Board —  to be a slap in the face of 23,000 students and over 1,000 faculty members?  This means, presumably, that the entire plan of this coming semester for the University Senate to consider the Student Conduct Code has just become irrelevant.
I don't want to be ashamed of this Board.  I fear that I will.
And I suppose I should just leave.
John E. Bonine, Bernard B. Kliks Professor of Law, University of Oregon
And then he left.
• Other reports
• Report of the Provost of the University (Acting Provost Bronet)
• Report of the President of the University (Interim President Coltrane)
3. University Policies: Presidential Actions (Interim President Coltrane)
Coltrane talked about the interim policies requiring faculty involvement in searches and reviews for administrations.
Mary Willcox corrects a previous statement, to make it clear that the $10K-a-head Presidents Assault Review Panel will *not* be investigating any actual assault incidents. This seems to be a change from her committee's original charge.
4. Presidential Recruitment (Chair)
• Formation of Recruitment Committee (Action)
• Discussion of timelines, characteristics, etc.
Lillis: This will be a double secret search. (This is just the way it is. The board fired Gottfredson, thank God, and now they want to pick a new Pres, themselves. They can do that, and this process will make it very clear that the new Pres is their choice, not the faculties. That President will, like Gottfredson, come in without faculty or student support. I hope this time they will be able to earn it.)
Ann Curry: What you say makes sense, but we just heard public comment about UO's failed shared governance. Shouldn't we make sure to include GTFs, students, faculty?
Lillis: Every group will have token representation. Can't keep the search private if we try to get real buy-in.
Ginevra Ralph: Defends plan for two committees, to maintain secrecy. Larger committee will do the interviews. (But that's not much help if the board controls who they interview.)
Bea Gutierrez: Wants the elected GTFF President to be the grad student rep. (And should be the same for the Senate Pres.) Lillis: I get that point, will consult.
Kurt Willcox: The board hasn't seen this until this morning. Second Bea's point. Can't ignore the organized constituency. Last search (Gottfredson) this same mistake was made.
Discussion degenerates into question of the number of people. Not the point. The point is that the constituencies need to pick the members, or else the new President will start off in a hole.
Lillis: This search may take more than a year. We need to make sure we get the right person this time.
Allyn Ford: Yes, we were in a big hurry for that last search. We got squeezed and had to settle. Don't want that problem again. (I agree. Coltrane will do fine as interim, with proper prodding.)
Gutierrez pushes for GTFF President on committee. Lillis pushes back. Curry waffles.
Why isn't Susan Gary, the only faculty on the board, pushing for a similar change for selecting the faculty members? Is she even at the table? Hard to tell.
Board passes proposal, Kurt Willcox votes no.
I've obtained the formerly secret list of search committee members, and posted it here. Note that there are two committees – one that will recruit finalists, and then an "advisory committee" that will help with interviews of the 3-4 finalists. Most of the students and faculty are only on the advisory committee.
5. Seconded Motions and Referrals from Committees (Actions)
– Student Conduct
Robin Holmes was late to the meeting, so this is happening after the HC presentation below. See John Bonine's excellent public comments above for background.
Holmes: Senate approved changes will be permanent, other changes will be temporary. This needs to be a rush job because she sat on the US DOE OCR recommendations for years, and now the shit has hit the fan with the basketball allegations, and perhaps some new allegations that she's also hiding.
Ann Curry: What about Bonine's testimony this morning about the lack of student and faculty input. Coltrane tries to defend: "this was not a secret process", but he's not convincing.
Park explains that under the new rules the board can do whatever it wants. But should it? Actually, Park is doing a good job, this time, explaining the board's options, and not trying to lead them by the nose down the path of secrecy, darkness, and despair for our public university.
Holmes claims she's been consulting the students all along. Strangely, this seems like news to the ASUO President, Bea Gutierrez. Who has Holmes been talking to?
Kurt Willcox: Comes clean about his history of conduct code violations as a student activist 40 years ago. Who would have guessed, he has certainly reformed himself. He's concerned about removing the hearing panel for non-sexual assault, but OK now that it's clear there is an appeal.
Motion passes, we move on to the surprise resolution that Bonine was most concerned about, which takes away the faculty's authority over the discipline of the students.
Gutierrez asks board *not* to take this authority. Faculty know more about the students than you do.
Ginevra Ralph points out that the board is responsible for the Faculty Code of Conduct – I have the feeling she's talking about me and this blog. If so, that will be a simple fight about academic freedom. Quite a timely issue.
• Executive and Audits Committee (Chair)
– Presidential Review Policy
– Presidential Factors Committee/Adjustments to Policy on Committees
– Internal Audit Charter and Plan
– Misc. Board Operating Procedures & Guidelines
• Academic and Student Affairs Committee (Wilcox)
– University Mission Statement
• Finance and Facilities Committee (Kari)
– Treasury Transactions
– Real Estate Transactions
10:45 am – Break
11:00 am
Interim GC Doug Park tries to claim that the board would be violating the Oregon Public Meetings Law by letting people talk to the board about things not on the agenda. Ann Curry rips him a new one – very politely and thoroughly.
Lillis tries to back up Park. Curry rebuts – we need to hear from these people, what they care about, why. We learned at least 3 important things from the public comments today. Lillis backs off a little, agrees comments are valuable. But he wants to rely on people emailing the Board Secretary, having her screen them, and forward on what's relevant.
Susan Gary speaks, defends Kurt Willcox's proposed strengthening of the policy.
Motion to approve expanded public comment passes.
6. University of Oregon Clark Honors College Overview (Dr. Terry Hunt, Dean)
Terry Hunt gives a great presentation on the HC and the spillover benefits to UO. All true, these students are great and regularly do impressive research work in my department. I was surprised only 4% are economics majors. Most are bio.
Lillis: It's great to see something so highly ranked at UO that's not wearing a football helmet.
Trustees ask about tuition discounts. These are large, have to be because these are competitive students that are being chased by many other top programs.
Ginevra Ralph asks about the possibility of using the HC as a model for all of UO. Wants to provide same small classes to all students. (One trustee brings up the CAS College Scholars program, one effort to do this, but it's also limited in size.)
7. Executive Session: Collective Bargaining Issues Board of Trustees of the University of Oregon Regular Meeting – September 11-13, 2014
12:15 pm – Recess
12:30 pm – Training Lunch With Director of Intercollegiate Athletics Rob Mullens – Ford Alumni Center, Room 403
1:30 pm – Campus Visits: Athletic Facilities Depart from Ford Alumni Center
3:30 pm – Campus Visits: Research Facilities
Depart from Huestis Hall atrium (trustees will tour research facilities in two groups)
**Attire requirements: Please do not wear shorts or high heels during this tour.
6:30 pm – Social Gathering Only. Board Dinner, McMorran House. Transportation will be provided for trustees to/from the hotel, departing at 6:15; parking is available for those driving themselves.
(Why isn't Doug Park worried about this violating the PM Law, when's he's so worried that letting grad students speak will bring down the wrath of those vigilant watchdogs on the Oregon Government Ethics Commission?)