9/14/2014 update: Diane Dietz of the RG – also booted by the board – explains what this secret meeting was really about. Sports. Of course.
9/13/2014 Brails update: I was politely evicted from our the Board of Trustees' Saturday breakfast "legal training meeting" with Interim GC Doug Park. It was supposed to be a public session on new business, but they rearranged the schedule Friday afternoon and I missed the announcement. The breakfast sure smelled great, so I'm at Brails, waiting for the "Hangover Special". Given Park's patently false legal advice to the Trustees about how Oregon PM law limits public comments, I'm guessing it will be an interesting morning, and that Park may get some long overdue legal training. At 10AM the trustees take off to watch the Wyoming game from our $375K Autzen Skybox seats.
Here's the RG report from Diane Dietz on yesterday's meeting.
Update: Page down for the latest data comparing UO's underpaid faculty with our overpaid senior administrators.
Live-blog of UO Board meetings, Friday 9/12/2014
Check the official "Around the 0" blog for the PR version of Thursday's meeting, from Chief UO Strategic Communicator Tobin Klinger. We pay this flack $115K a year of our students' tuition money? Why?
Reporter Diane Dietz of the RG has a considerably more informative story, here:
Saying the University of Oregon requires a different kind of presidential search this time, Board of Trustees Chairman Chuck Lillis has advanced a search plan that he wrote and that reserves broad powers for himself — and a select group of others.
Lillis gave himself the authority to conduct the search with an "assist" from a 14-member committee weighted with trustees and administrators.
A second 12-member committee that includes some UO students and office workers will be allowed to provide "relevant perspectives and insights," according to Lillis' plan, which he unveiled Thursday at a trustees meeting in Eugene.
… Lillis alone will be allowed to rank and even eliminate finalists, according to the plan he wrote.
PRESIDENTIAL ASSIST COMMITTEE (PROPOSED)
Connie Ballmer: Chairwoman, UO alumnus, child welfare advocate
Peter Bragdon: General counsel Columbia Sportswear, UO Board of Trustees
Rudy Chapa: Investor and member of U.S.A. Track and Field Foundation board, UO Board of Trustees
Joe Gonyea III: Chief executive officer of Springfield's Timber Products Co., UO Board of Trustees
Chris Maples: President of Oregon Institute of Technology
Joe Robertson: President of Oregon Health & Science University
Mariann Hyland: In-house legal counsel at Chemeketa Community College
Barbara Altmann: UO vice provost for academic affairs
Robin Holmes: UO vice president for student life
Jamie Moffitt: UO vice president for finance and administration
Michael Moffitt: dean of UO School of Law
Bill Cresko: UO geneticist and researcher
Leslie Leve: professor in College of Education's Department of Counseling Psychology and Human Services
Paul Weinhold: president and CEO of University of Oregon Foundation
SEARCH INPUT COMMITTEE (PROPOSED)
Jon Anderson: Publisher of Random Lengths and immediate past chairman of UO Foundation.
Derrick Deadwiler: President of UO Alumni Association
Angela Davis: UO associate professor of accounting
Robert Kyr: President of University Senate, music professor
Sandra McDonough: CEO of Portland Business Alliance
Oscar Arana: Director of strategic development and communications at Native American Youth and Family Center
Jeff Eager: Attorney at Balyeat and Eager
UO student: As yet unnamed
Beatriz Gutierrez: president of Associated Students of the U0
Kate Karfilis: UO graduate student
Carla McNelly: president of Service Employees International Union Local 085 executive committee
Teri Rowe: UO Office of Administration Council
Or read the raw UO Matters take, here. But Dietz has better quotes.
Meeting of the Board
September 11-13, 2014
Notice  |  Agenda  |  Summary  |  Minutes
Disclaimer: These are my opinions and interpretations, nothing is a quote unless in quotes.
FRIDAY, SEPT. 12, 2014 8:30 am (other times approximate) PUBLIC MEETING, FORD ALUMNI CENTER, GIUSTINA BALLROOM (UNLESS OTHERWISE NOTED)
• Roll call (Secretary)
Lillis: Connie Ballmer will chair Pres search. As Kurt Willcox noted in the RG, this is already underway.
8. University of Oregon's Competitive Excellence
• Presentation by and discussion with Interim President Coltrane
Coltrane: The usual stuff. Moffitt: We've taken money back from the departments and are using it for strategic investments. Shelton: We took back $2M from the departments last years, spent about half on new administrators – recurring. We've budgeted $1.5M for the clusters, haven't spent it yet.
Lillis: Are we efficient in comparison to other universities? Moffitt: We are very lean. 76% of peers for faculty. Same for staff. For administrators, only 42% of peers. She's lumping in all OAs. Latest upper admin Org chart here.
Here's the UO Matters administrative bloat chart. Not sure if the 2013-14 UO faculty data includes the union raises, but it sure looks like the UO faculty are underpaid, and the senior administrators are overpaid.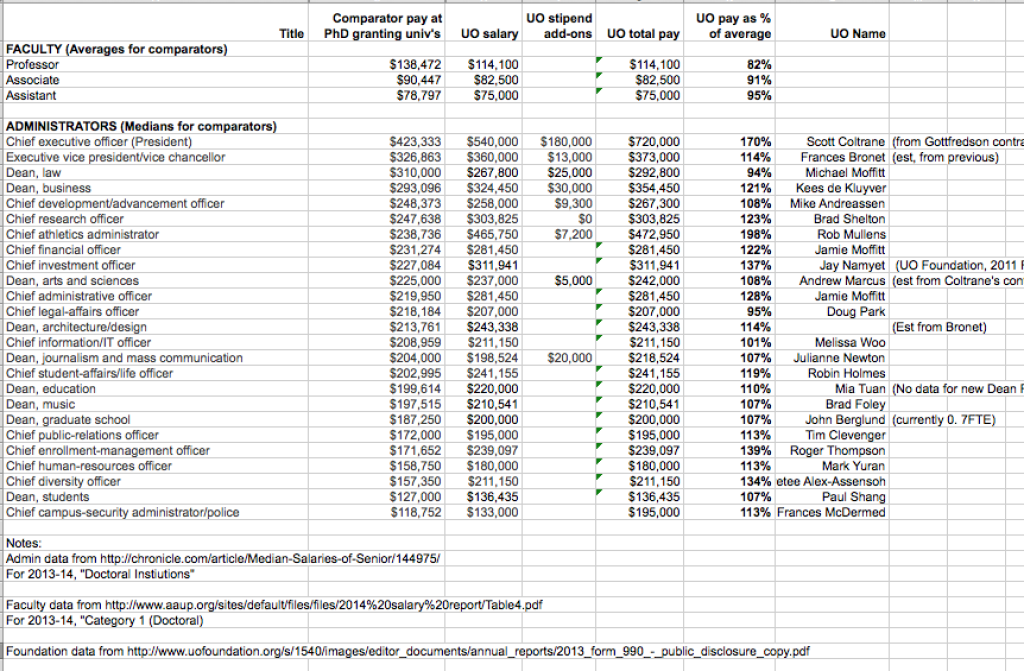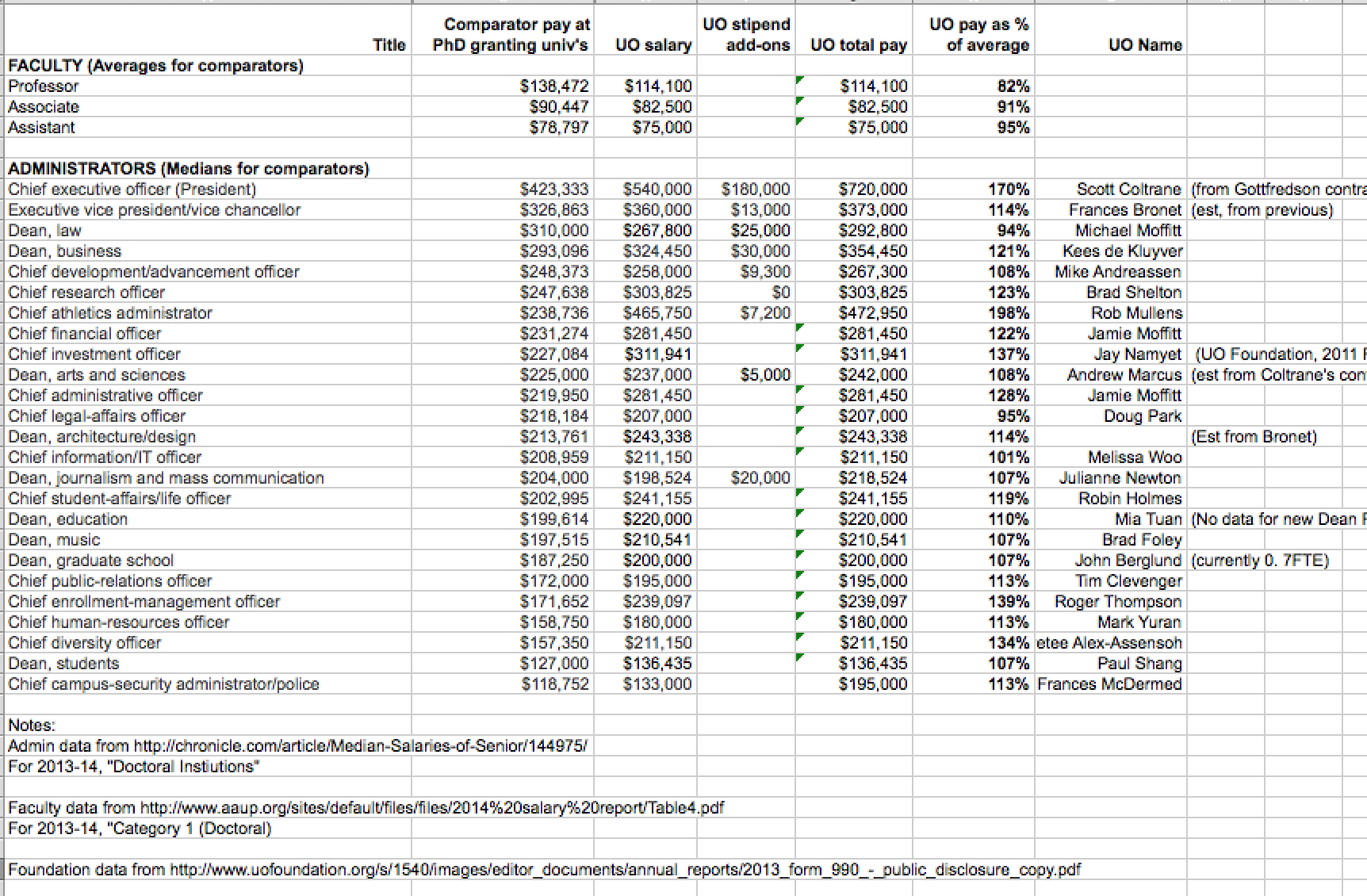 • Discussion with university administrators regarding student success, funding and other key factors for implementing a strategic framework for competitive excellence
Coltrane goes through the brutal benchmarking report again. We're way behind our AAU comparators on every dimension, including faculty/student ratio, research expenditures, PhD grads, etc.
Susan Gary speaks, gently mentions faculty criticism of cluster hire process.
Coltrane and Moffitt: Net increase in TT faculty last year? 11 or 12. 10 to 15 net new TTF over last 5 years. Continuing that pace will take new money, particularly for labs, GTF's.
Lots of serious talk about new classrooms, research buildings, dorms. This transparency is quite an improvement from back when Frohnmayer and Frances Dyke blew $2.4M renovating their own Johnson Hall office building. But no talk about replacing PLC, where we're dealing with what we've got: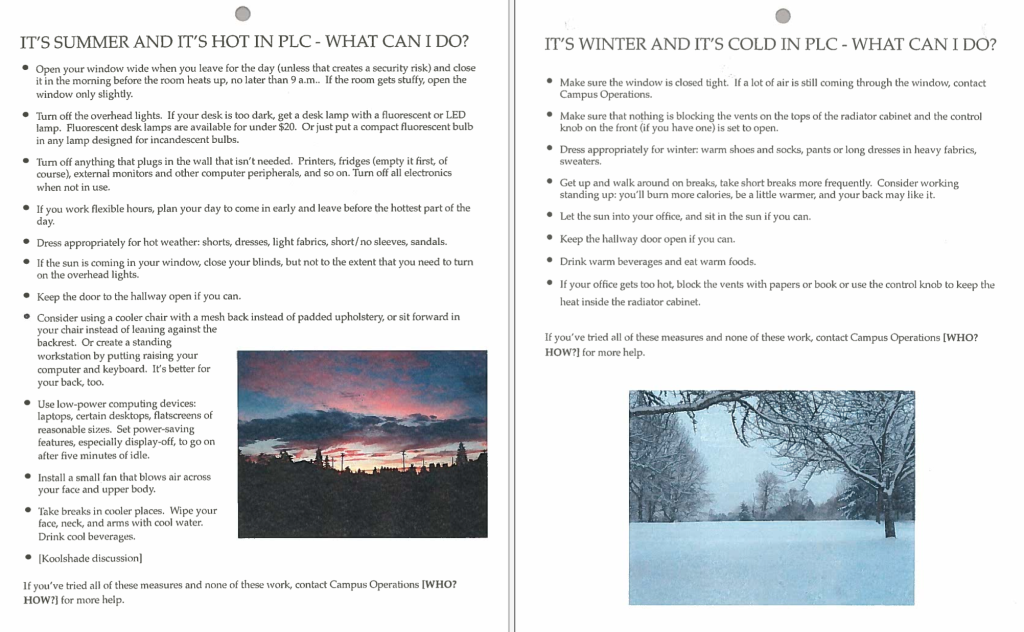 Mike Andreasen (Development and Fundraising): Now that we've dumped Gottfredson, we're ready to go to our donors with the public phase of the fundraising drive, looking for money for cluster hires, Pathways Oregon, Colleges. Wants to emphasize that this is now a priority for the deans.
Curry: We have urgent needs, how do we balance this with desire to increase endowment?
Andreasen: Have to consider our needs and the giving goals of donors. Complex.
No discussion of the athletic department's continuing unwillingess to share their donor info with the academic side.
Tim Clevenger (Chief Brander): Working on branding efforts, TV ads, yada yada. 5 year effort… The Development budget is now up to $27M, here's where a bunch of it goes. Is it a good investment for UO, or just more money for Clevenger and his consultants?
Questions for Coltrane about reallocations of resources, evaluation of programs, faculty. He gives a nice shout out to the faculty union, praising their role in improving UO's faculty evaluation and merit procedures.
Question for Shelton about processes for reallocating resources. Shelton: We have procedures, but we need to figure out our priorities.
Connie Ballmer: What about on-line education, to increase efficiency? Coltrane: It's a challenge because we are a decentralized campus. We do have wonderful examples of using technology, but it's hodgepodge. We're hiring a Director of Extension. We're a little bit behind.
The buzzwords fly. The apparition of these faces in the crowd; petals on a wet, black bough.
Moffitt: It all sounds wonderful, but as CFO I'm very worried about paying for existing programs.
Trustee makes a pitch for "zero based budgeting" in combination with strategic planning. (Because this worked out so well for Jimmy Carter?) Moffitt: We've done a similar process, lots of meetings.
Shelton: The rigorous review is for the admin budget, not academics, which are based on enrollment. Colleges are underwater, because central admin has been taking more of their money. They are in a bind.
Lillis: Lunch time. Come back and talk about student success.
12:15 pm – Recess
12:30 pm – Lunch and Training Training lunch with General Counsel – Ford Alumni Center, Room 403
2:00 pm – Public Meeting Reconvenes
• Roll call (Secretary)
9. Management of Student Access and Success (Vice President for Student Affairs Robin Holmes, Vice President for Enrollment Management Roger Thompson, Vice Provost for Undergraduate Studies Lisa Freinkel)
• A discussion with UO leadership regarding key factors of student success, how those factors fit into the UO's strategy to improve competitive excellence, and what steps the Board of Trustees need to take to help advance them.
Lisa Freinkel give a report on excellent progress on low SES student retention from Pathway Oregon scholarships and advising support.
Robin Holmes talks about student retention, benefits of living on campus and enrichment data. No apparent awareness of selection effects.
Roger Thompson has more on Pathways, which he has been a big supporter of, and wants to expand further. Huge improvement in completion rates. Tragic to think of low income students taking on debt for school and not graduating. UO's low SES completion rates were already the highest in the state, and are improving. Great stuff, and the emphasis here should alleviate the concerns in the comments that the business people now running UO are going to abandon our public mission.
Thompson on a new proposal to boost completion rates by students from middle income families who have trouble in their last year or two, because they've maxed out federal loans. He wants to keep them at UO, by providing UO aid to get them to graduation in four years. 400 students, $4.2 million. (we could fund half this by getting the athletic department to pay for academic support for their student-athletes, and the rest by cutting other subsidies.) Sorry for the gushing here, but I'm a sucker for a VP for enrollment who talks about the opportunity cost of a 5th year of college.
Lillis asks about grad students. Thompson: DOE has cut subsidized loans for grad school (which I got – 16 years at 1.25%, paid off 3 years ago), so yes, this is a problem for them too.
Freinkel: Argues for an integrated approach with scholarships, professional advisors, faculty mentors, enrichment programs.
Ginevra Ralph asks about residential advising for the students in all the new off-campus big box housing. Freinkel: New dorms include academic space, classes. So, not easy to replicate off campus.
Trustee asks about programs to help with employment. Holmes: We're working with alumni center on a career network program for students with alumni, parents. Curry: Maybe targets for the number of students getting internships – important for employment. Lillis: How many new staff are we talking? Is new physical space important to this? Freinkel: Yes.
10. Other Business / New BusinessBoard of Trustees of the University of Oregon
No new business.
11. Recess
SATURDAY, SEPT. 13, 2014
8:30 am (other times approximate) PUBLIC MEETING, EUGENE HILTON, VISTA ROOM
• Roll Call (Secretary)
12. Board Breakfast and Discussion of Next Steps
13. Adjourn
10:00 am – Social Event Only
University of Oregon Football Game (vs. Wyoming) – Kick-off @ 11:00 AM
Transportation will be provided to Autzen Stadium for Trustees and guests from the hotel; parking available for trustees driving themselves.
The academic budget – mostly student tuition money – pays the Athletics Department $375K a year for the skybox the Trustees will watch the game from:

Get your New Partnership commemorative coffee mug here. Redacted UO Nike t-shirts also available. All profits used to pay Doug Park for secret UO public records.