From what I can tell this money came from the general fund, i.e. mostly undergraduate tuition money from CAS students. The scholarships go to law school students with decent LSATs. More than a few get a full ride.
For comparison, the UO Foundation spent roughly the same amount on academic scholarships for the entire university. (Albeit twice that on athletic scholarships). The law school has now shrunk to about 500 students, so the average law student is getting about $9K in tuition discounts each year.  Correction: An apparently well-informed correspondent reports that the law school now has only 360 law students, about 100 1L's, and that more than half of new students are receiving promises of complete tuition remission for 3 years. Rob Illig won the fight against Michael Moffitt and Margie Paris's plan to use faculty raise money to support public interest jobs for graduates, but Moffitt was able to convince the administration to support this far more expensive scholarship plan to game the US News ranking.
Rumor has it that these scholarships are 3-year promises, so the bleeding is not going to stop soon – in fact it may well increase.
How did propping up the law school's US News ranking at the expense of UO's other academic programs become such a priority for UO? From what I can tell it was a backroom deal – there was never a word of discussion about this shift in academic priorities in the UO Senate. And even then Law Dean Michael Moffitt spent $700K more than his wife, VPFA Jamie Moffitt, had budgeted: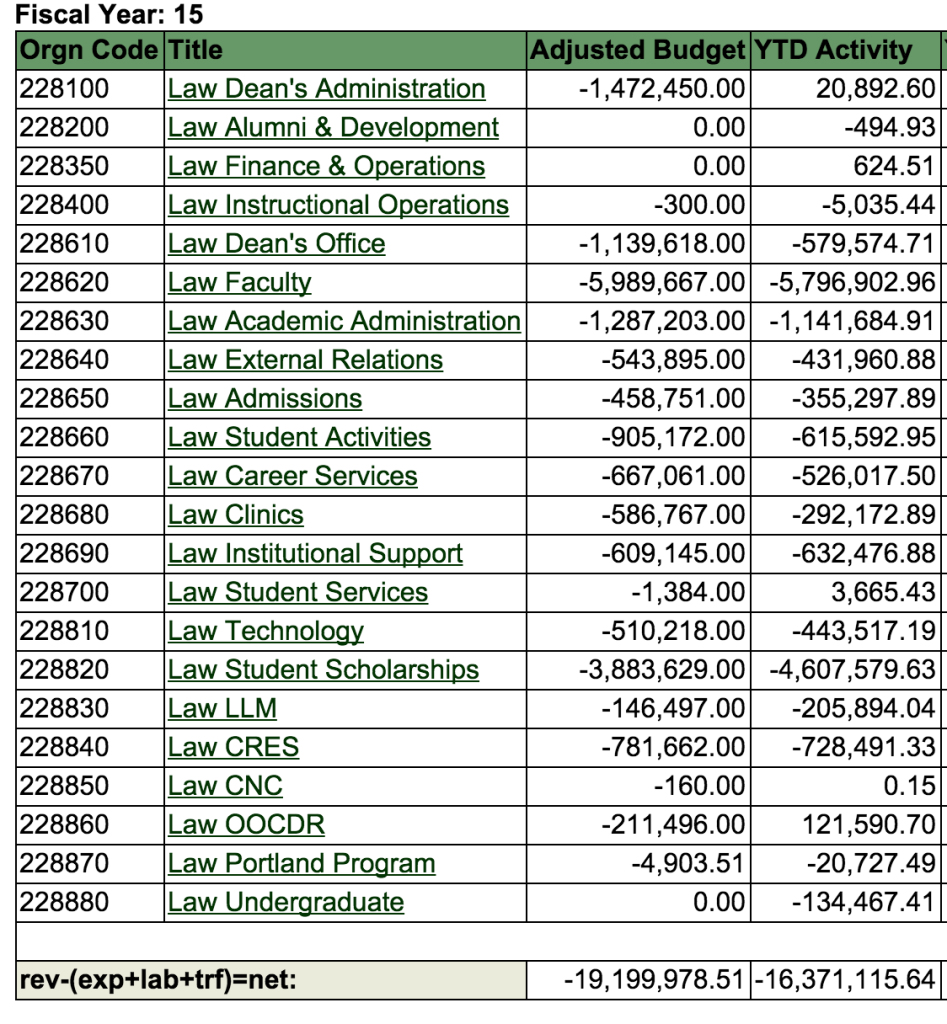 (Numbers from the Financial Transparency tool as of 5/24/2015. FY ends 6/30, so some expenses are still coming in.)