1/19/2016: The NY Times has the report here:
The University of Cincinnati has agreed to pay $4.85 million to the family of an unarmed black man who was shot to death in July by one of its police officers, a settlement that also requires the college to provide an undergraduate education to his 12 children, create a memorial to him on campus and include his family in discussions on police reform.
… Mr. DuBose, 43, was shot and killed on July 19 by Officer Ray Tensing, who pulled him over in a Cincinnati neighborhood adjacent to the campus because his car lacked a front license plate. The shooting was captured on a body camera, and Officer Tensing, who was fired from the department, faces trial on a charge of murder.
Here at UO, there's still no formal announcement of when UOPD Chief McDermed will be replaced by new Assistant Chief of Police Chou Her. Presumably UO is delaying the announcement so as not to damage its efforts to convince the judge in the Bowl of Dicks trial to cancel the jury's $755K award to former UOPD officer James Cleavenger. That hearing is Feb 12th.
The federal jury agreed that McDermed and other UOPD officers had violated the First Amendment by retaliating against Cleavenger for his opposition to arming the UOPD with Tazers. On which note the NYT adds:
Mr. DuBose is not the first black man to die as a result of an encounter with the University of Cincinnati police, and he will not be the first to have a memorial on campus. Kelly Brinson, 45, a psychiatric patient, and Everette Howard, 18, a student, died in 2010 and 2011 after campus officers fired stun guns at them, according to lawsuits filed by their families.
Of course campus police can be victims of shootings as well as perpetrators. It's not clear if armed police are safer, even for themselves. One particularly sad story comes from the University of Central Florida, where a university cop was shot and killed by another officer, who was trying to control drinking at football game tailgate parties.
The green-shirted man with the gun is an undercover UCF police officer, pointing his pistol at a drunk UCF student. The student apparently grabbed the gun, it went off, and a uniformed police officer who hadn't been told of the operation then shot and killed the undercover officer.
What happened to Richard Turkiewicz, the UCF police chief who set up this botched operation? Frances Dyke, former UO VPFA, hired him as UO's interim Director of Public Safety. No kidding. Dyke then went on to persuade the Oregon legislature to allow UO to set up its own armed police force.
What sort of oversight does UO have for its police?
7/29/2015: Prosecutor and Trustee says university police force should be disbanded
The NYT has the sad story, here:
A University of Cincinnati police officer was indicted Wednesday on a murder charge in what a prosecutor called "a senseless, asinine shooting" during a minor traffic stop. It was the first time such a charge had been leveled against an officer in the city.
The Hamilton County prosecuting attorney, Joseph T. Deters, released a much-anticipated video of the shooting of Samuel Dubose, which he described as crucial evidence that the officer, Ray Tensing, had lied about being dragged by Mr. Dubose's car. A grand jury, Mr. Deters announced, indicted Officer Tensing on a murder charge, punishable by life in prison, and a voluntary manslaughter charge.
… Mr. Deters said that the university police force should be disbanded because policing is not what a university knows how to do, and that the campus should be patrolled by the Cincinnati Police Department. He said he had discussed the matter with the city police chief and the university.
The fate of the university is a matter close to Mr. Deters's heart. He earned his undergraduate and law degrees there and formerly sat on its board of trustees.
"This doesn't happen in the United States, O.K.?" he said. "People don't get shot for a traffic stop."
Which raises the question of what sort of oversight UO has over it's new sworn and armed police department. After this RG Op-Ed  from John Ahlen and Juan Carlos Valle called for a UOPD review system, I got curious and made this public records request:
This is a public records request for copies of any "minutes, agendas, reports, and correspondence" involving "boards and councils that function in an advisory capacity, standing and ad hoc committees and councils" that primarily involve the UOPD. This request covers the period from 1/1/2011 to the present.
More than a month, and still no response from Dave Hubin's Public Record's Office. Not exactly trust inspiring.
We do know a little bit about how much it cost UO to switch from a public safety department – about $1M a year. Actually, more. It appears the UOPD blew through its budget – those new SUV's don't come cheap – and has had to hit up the central administration's "Strategic Initiatives" project for new software: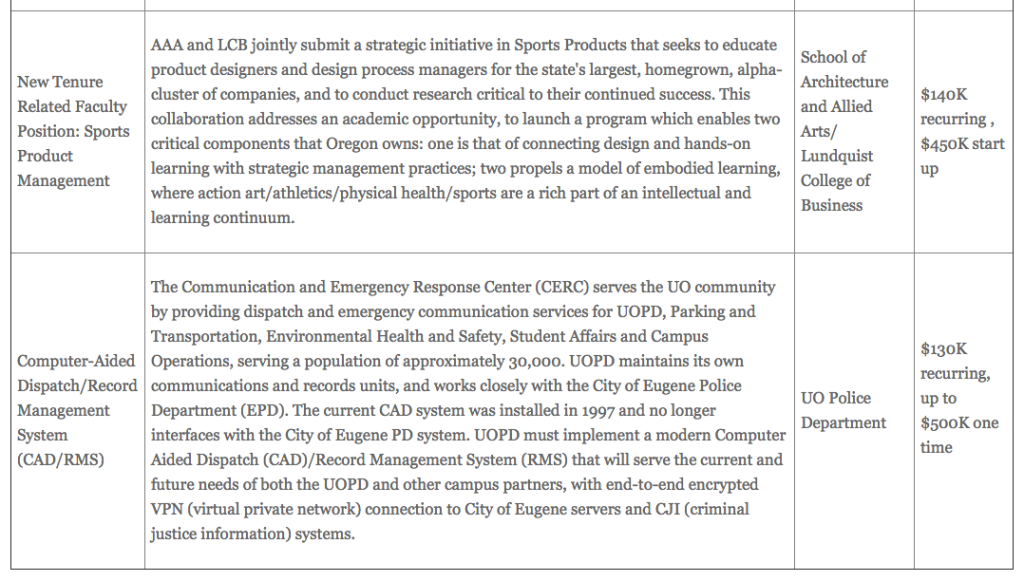 Where does the strategic initiatives money come from? The tuition revenue that Brad Shelton has clawed back from the CAS budget. (And it's going for sports products? Really? I thought we were told a donor was waiting to pay for that.)