Will Campbell has an excellent data driven story with the history of UO's failed efforts to fight grade inflation in the Emerald here:
… In 2009, when [CAS Associate Dean Ian McNeely] became chair of the Undergraduate Council, the university-wide body that oversees undergraduate education, he became familiar with grade inflation.
He decided to look into the grading culture at UO. He talked to at least five committees around campus, met with deans and the UO president, held town hall meetings and eventually published a blog in May 2010 to create a wider conversation for UO faculty about grading trends.
McNeely used a UO report from 2006 of the university's grade statistics as evidence for grade inflation. The report found that between 1992 and 2004, the percentage of A's awarded went up by about 10 percentage points — 31.3 percent to 41.6 percent— and the percentage of A's and B's together went up by seven points — from 65.6 percent to 72.6 percent.
McNeely published a report the next month with three proposals to take action against inflation. The report states that McNeely proposed each department develop specific grading standards, or "collaborate and decide on their own general description on an A, B, C grade, and so on," he said.
He and the undergraduate council also wanted each department to evaluate the grading habits of its professors. That way department leaders would be able to safeguard against inflation. McNeely's third proposal suggested that students' transcripts show what percentage of the class received the same grade. "So that would almost be an incentive for professors not to inflate grades because then it might look bad on a student's transcript," he said.
The first proposal passed in the senate, but McNeely said that not every department complied. The other two proposals failed on the senate floor.
Currently, McNeely is unaware of any administrative initiatives to combat grade inflation, he wrote in an email to the Emerald. …
There's much more, read it all.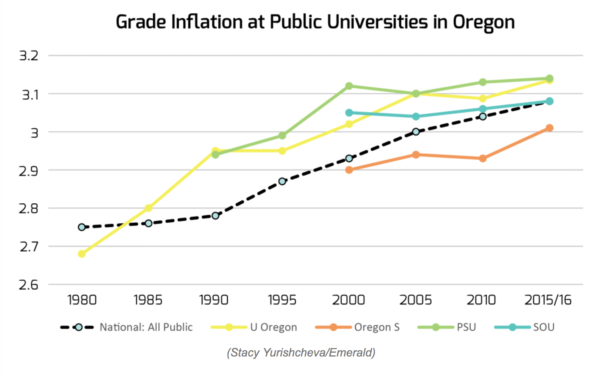 The Emerald also has an interface that lets you look at grades by course and instructor here. For example,  here's one of the infamous AAD 250 Gen Ed classes that VP for Academic Affairs Doug Blandy set up: