Senator Wyden is gonna be pissed: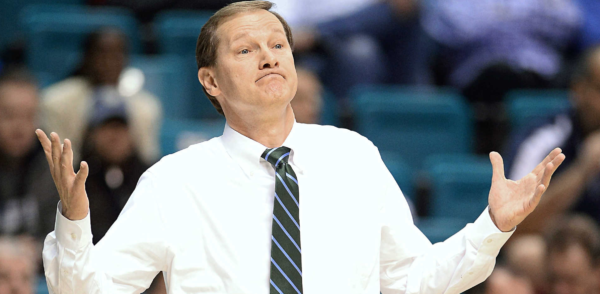 UO student reporter Kenny Jacoby, who broke the story, has the latest scoop in Sports Illustrated here. A snippet:
… According to UO spokesman Tobin Klinger, it is the school's practice not to notify coaches when student-athletes are accused of sexual assault so as not to risk "tainting investigations."
Yet Altman's cell phone records, which SI obtained under the Freedom of Information Act, reveal the coach was enmeshed in Bigby-Williams's case from the beginning.
In the first 48 hours after school officials learned of the police investigation into Bigby-Williams, Altman had five phone calls with Lisa Peterson, the school's deputy Title IX coordinator, and another four phone calls with Bigby-Williams's former coach at Gillette College, Shawn Neary. Both Peterson and Neary had direct knowledge of the criminal investigation into Bigby-Williams, and UO failed to disclose these contacts both to SI and in its letter to U.S. Senator Ron Wyden of Oregon, who demanded more information about UO's handling of the case in response to SI's reporting. …
Read it all. Meanwhile there's an excellent op-ed in the Emerald, asking how it is that Coach Altman's player never even got called in for a student conduct code investigation despite the rape allegation, while students who disrupted President Schill's State of the University Address got questioned by the Student Conduct Office for liking the protest on Facebook.
I'd say that there's plenty here to fire Dana Altman for cause, but instead Rob Mullens will probably give him another raise. Contract here.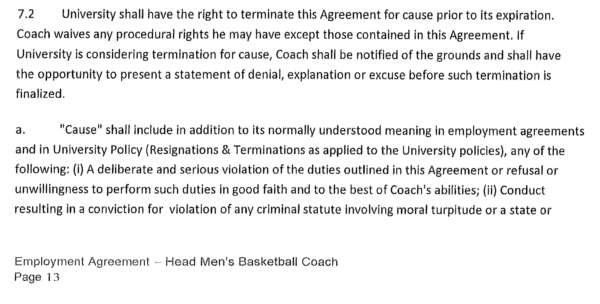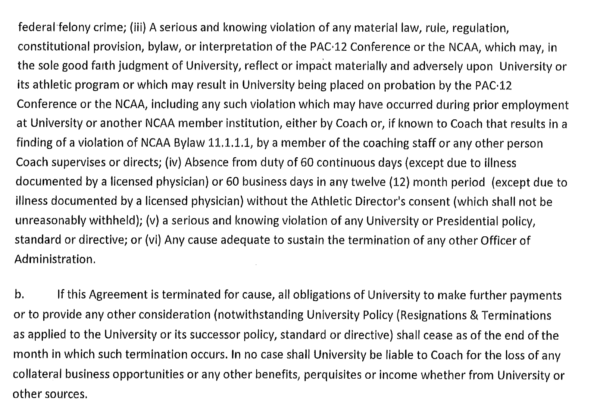 11/4/2017 update: 
For the confused, here's a link to today's interview with Kenny Jacoby, the reporter who broke this story on OPB's Think Out Loud. They discuss the incident, where UO's response went wrong, and the reporter-blaming in UO's letter to Wyden.
And, from back in 2014, here's a link to a KATU story on the UOPD's response to the 2014 incident. The UOPD asked for the EPD report, the EPD detetective said no, and the UOPD detective – the same detective who did not forward the Wyoming police report to the Title IX office this time – congratulated the EPD detective for not giving it to the UOPD, saying
"That was exactly the right decision," Flynn says in the voicemail, "and what should have been done and we're trying to keep people from being hysterical over here because they're being hysterical and wanting to do stupid things."
True enough.
11/14/2017 update: OSU gang-rape survivor Brenda Tracy not impressed by Schill's response to Wyden:
Brenda Tracy has made a career out of trying to get athletic departments to deal with their sexual assault problems. Here's her take on Pres Schill's response to Senator Wyden's letter:
Brenda Tracy
Reaction to University of Oregon's Nov. 13, 2017 Letter
Earlier this month, Senator Ron Wyden asked some very important questions regarding the University of Oregon's handling of the Kavell Bigby-Williams case.
On November 13, 2017, UO issued a response to Sen. Wyden. I found UO's response troubling, as it seems to "muddy" the waters of discussion and raises even more questions.
First, and most concerning to me, is the implication that asking questions about UO's policies is somehow hurting the survivor or stripping them of their autonomy. How many times have we seen universities opt to protect their brand and reputation over the well-being of a survivor? Over and over, we see universities acting in ways to avoid institutional accountability and transparency. And over and over again, we learn just how important accountability and transparency is as a result of the burden placed on victims.
Under Title IX, schools are required to adopt and publish grievance procedures providing for prompt and equitable resolution of sex discrimination complaints, including complaints of sexual harassment and sexual assault, and to disseminate policies against sex discrimination. Schools have to investigate and respond to complaints of sexual misconduct regardless of whether a criminal investigation is pursued.
UO's letter seems to suggest that in not conducting an investigation or initiating campus disciplinary process, UO was following the survivor's wish to not move forward with such a proceeding. However, it is not clear to me that UO even asked the survivor whether she wanted to proceed in a campus disciplinary proceeding, or whether UO simply relied on the survivor's statements to the police officer that she didn't want to proceed with a criminal investigation. Not all survivors wish to participate in criminal proceedings, but this does not mean they do not wish to participate in campus proceedings. It is also unclear to me whether the survivor was ever notified that she could choose to proceed confidentially in the campus proceeding, or ask that her identity not be revealed.
And even if UO did talk to the survivor and inform her of her options moving forward, UO's own policies state: "In instances where a Complainant requests no action and the university can honor that request, the university will take all reasonable steps to investigate and respond to the complaint consistent with the request not to pursue an investigation. Generally, this may include initiating a discussion with the Respondent regarding the allegations and explaining the sexual misconduct policy." This seems to be in conflict with UO's letter, which implies that UO won't look into potential violations of the student code unless the survivor fully participates in the process, absent an emergency. It also seems to be in conflict with UO's actual actions in this case, as it doesn't appear there was any "discussion with the Respondent regarding the allegations," much less any additional action taken.
UO's letter does not assuage my concerns about the handling of this case. UO's Student Conduct Standard Operating Procedures state: "Subject to being notified of a potential Sexual Misconduct violation of the Code, the Title IX Coordinator shall notify the Director."
By all accounts, it appears that UO failed to follow their own policy.
The school was made aware that this player was under active criminal investigation for sexual assault and not only did they choose to not investigate or follow up, but they gave him a scholarship and allowed him to play all season – and then they placed the responsibility of their entire decision on the survivor. I know first-hand what that feels like. Survivors expect and deserve better than that.
11/13/2017 update: Pres Schill responds to Senator Wyden's letter on basketball rape allegation
Reporter Kenny Jacoby, who broke this story, will be on OPB's Think Out Loud Tuesday (12-1PM) to talk about UO's response to the letter from Senator Wyden. UO's response is posted here. An excerpt from the part written by President Schill:
I am concerned by the assertion that "time and time again, colleges and universities demonstrate to policymakers, students, the general public, and especially to victims, that too often they are acting to protect their own interests." At the University of Oregon, nothing could be further from the truth. This statement relies on an inaccurate premise, and I am troubled that it perpetuates a narrative that belies the facts at the University of Oregon and belittles the efforts of many managers, staff, and faculty members who have worked hard to develop policies and procedures to protect our students.
UO does have "many managers, staff, and faculty members who have worked hard to develop policies and procedures to protect our students." For example, the UO Senate and its "Not in Our Name" resolution of March 4, 2015, protesting the decision by then interim President Coltrane and then interim General Counsel Doug Park (now Deputy UO General Counsel) to countersue the survivor of the March 9th 2014 alleged gang rape:
Section I
1.1  WHEREAS on January 8th 2015 the University of Oregon student survivor of an alleged March 8th-9th 2014 gang rape by three UO basketball players sued the University and Basketball Coach Dana Altman;1
1.2  AND WHEREAS on February 9th the University filed a counterclaim against the student, asking the court to order her to pay the fees for the University's own outside lawyers;2
1.3  AND WHEREAS the University's counterclaim outraged many in the university community and the public;
1.4  AND WHEREAS, despite withdrawing the counterclaim on February 26th, the University retained language from the counterclaim saying that some of the lawsuit's allegations (a) amount to "unclean hands," (b) "threaten to harm … all sexual assault survivors in Oregon's campus community" and (c) create a "risk that other survivors will wrongly be discouraged from reporting sexual assaults and sexual harassment";3
1.5  AND WHEREAS the University's efforts to defend itself in this and similar cases should be limited to disputing facts, instead of using its legal documents to make sweeping, polemical policy statements that themselves can cause harm to survivors;
Section II
2.1  BE IT THEREFORE MOVED that the University of Oregon Senate appreciates Interim President Coltrane's decision to drop the University's counterclaim against the student survivor, for UO's legal fees;
2.2  AND BE IT FURTHERMORE MOVED that the Senate fears that the victim-blaming language that is still in the revised response listed under "unclean hands" will harm victims of sexual assault at the University of Oregon, discourage them from reporting rapes, and have a chilling effect on them defending their civil rights in court;
2.3  AND BE IT MOVED that the Senate requests that the University report to the Senate on how the University originally decided to file this counterclaim and how it later decided to continue the assertions that parts of the alleged victim's lawsuit are to be blamed for discouraging rape reports;
2.4  AND BE IT FURTHERMORE MOVED that the University of Oregon Senate asks the University President to withdraw the remaining counterclaim language that has been retained as a charge of "unclean hands";
2.5  AND BE IT FINALLY MOVED that the University of Oregon Senate wants all to know that the University of Oregon administration and Basketball Coach Dana Altman are not acting or speaking in our name.
 There are many more examples of efforts to hide the facts and delay reform in the Gott-Gate cover-up timeline here.
11/6/2017 update: Can UO spokesperson Tobin Klinger distract Senator Wyden's attention with attack on student reporter?
I'll go out on a limb here and guess that the Senator has dealt with more competent deflection efforts than this one, from the feckless Mr. Klinger in the RG here:
"As has been said before, (in the Bigby-Williams case) the university followed the process as necessary under nuanced and challenging circumstances," Klinger added. "While we understand that at first glance the selective information provided by the media may appear concerning, we would also respond that the media often does not have the entirety of the information due to privacy laws which we vigorously enforce."
Here's one of Klinger's previous attempts to change the subject – a bizarre letter to the editor from 2014, trying to get UO's Chinese students to go after former RG reporter Diane Dietz: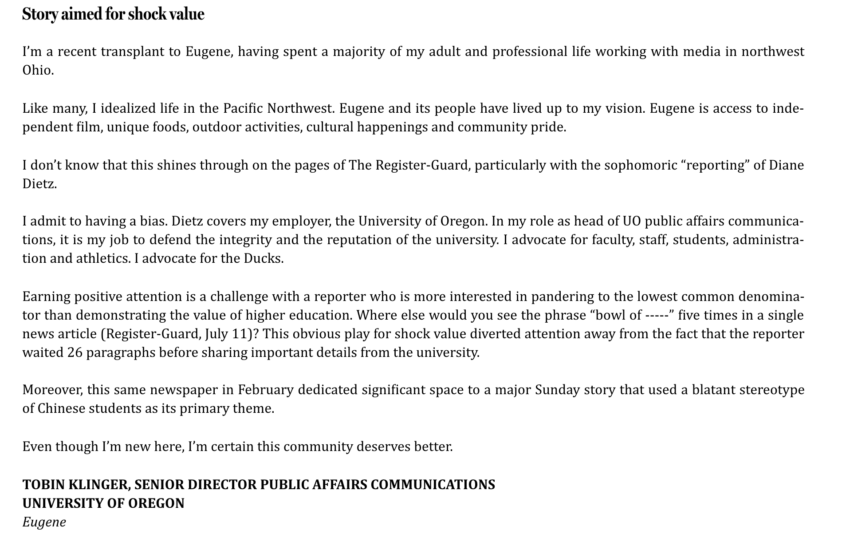 11/6/2017: Senator Ron Wyden asks UO to explain mishandling of rape allegations against Dana Altman recruit, calls for accountability
Stories now in the Emerald, WWeek, RG, Pdf here: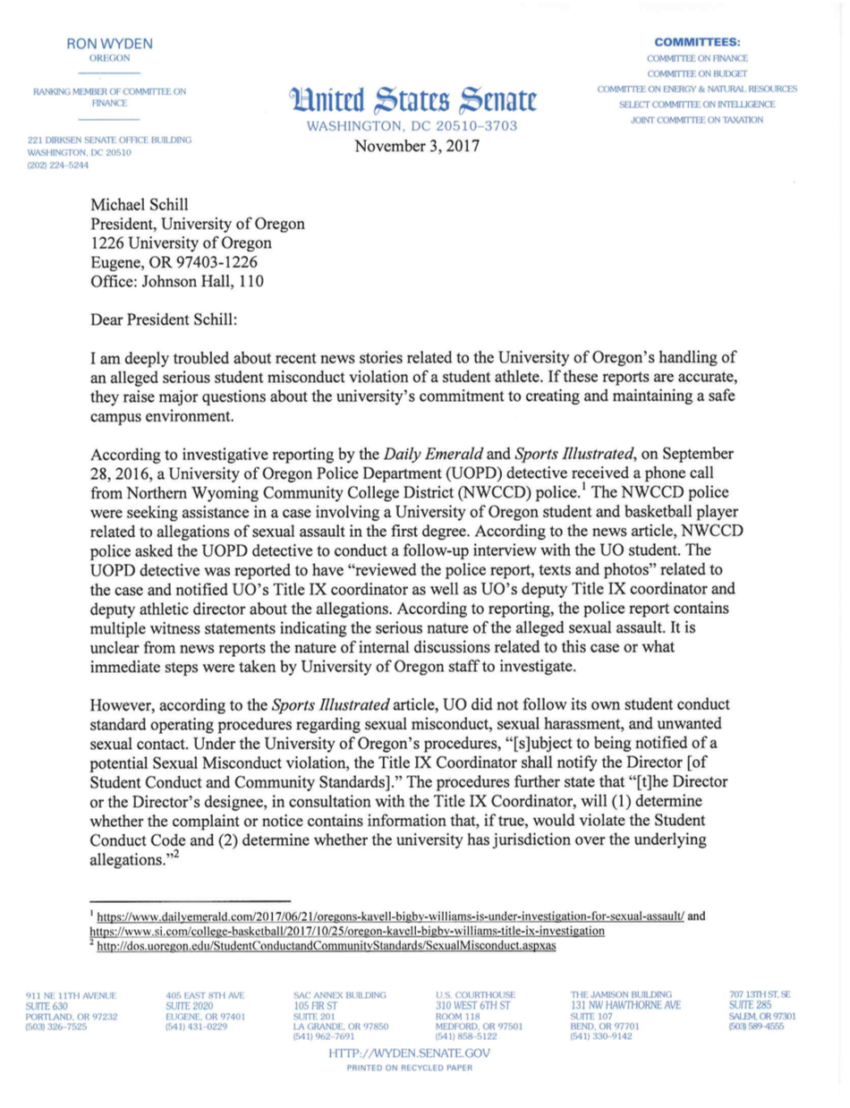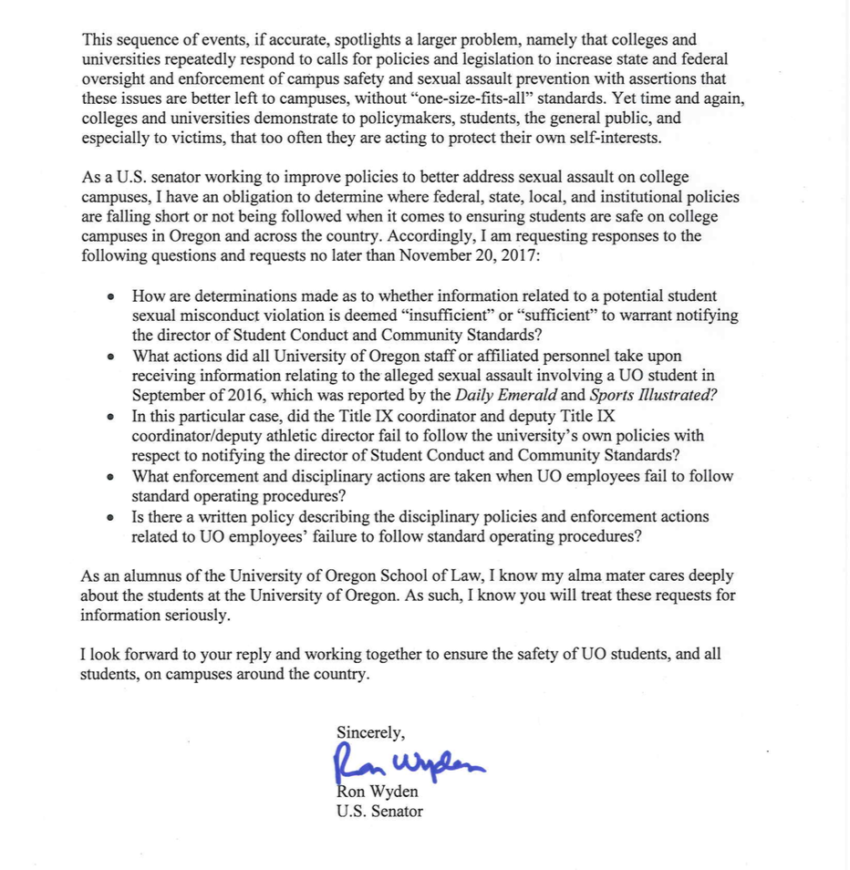 10/26/2017: Student reporter Kenny Jacoby publishes Sports Illustrated story on UOPD & administration mishandling of rape allegations against another Dana Altman recruit
Here's a link to audio of John Canzano's interview with Jacoby, who raises some excellent points about how differences between UO's policies and those of other schools, and UO's failures to follow its own policies, allowed Altman to play this student-athlete for an entire season. As would be expected given his many investigations of similar prior incidents involving the Duck Athletic department, Jacoby is extremely knowledgeable, and very good at explaining what went wrong.
I'll also point out that, despite this latest incident, UO has made many important improvements in how it handles sexual assaults, thanks to the overall competency and hard work of the new administrators working on these problems, including Darci Heroy.
10/25/2017: Here's Altman back in May 2014, trying to persuade incredulous reporters that while he knew that his previous recruit Brandon Austin had been suspended from the Providence College basketball team for a year, he never thought to ask why: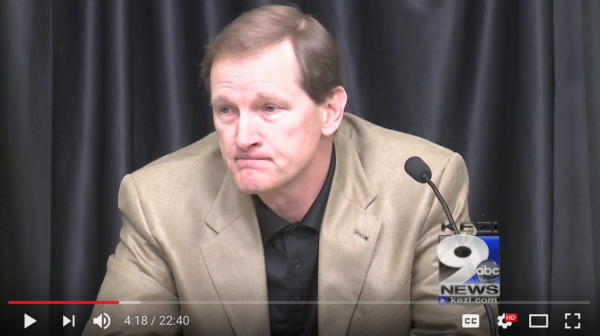 I've never met anyone who believed him. Altman and the UO administration hid the gang-rape allegations from the campus community for months. Altman didn't deny that he had planned to quietly pass the players off to other schools without telling the other coaches – or universities. UO never investigated Altman, instead they gave him a raise and a contract extension.
And here's a story from last week about another Altman recruit who was charged with sexual assault while still deciding whether or not to accept Altman's offer to play for the Ducks.
And today UO student reporter Kenny Jacoby has a long read in Sports Illustrated, detailing multiple breakdowns in UO's compliance with its own procedures for investigating rape allegations against a fourth member of Altman's team:
Last season, Kavell Bigby-Williams, a 6' 11″, 230-pound transfer from Gillette College, averaged 9.8 minutes for an Oregon basketball team that reached the Final Four. He also played the entire season while under investigation for forcible rape.
School administrators maintain that proper protocols were followed and laws were complied with upon learning of the allegation. But according to analysis of public documents and Title IX lawyers who examined the police report and Oregon's policies, procedures, and explanations, the university violated its obligations under the law and acted at odds with the school's own policies.
The intersection between college athletes and campus sexual assault allegations may be a distressingly busy one. The fact pattern in the Bigby-Williams matter may be familiar. But the Bigby-Williams situation is more jarring given the athletic program in question. In March 2014, a UO undergraduate reported that she had been sexually assaulted by three members of the school's basketball team, Dominic Artis, Damyean Dotson and Brandon Austin. The graphic police report detailed alleged assaults at two off-campus locations. Despite the allegations, two of the players remained on the team throughout the investigation, playing through the Ducks' 24-win season and an NCAA tournament berth. (Austin, who sat out the 2013-14 season as a transfer player with Oregon, had been suspended at his previous school, Providence, after being accused in a separate sexual assault in which no charges were filed.)
The University of Oregon suspended the players from the basketball team in May, after the season ended. In late June—when most students were away and college campus outrage was chilled—the University of Oregon confirmed it had suspended the players from campus for a minimum of four years following an investigation into sexual misconduct.
In early June, the victim offered a blistering criticism of the athletic department and of UO head basketball coach Dana Altman in particular. "I am angry with the culture that appears to exist in our athletic department that prioritizes winning over the safety of our students," the victim wrote.
"I cannot fathom how our basketball coach recruited someone who was in the middle of a suspension for another sexual assault to come to Eugene."
The student would sue the University of Oregon, including Altman, for recruiting Austin without regard to disciplinary action at his previous school for a similar accusation. When the suit was settled—Oregon agreed to a payment of $800,000 and free tuition, housing and student fees—Altman's job was spared and university administrators breathed an audible sigh of relief. …
The rest of Jacoby's story details the multiple breakdowns in UO's compliance with its own policies and procedures, including ones that the Senate revised in response to the previous alleged assaults. Read it all.