FSU has fired Coach Taggart, and apparently he expected to get a $17M buyout. But as the Tampa Bay Times reports, apparently FSU and Taggart never actually got around to signing a contract: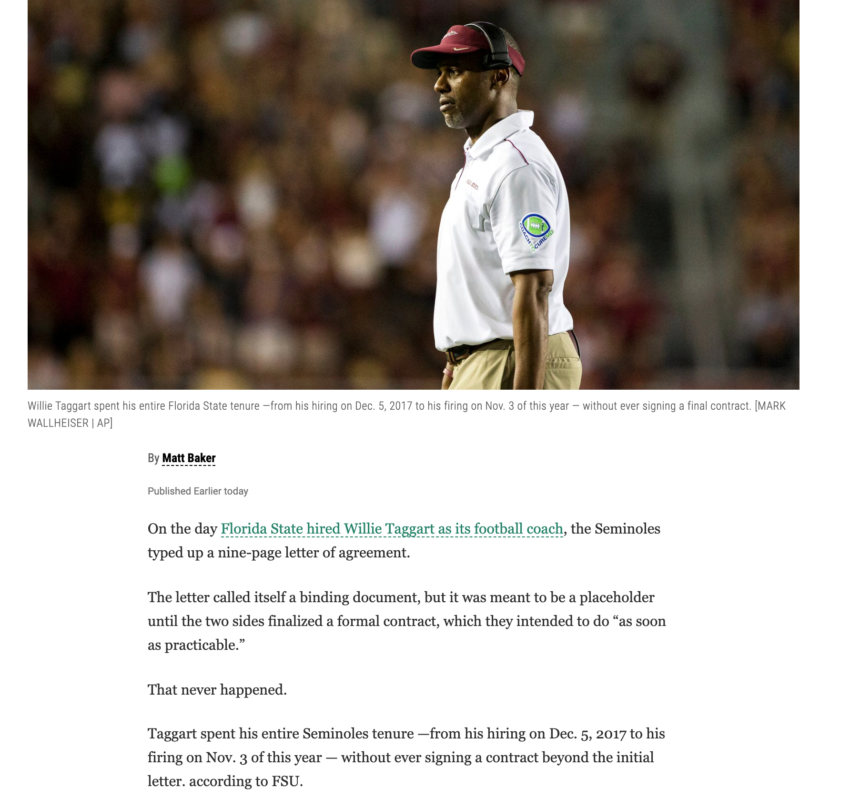 When this happened at UO with Mike Bellotti, President Lariviere fired Melinda Grier, the general counsel that he'd inherited from President Frohnmayer. The Oregon DOJ investigated, and after 381+ billable hours charged UO $44,086.60, and concluded that Grier (and/or her office, a bit ambiguous) had provided "deficient legal representation" to UO and had hid public records from the press.
She now works as a consultant to the National Collegiate Acrobatics and Tumbling Association.
After a failed search, Lariviere appointed Grier's Associate GC Randy Geller to the GC job. A few years and a few very transparent athletic scandals later President Gottfredson fired Geller and gave the GC job to Geller's associate, Doug Park. Park was a trailing spouse, and is not the sharpest tack in the Johnson Hall bulletin board.
Shortly after President Schill arrived he hired Kevin Reed from UCLA to be his general counsel. Reed bragged in his application letter that he was really good at covering up athletic scandals avoiding unwelcome attention about potentially mission-interrupting matters of the sort that had recently become public at UO:

In the end Bellotti got his bonus and a fat PERS payout too. Doug Park is now working as Kevin Reed's Deputy GC, a new job created by Pres Schill especially for him because UO is all about excellence.