Dean Marcilyn Burke will ask the Board of Trustees for a 7% increase – but it's a shell game. She will keep the money for the law school's own budget, including more fee remissions. So actual cost will barely change, and after scholarships law students will still pay only ~50% of the listed tuition (on average). In contrast UO only has funding to give undergrads discounts of about 10%. From the Tuition Fee Advisory Board here: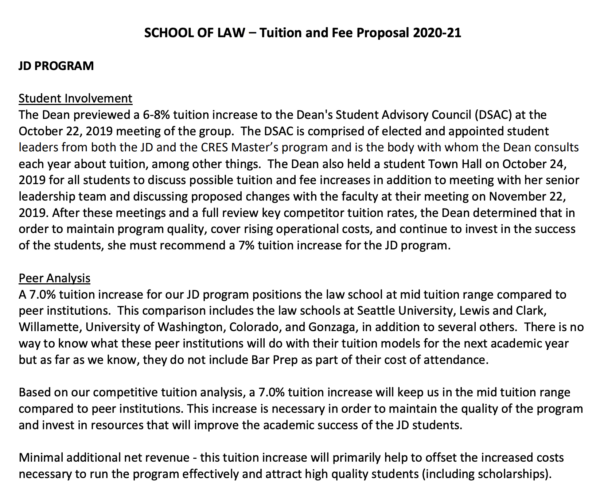 A rough estimate of the current law school subsidy is $10M per year. The latest available data is 2017-18, at https://ir.uoregon.edu/files/Operational_Metrics_LAW_01092018.pdf They spent $13.2M on personnel costs. Figure another 20% for mics, you get about $16M. Add in overhead to JH, IT, Facilities etc, and you're at at least $20M. They brought in maybe $7M from law student tuition after the discounts, and they taught another 4800 credits to undergrads at about $220 per, averaging in and out-of-state tuition. Let's call it a total of $8M in tuition revenue versus costs of about $20M. Through in a few offsets from donations and you get $10M in subsidies.
Why are UO's undergrads paying $10M to subsidize law students and professors? This subsidy helps the law school recruit better students, and is crucial to keeping their US News ranking high. Cutting this subsidy would of course leave the rest of UO with more money – which it could use to improve it's over all US news ranking. But apparently that's not important to our administration.
The huge increase in law school scholarships started with this deal cut back in 2014 between then Law School Dean Michael Moffitt, his spouse and VP for Finance and Administration Jamie Moffitt, and VP Brad Shelton: