I spent a lot of time talking to Linda Brady about Charles Martinez's double dipping, UO's first 5-year diversity plan, and John Moseley's UO-Bend scheme. Before I met her I assumed top administrators needed to be reasonably smart, competent people. But she was clueless and easily manipulated, which was presumably why Frohnmayer hired her. That was something of a revelation to me. When she left, Frohnmayer appointed Jim Bean to as interim provost, presumably for the same reasons. That said this is a bit surprising – not least because she let Martinez get away with much worse: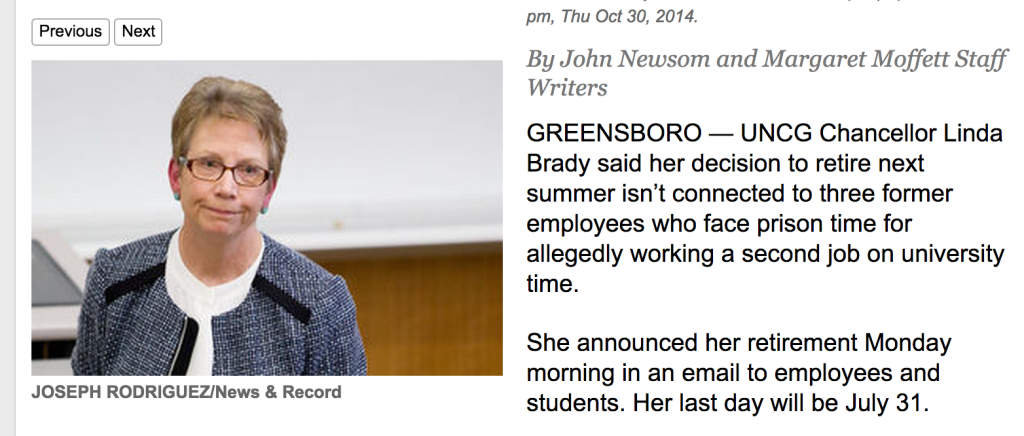 4/25/2011: Former UO Provost Linda Brady is the subject of a feature article in the Chronicle on UNC-Greensboro (4/25/2011). She left UO to become Chancellor (president) there:
Ms. Brady says that communication, particularly with the faculty, is something she needs to improve. She's heard that professors think she is distant and unsympathetic. When a news story about the university's $31-million renovation of the dining hall came out in the local paper, she worried that students and professors wouldn't understand that the project was covered through auxiliary money, separate from state funds.
Brady was hired by Frohnmayer to run things after John Moseley took his Bend golden parachute. She spent a remarkably ineffective two years at UO – except for helping Frances Dyke spend millions remodeling Johnson Hall. Frohnmayer didn't trust her, so Melinda Grier ended up running UO. Brady left as soon as she could, to everyone's relief – I'm guessing not least hers.
Frohnmayer then appointed Business School Dean Jim Bean as interim Provost on a two year contract. When Lariviere arrived he appointed Bean as UO's permanent provost, without going through the normal search process.