10/1/2017: 
Among the years of reports, last summer Daily Emerald reporter Max Thornberry had this about this famously mismanaged office, here. A snippet:
Concerns about the timeliness and effectiveness of the AAEO office [aren't] new. A 2014 report from the ombuds office found that, "classified staff report high levels of distrust…in the fairness, competence and responsiveness of the University's AA/EO function."
And in their motion for a summary dismissal of Chixapkaid Pavel's lawsuit against SVPAA Doug Blandy and former AAEO Director Penny Daugherty and others, UO's lawyers have decided to run with that, here: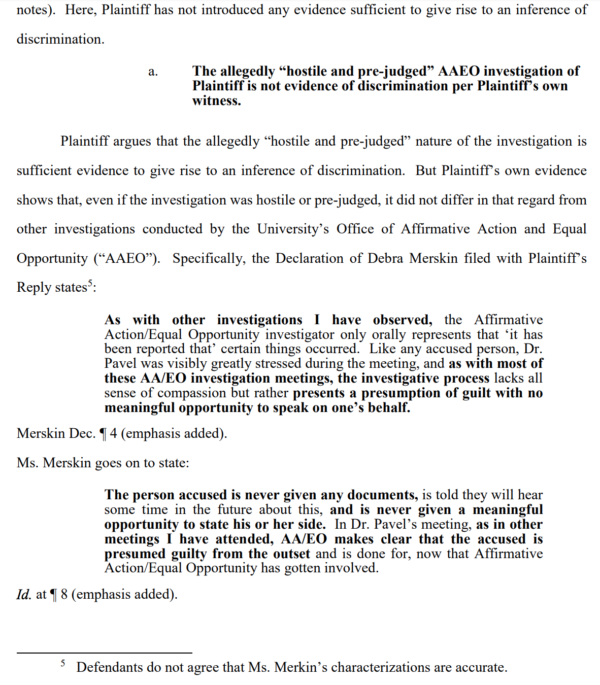 I'm no law professor, so I have nothing to say about the likely success of this argument by Amanda Walkup and Alexandra Hilsher of Eugene's Hershner Hunter law firm, except that it seems a bit odd to try and use something like this to persuade the Honorable Ann Aiken to dismiss the case, unless you think there's a pretty high probability she'll take it as true despite that weasley footnote.
Another aspect of UO's motion also seems problematic: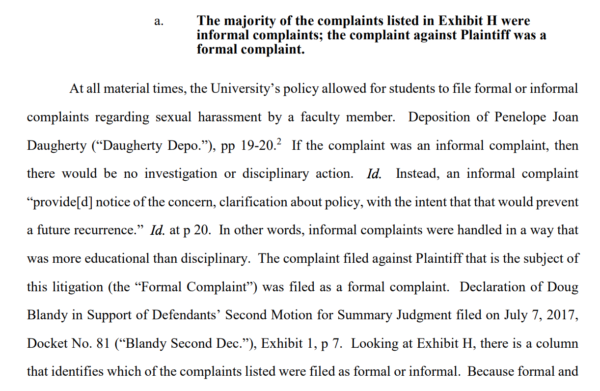 Unfortunately Exhibit H isn't in the docket, since UO submitted it under a protective order. However, a quick glance through the Bias Response Team documents that UO's Public Records Office submitted to the Foundation for Individual Rights in Education, here, will reveal at least one recent informal complaint that was submitted to AAEO and led to a full and expensive AAEO investigation and the potential for serious discipline – although the GCO eventually told AAEO to drop it and exonerated the professor.
5/12/2016: Professor Chixapkaid Pavel files suit against UO, Penny Daugherty, etc
Docket here, full complaint here.