InsidehigherEd has the story here:
This is not a trivial decision, but it's the right decision," Chuck Staben, the University of Idaho's president, said in an interview Wednesday.
"What attracts students to our institution is the quality of academic programs, the great outcomes and the preparation for life after college. It's a great research institution. Football and athletics just complements that. We're choosing to ensure that students can compete on the field and get a great education." …
In Rare Company
In 1939, the University of Chicago abolished its football program and, a few years later, withdrew from the Big Ten Conference, a league it co-founded.
Chicago was home to the first recipient of the Heisman Trophy, multiple Big Ten championships and 11 future Hall of Famers. But Robert Hutchins, the university's president, wanted the university to be known for its academics, not its athletics, and cut the program. The football team returned in 1969, but as a member of Division III.
The decision forever made Chicago the model of institutions that have gotten by just fine without big-time sports. Staben, while explaining Idaho's decision in an interview this week, referenced Chicago as "the classic example" of an institution successfully leaving top-tier college sports behind. Chicago remains the example, in part, because so few others have followed suit.
Meanwhile here at UO, big-time football is a huge moneymaker, with TV revenue increasing at about 6% per year. But none of the profits support the university's core academic mission. The athletic department keeps it all plus whatever they can skim off the academic budget, and they spend it on coach's salaries and subsidies for their many money losing sports.
Meanwhile Duck football has failed to bring in the new undergraduates that boosters such as Pat Kilkenny, Dave Frohnmayer, Rob Mullens, Brad Shelton, and VP for Enrollment Roger Thompson have promised: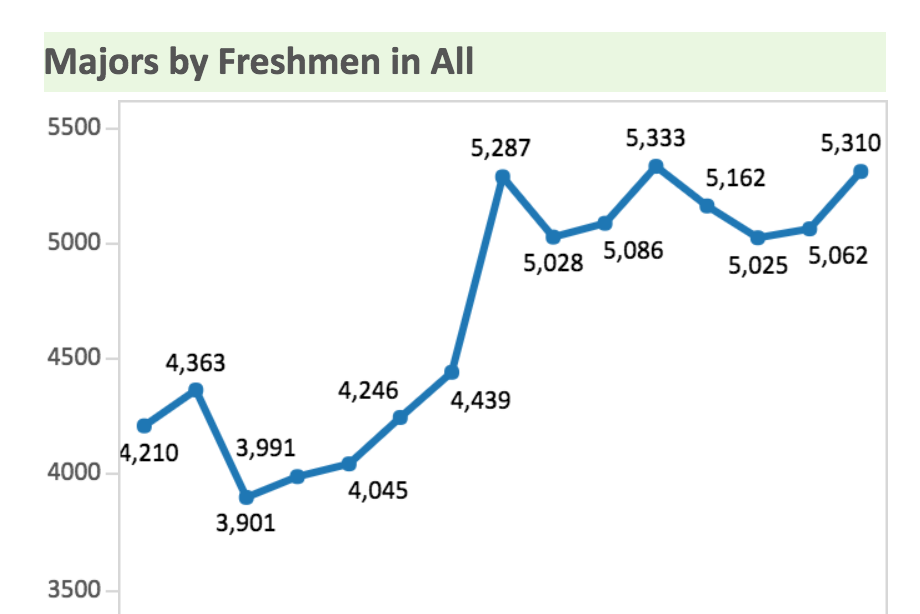 Mike Bellotti's winning 2001 season was followed by a small enrollment increase, and his mediocre 2002 season by a decrease. But the large increases from 2004 to 2008 occurred during a string of mixed football seasons, with the 2008 peak coming after a decent but not spectacular finish at #24 in the coaches poll. New freshmen enrollment dropped in Fall 2010, after Chip Kelly's #11 2009 season, and it has been essentially flat ever since, despite football finishes ranging from #9 to #2, and UO's need for new students to make up for the decline in the number of credits students have been taking.
This lack of correlation at UO is matched by the experiences of other schools. The latest research shows that football wins are, at best, an expensive way to get slight increases in applications from mid SAT range male students. Not every parent wants to spend $45K a year sending their child to a football-factory party school.