10/9/2017: 
According to the date stamp, this report on some of Tim Gleason's spending as the NCAA's Faculty Athletics Representative was pulled on Sept 25th – and that was only after they'd claimed they didn't have any BANNER records, and made me file another request. But Kevin Reed's Public Records Office didn't send this to me until Oct 6th: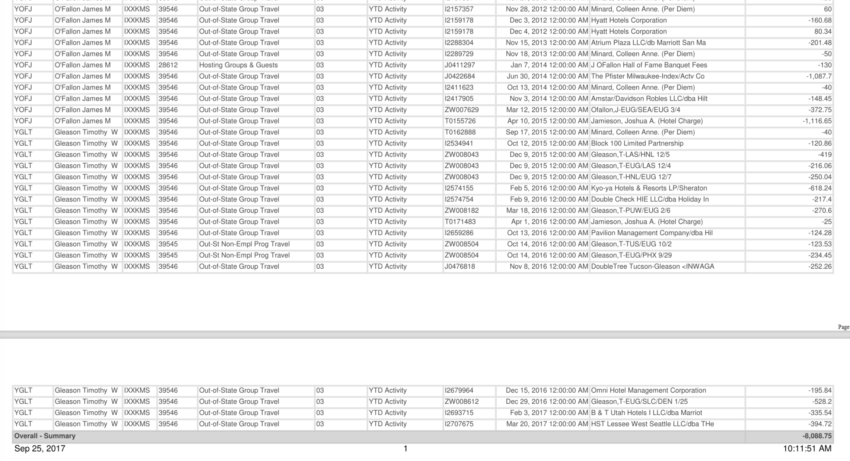 And now they want $84.92 to explain how much more the academic side is paying to help do the NCAA cartel's job:
10/06/2017
Dear Mr. Harbaugh:
The University of Oregon has received your public records request for "This is a public records request for records showing the expenditures of the Faculty Athletics Representative and his office, from July 1 2010 to the present" on 09/22/2017, attached. The office has at least some documents responsive to your request. With this email, the office is providing you with an estimate to respond to your requests.
Some records have been provided to you in response to your public records request 2018-PRR-072 for "…a BANNER reports showing the expenditures of the Faculty Athletic Representative and his office, from July 1 2010 to [9/13/2017]". However, the University possesses additional records that are responsive to your current, more general, request
The office estimates the actual cost of responding to this request to be $84.92. Upon receipt of a check made payable to the University of Oregon for that amount, the office will proceed to locate, copy, and provide the records you have requested that are not exempt from disclosure. Your check may be sent to the attention of Office of Public Records, 6207 University of Oregon, Eugene, OR 97403-6207.
The university has received your request for a fee waiver for these records. The decision to waive or reduce fees is discretionary with the public body. After considering your request, the office does not consider that the totality of the circumstances you presented meets the standard for a fee waiver.
… Thank you for contacting us with your request.
Sincerely,
Office of Public Records
6207 University of Oregon | Eugene, OR 97403-6207
(541) 346-6823 | [email protected]
Meanwhile, it's not clear where the HBO request for Gleason's rhabdo docs is at. The PR office is way behind. Perhaps they're busy with FBI search warrants?
9/22/2017: Apparently HBO has paid UO the $754.28 Tim Gleason wanted for the rhabdo docs, and presumably he's now compiling them. I'm not sure if Gleason gets the money, or if it will go to his office and offset some of the cost to the academic budget of his FAR salary, and I'm still waiting for the docs showing just how much his FAR office is costing UO.
9/21/2017:  On Sept 13th I made a simple public records request (at bottom of post) for an accounting report that would show how much money it's costing the academic side for UO Journalism Prof Tim Gleason's NCAA "Faculty Athletics Representative" office. Today I got a response denying my request on the grounds that there is no such record.