UO has two VPAA's, a hangover from Mike Gottfredson and Jim Bean's byzantine and top heavy org chart: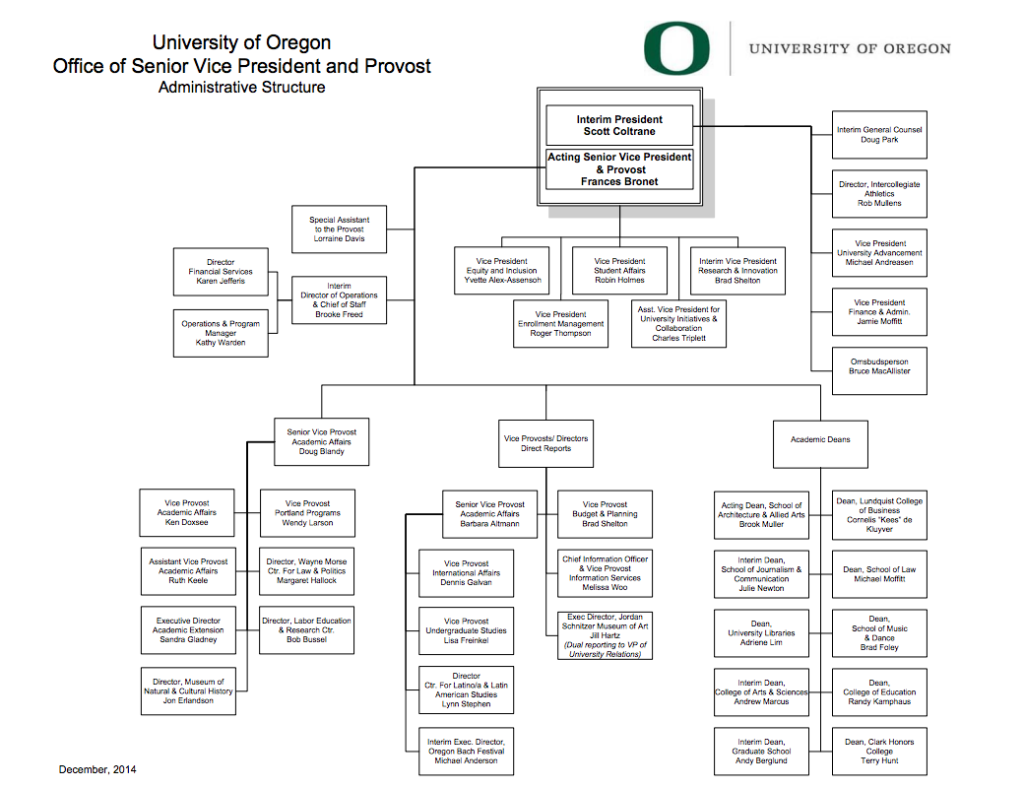 Current VPAA #2 Barbara Altmann is leaving for Bucknell, here are the finalists to replace her:
Colleagues:
We present, for your consideration, an outstanding pool of finalists for Senior Vice Provost for Academic Affairs: [I've added links to their letters of application, which are worth reading.]
Dr. Susan Anderson, Professor of German and Scandinavian
Dr. Carol Stabile, Professor of Journalism and Communications [sic]
Dr. Frances White, Professor of Anthropology
Letters of interest and CVs are posted at http://provost.uoregon.edu/content/senior-vice-provost-academic-affairs-search-0 Please engage the finalists at their public presentations and any other meetings to which you may be invited. After each candidate's day of campus meetings, a survey link will be activated on the same webpage as a way for you to give me your feedback. The one-day events will be held June 9, 10, 11 and schedule details will be posted soon. I look forward to reading your perspectives on the candidates.
Please contact Kathy Warden, [email protected] if you have any concerns or comments on the process.
Regards,
Frances Bronet
Acting Senior Vice President and Provost