I've always said that the UO administration could end this muckraking website any time they wanted to, simply by being honest and transparent. A quick glance at the public records log will convince you that our Johnson Hall leadership is not there yet.
However, if current trends continue, UO M will have no readers by sometime in Dec 2018. On the other hand the administration's official Around the O blog already has ~0 readers from the Eugene Metro Area, which of course includes UO: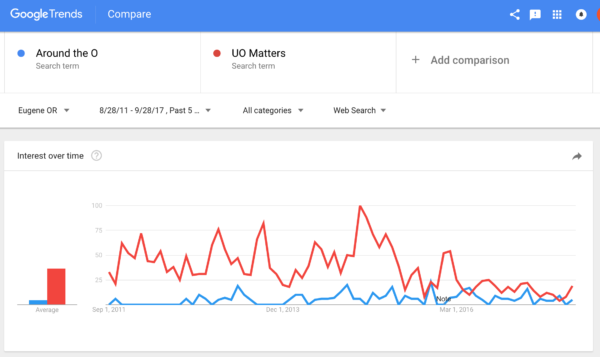 I'm no econometrician, but I think I see some negative correlation too. Do people seek out UO M and avoid Around the O when there's a scandal involving info the administration is trying to hide?
Fortunately Around the O does much better if you expand to the national data.