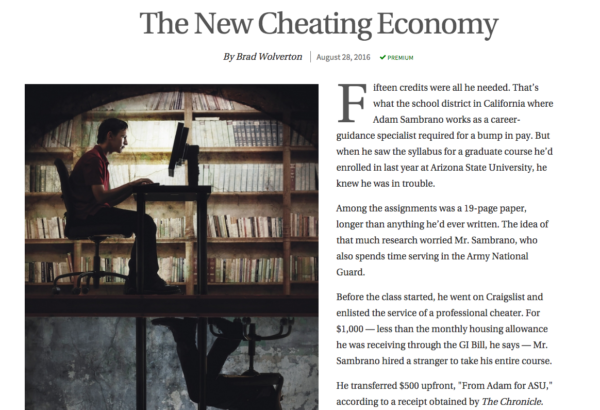 Gated if you're off the campus network, link here. A snippet from a long report by Brad Wolverton:
… The Chronicle spoke with people who run cheating companies and those who do the cheating. The demand has been around for decades. But the industry is in rapid transition.
Just as higher education is changing, embracing a revolution in online learning, the cheating business is transforming as well, finding new and more insidious ways to undermine academic integrity.
A decade ago, cheating consisted largely of students' buying papers off the internet. That's still where much of the money is. But in recent years, a new underground economy has emerged, offering any academic service a student could want. Now it's not just a paper or one-off assignment. It's the quiz next week, the assignment after that, the answers served up on the final. Increasingly, it's the whole class. And if students are paying someone to take one course, what's stopping them from buying their entire degree?
The whole-class market is maturing fast. More than a dozen websites now specialize in taking entire online courses, including BoostMyGrade.com, OnlineClassHelp.com, and TakeYourClass.com. One of them, NoNeedtoStudy.com, advertises that it has completed courses for more than 11,000 students at such colleges as Duke, Michigan State, even Harvard.
As cheating companies expand their reach, colleges have little incentive to slow their growth. There's no money in catching the cheaters. But there's a lot of money in upping enrollment. …
Last year UO's College of Arts and Sciences took the proactive step of requiring proctored exams for its on-line courses, with students having to prove their identity:
Dear Colleagues,
The University and College have recently become very concerned about identity fraud in online courses, including cases where students hire private services to do their homework or take their exams for them (see, e.g., www.wetakeyourclass.com, www.boostmygrade.com). While this problem affects our conventional seated courses as well, identity verification is often more difficult in online courses.  Any such fraud seriously damages the credibility and academic integrity of our online courses.
We are fortunate to have available a service in the College that can immediately address this issue.  The Social Science Instructional Laboratory (SSIL), run by CASIT, has developed and refined methods over nearly two decades of experience to administer proctored tests to virtually any student enrolled in an online course.
Given this, we will now require that all CAS online courses work with SSIL to set up proctored exams for their courses using SSIL services as soon as practicable, but no later than for courses offered in Winter Term 2016.
We also understand that some courses may have substantial written assignments in lieu of exams for pedagogical reasons. In these cases, we want instructors to coordinate with SSIL staff to use anti-plagiarism software to evaluate these major assignments. 
Some online courses, such as large hybrid courses offered through Math, already have proctored exams with stringent security procedures.  We will NOT require these courses to switch SSIL, but departments using or proposing alternatives to SSIL proctored exams will have to be evaluated by SSIL staff and need to get final approval from the Associate Dean for Undergraduate Education (ADUE).  The ADUE may consult with the CAS Curriculum Committee at his/her discretion.  
To be clear, we are not requiring that every single assignment in an online course undergo a rigorous ID verification.  Quizzes, homework assignments, and other exercises that each comprise a small portion of a person's grade can be exempt.  However, we expect that exams (midterms and finals) and major written assignments compose the majority of the grade in a course and will be subject to these ID verification procedures.
 The tests administered through the CASIT SSIL lab are all taken through a secure web browser over the internet and are given in a testing center/environment. That environment could be here at the UO, at a military base, at a high school, or at another university in another country. Students are allowed to either find a convenient suitable proctor, or they can use one of the hundreds of approved proctoring partners that SSIL has established throughout the world.
Currently, SSIL is installing hand scanners (currently in use in the UO Recreation Center) as an even more certain method of ID verification for students taking proctored exams in the SSIL lab. (A substantial majority of students taking online courses at UO live near campus and can take their proctored exams in SSIL.)  Many current online courses in CAS use SSIL, and we are committed to ensuring SSIL will have capacity for all CAS online courses to use their services. 
While there are other ways to discourage ID fraud in an online environment, such as having students sign "honor declarations" or use of strategic exam questions and delivery methods, we do not feel that these are generally adequate enough to credibly deter ID fraud.  SSIL has demoed several services that would allow students to take exams outside of a proctored environment. In each case, they have discovered areas of insecurity in their systems that would allow a student access to inappropriate information.
Several years ago, SSIL established a set of online education standards, which are very similar to and consistent with other major university online education standards and address issues like secure testing environments, positive identification, and student integrity.  You can find these at: http://oe.uoregon.edu/standards/
In the wake of these ID verification concerns, other UO schools and colleges have recently contacted SSIL to use their proctored testing services, including AAA, COE, and LCB.  We assure you that all CAS courses will have first priority to SSIL services. 
If you have any questions regarding this new requirement, please contact your divisional associate dean.
Thank you.
W. Andrew Marcus, Bruce Blonigen, Karen Ford, Hal Sadofsky and Karen Sprague
Does anyone know if other UO colleges are also requiring this?