9/12/2018: I can think of many reasons why UO, a public university, would want to redact the advice it received from one of its outside attorneys (and the response from the University Architect) on whether or not it would be a good idea to split the CUP request into two parts: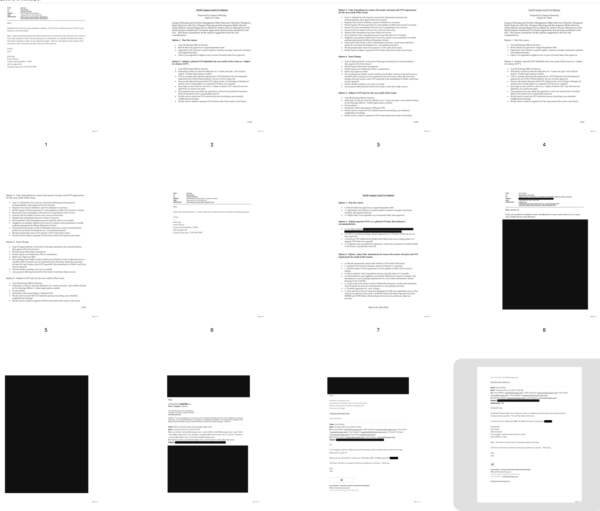 Not all of them are nefarious. However, UO's case for using the attorney-client privilege exemption in Oregon's public records law is weakened by our administration's willingness to talk about that advice when it suits their purposes. A public agency can't tell the public "our lawyers have advised us that we shouldn't split the CUP" and then use the public records law to redact the actual advice they received. Or at least that's what Oregon law says:
2017 ORS 40.280, Rule 511. Waiver of privilege by voluntary disclosure
A person upon whom ORS 40.225 (Rule 503. Lawyer-client privilege) to 40.295 (Rule 514. Effect on existing privileges) confer a privilege against disclosure of the confidential matter or communication waives the privilege if the person or the person's predecessor while holder of the privilege voluntarily discloses or consents to disclosure of any significant part of the matter or communication.  …
And yet here is the statement from UO President Schill to the UO Senate, in his May 11th response to the Senate's North Campus resolution, disclosing a significant part of the very communication that GC Reed subsequently redacted:

(President Schill's letter is on the UO Senate website here. Thanks to a helpful reader for the UO documents, which were redacted by UO GC Kevin Reed's Public Records Office. Full pdf here. )
9/10/2018: North Campus public hearing 5:30 this Wed, 125 East 8th Ave
Last spring the UO Senate had a long and interesting debate about the proposal, then overwhelmingly passed a resolution calling on the university administration to divide the CUP application along the railroad tracks and go ahead with the part south of the tracks (needed for Knight Campus), while redoing the proposal for north of the tracks to make sure it would be preserved as an natural amenity and site for ecology fieldwork.
The administration went ahead with the application for both parcels anyway, and the city has scheduled the meeting for public input for Sept 12th, when many faculty and students are out of town. More documents here, including many public comments submitted in advance.
http://pdd.eugene-or.gov/LandUse/SearchApplicationDocuments?file=CU-18-0001