This previous post explains that in March Coltrane told Clevenger to review expenditures, report back, and freeze hiring in the meantime.
Apparently UO is so short on strategic communicators that VP Tim Clevenger has spent $356,014 on help, just at Gallatin Public Affairs. What's it buying, other than Oregonian editorials about UO's "bumbling" leadership? Let's ask him:
On ThursdayApr 30, 2015, at 8:15 AM, Bill Harbaugh <[email protected]> wrote:
Hi Tim – I put up a post with the GPA invoices, at https://uomatters.com/2015/04/coltrane-dumps-another-200k-on-administrative-bloat.html I'd appreciate it if you can send me some documentation on what they have been doing to earn this money.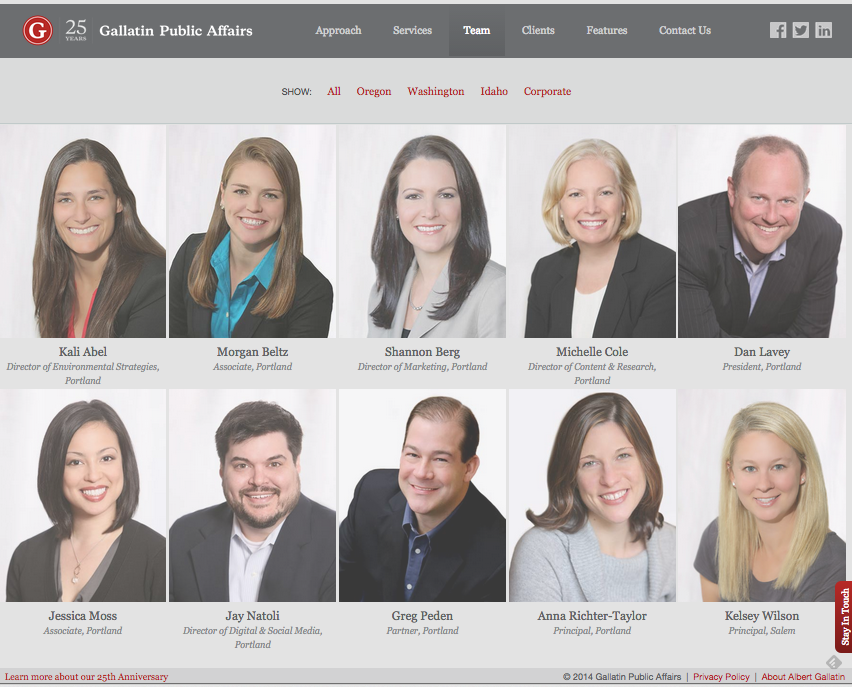 Some of it looks like efforts to deal with the bad publicity from HLGR's negotiation's with the faculty and student unions, but most of the invoices have no details whatsoever – just the billable totals.
Here's one monthly payment, totals below, full doc dump here. It only took 5 weeks to get these from Dave Hubin's public records office. I'm still waiting for documents describing what these people actually did to earn this money. No wonder Jamie Moffitt's well is dry: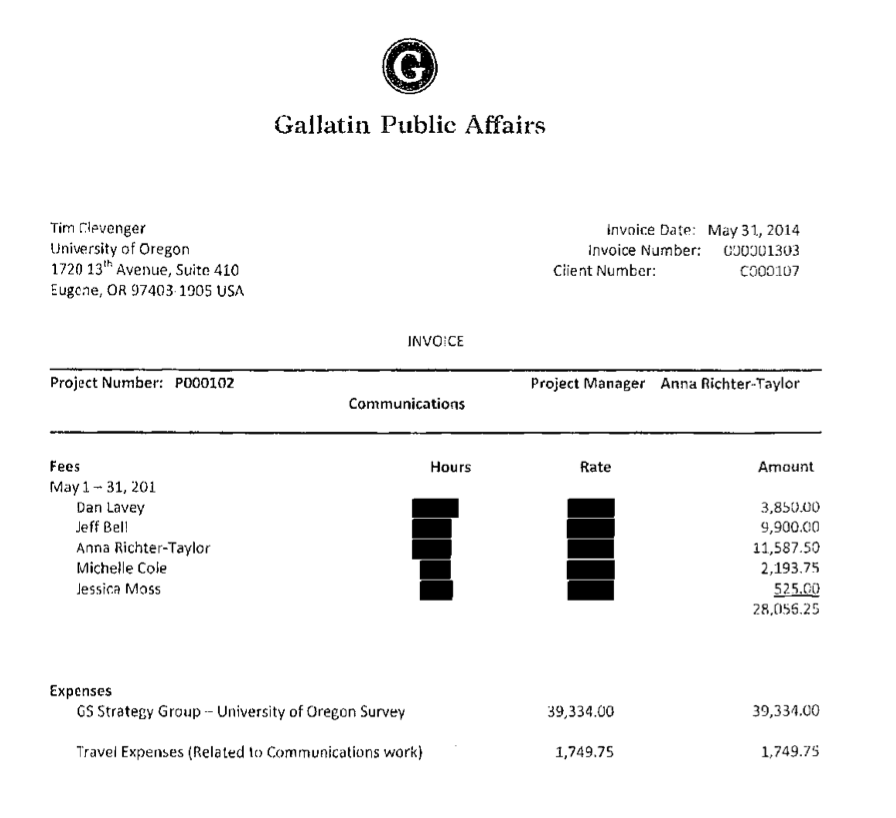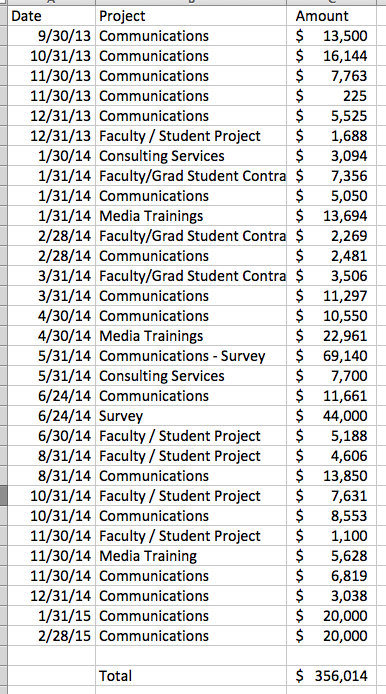 4/27/2015: Coltrane and Angela Wilhems dump another $200K + on administrative bloat
The going rates in the AAU for new assistant professors, for Fall 2013:
Math: $83,000
Human Physiology: $72,300
English: $62,800
Chemistry:$80,200
Economics $120,800
International Studies: $72,500
Business administration: $156,000
Journalism: $57,200
Special Education: $75,000
But why would the UO administration hire more troublesome faculty, when they can spend the money on an Associate Vice President for Public Affairs instead, and task them with the job of making the UO administration look good? A mission so impossible that you know it's got to pay well. Add in support staff and the latest admin bloat is going to cost UO 2 to 3 faculty lines:
Title: Associate Vice President for Public Affairs Communication
Department: University Advancement
Reports To: Vice President for University Advancement
Term: 1.0 FTE for 12 months (renewable annually)
Salary Range: $150,000 – $200,000
Review Date: Search will remain open until filled. To ensure consideration, please submit application materials by May 26, 2015
Start Date: As soon as possible
General Responsibilities:
The University of Oregon seeks applications for the Associate Vice President (AVP) for Public Affairs Communication. The Office of Public Affairs Communications includes media relations, digital communications, internal communications, emergency communications, and counsel to university constituencies, including the Office of the President.
Reporting to the Vice President for University Advancement, the AVP serves as the chief communications officer of the university and will lead and manage internal and external communications strategy and execution. The AVP will provide strategic vision and leadership in the creation and implementation of communications initiatives, including fostering relationships with media, community leaders, external organizations, students, and other campus constituencies. This position will serve as a member of the President's leadership team and will work closely with the President, the President's Chief of Staff, the University Secretary, and the Associate Vice President for Marketing and Brand Management among other senior leadership on campus. …