10/13/2015: That's the latest from the faculty club – no more money down this hole. It's nice how even the rumors are more optimistic at UO these days.
But don't forget how much effort it took to end this, if it's really ended: public records requests, a petition to the DA after UO's General Counsel told the PRO office to stonewall, then a full blown five story investigative report from RG reporter Diane Dietz, and a lot of UO donors asking "What the F" is our university wasting money on now?
9/16/2015: New VP Kyle Henley drops in on 160over90, asks how Clevenger blew $5M
That's the rumor from the SOJC profs watching Mad Men reruns down at the faculty club tonight. Meanwhile VP for branding Tim Clevenger has been moved out of JH, to a suite far, far away from campus. We're still paying him $209.625 a year though. Fire Clevenger and UO could hire, say, 2 new Human Physiology profs, with money left over for startup. Or give 15 full-ride scholarships to Oregon National Merit Scholars, including dorms and meals.
So which is it gonna be, Mr. Henley?
Here's hoping our new general counsel Kevin Reed can also find a way out of the 160over90 contract, which UO's misnamed Public Records Office is still hiding from the public.
Meanwhile Mike Schill is off to the Pendleton Roundup, to see how branding is really done. Keep the iron hot and make your mark, Mr. President:
8/26/2015: Tim Clevenger to get the boot for 160over90 branding mess?
The rumor from a generally well-informed source down at the faculty club is that I'm not the first person who's heard of Google Trends, and that Clevenger's branding campaign is failing on other metrics as well. Meanwhile hits to the Crap-Free UO Homepage (TM) are way up.
8/19/2015: Tim Clevenger's $5M 160over90 branding campaign fails Google buzz test

A few years ago the UO Economics department invited Google's Chief Economist Hal Varian out to give a talk to our undergrads. Among the topics was Google Trends, which lets you compare how often people search for different search phrases across time. Very interesting, the slides are here.
Try it here. Here's what you get if you compare the frequency of searches for "university of oregon application" with searches for a few of our competitors in the market for undergrad students. Blue for Colorado, red for Arizona, yellow for Oregon State, Green for UO, and purple for last year's BCS champions Ohio State: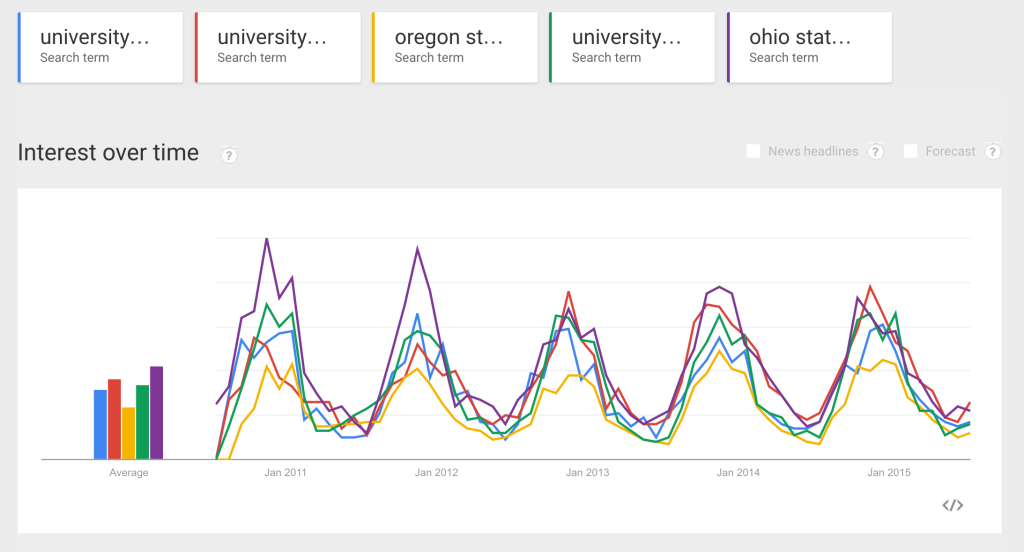 If there's any impact from the rollout of UO's $5M "What the If?" branding campaign, which started in March 2015, it would take a pretty creative econometrician to make the t-stat significant.
Oh well, there goes that $5M. Here's hoping our donors will cut off UO's $207K-a-year AVP for branding Tim Clevenger and $5M 160over90, and redirect those generous gifts towards, say, teaching and research.
Also no apparent effect from football. The Ducks win, the Beavers lose, it really doesn't matter.
For more on UO's branding and how hard UO tried to hide the public records showing how much we spent on it, check out Diane Dietz's stories in the RG, links here.
And in response to comments here's the last year of weekly data – noisier, and some spikes that may well be from football, but I still don't see the branding buzz: