Updated with a letter in the ODE from a variety of student groups raising questions about the administration's seriousness in consulting them about the tuition increases, here:
University of Oregon campus community,
On Jan. 4, a new term began for most students at the UO, and with that began another round of weekly talks about tuition with the Tuition & Fees Advisory Board. This board is comprised primarily of administrators and faculty, with two students appointed by students and two students appointed by the administration. At the start of the term, guaranteed tuition was off the table for 2016-2017, and administrators presented an increase of 4.7 percent for in-state students and 4.46 percent for out-of-state students. Over the course of the year, if a student were to take an average of 15 credits per term — the required amount for graduation in four years — than this would amount to an increase of about $484 for in-state students and $1,428 for out-of state students per year. Factor in the duration of loan payment and interest rates, and students will be paying this increase back for many years to come.
The student representatives, including the ASUO President Helena Schlegel, opposed this increase and looked forward to negotiating ways to adjust the budget in order to reduce the proposed tuition and fee increases. During the week of Jan. 25, the student participants left the meeting a few minutes early in order to make it to class. The rest of the group came to a consensus about the 4.7 percent increase after the student representatives left.
Both student-nominated representatives were informed on Monday, Feb. 1 that this decision had been made, as well as that all remaining TFAB meetings for the year would be canceled as they were no longer deemed necessary. …
2/7/2016: In response to popular demand I'm posting some info about the tuition increase debate.
The feds make UO post this cost of attendance information: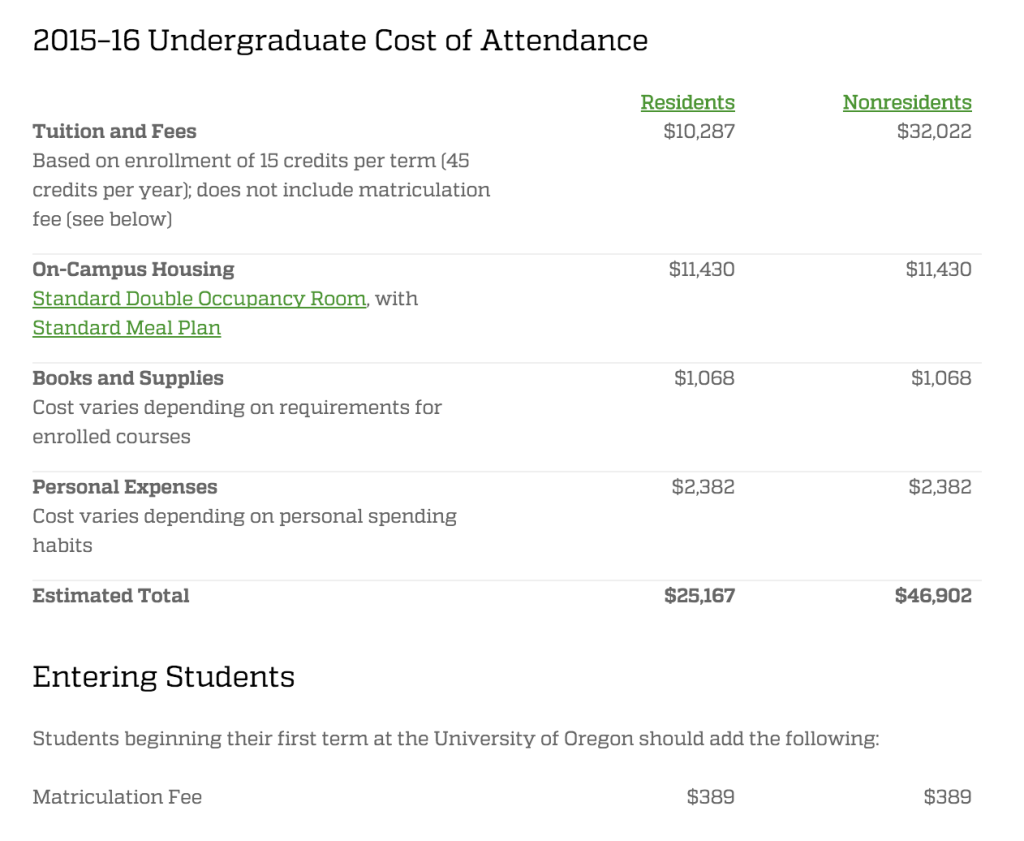 But these numbers ignore the biggest component of college costs: the wages students give up by not working. Even for the lowest earning group of college majors – Humanities – the median starting salary was $36,237 last year, according to the NACE:

So when a student takes 5 instead of 4 years to graduate, it costs them more than would a 100% increase in UO's out-of-state tuition, or a 300% increase in in-state tuition.
This is the argument Mike Schill made to the Eugene City Club on Friday: let's make UO cheaper by getting students graduated more quickly, rather than fighting over a 4.7% tuition increase. KVAL has video, here: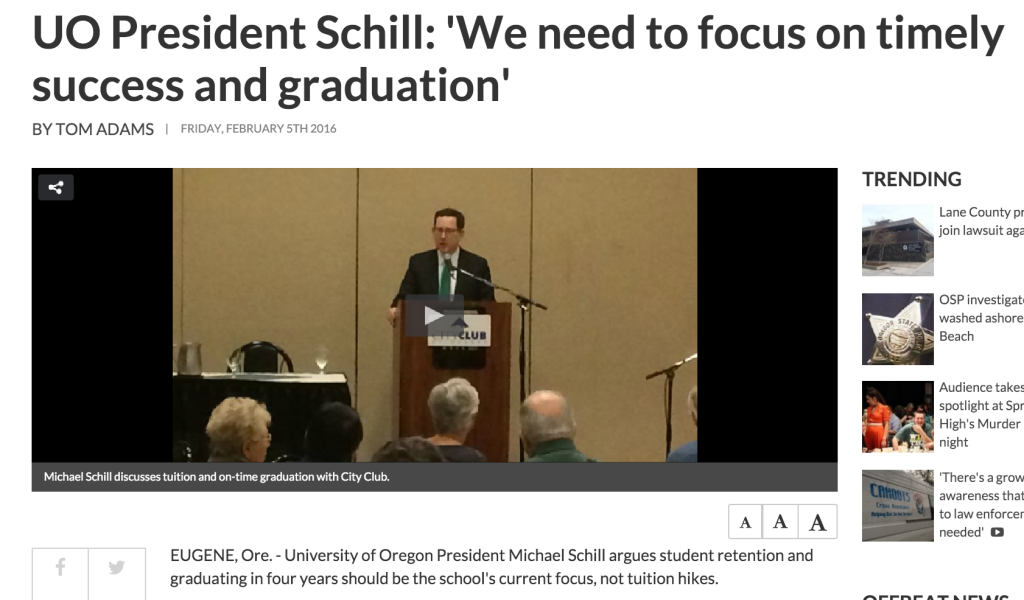 Last year UO's students shut down the Trustees meeting with a demonstration over tuition increases. Lillis and Coltrane looked like deer in the headlights. But this year we've got a President who is talking sense.
Will the students listen, or demonstrate and shut down the March 3-4 Trustee's meeting too? Here's the Daily Emerald's report, more here. It turns out our students are talking sense too:
Schlegel demanded "The Three Asks," including a 3.5 percent tuition increase for both resident and non-resident students, University's support for the corporate tax measure and funding for the Oregon Opportunity Grant.
The "corporate tax measure" is the Better Oregon ballot initiative for a 2.5% tax on corporate sales, which would apparently increase state tax revenue by 25%. The legislature is considering a watered down version, which would still lead to significant increases in state revenue and the likelihood of more state higher education funding.
So surely this legislation is a priority for the UO Board of Trustees? Nope, not even on their list. The only tax increase that UO's Board of Trustees want is a 1 percentage point increase in the hotel tax, to subsidize a track meet:

So it should be an interesting Board meeting.