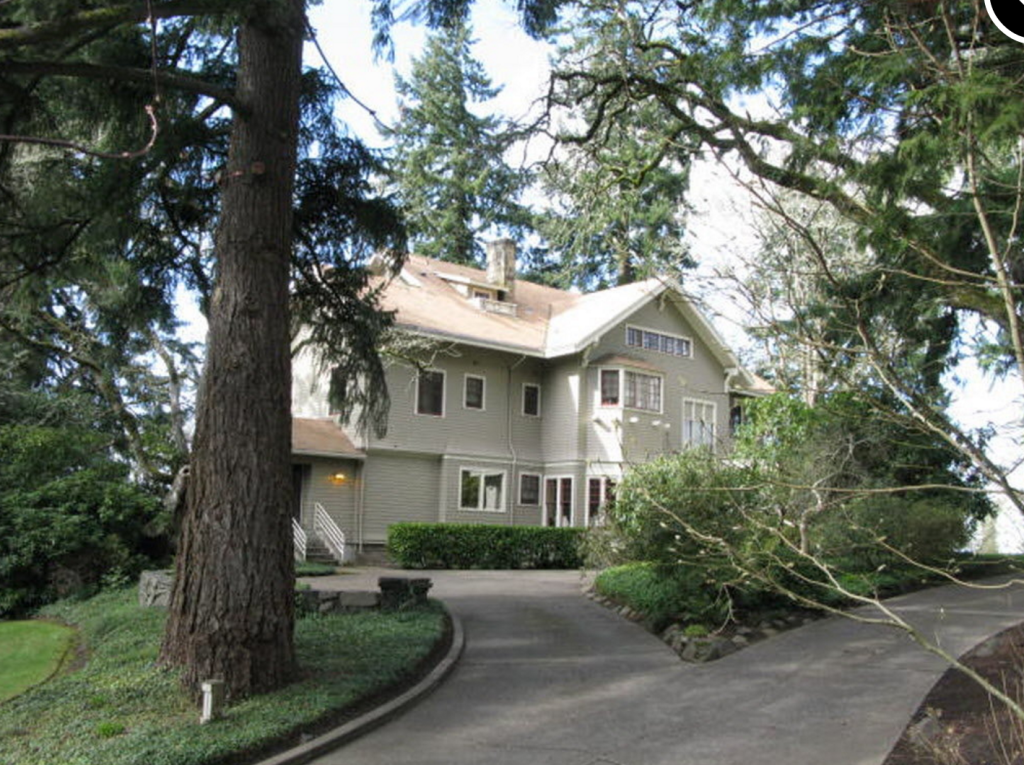 The history of the Treetops mansion at 2237 Spring Blvd is fascinating. It was built for Alton Hampton (Hampton Brothers Department Store) and his wife Maude. It was announced as a project in 1907 and work began in 1908 by Archie Terrell and Lawrence Hunter, prominent local builders. At 8,000 sq feet plus 2,000 sq ft of porches, it is still one of the largest houses in Lane County, and the state.
It was later bought by Campbell Church, whose money came from the Alaskan gold rush. In the 1920's Church and his son were pioneers in the Alaskan luxury tourist trade with the yacht MV Westward. They marketed the Inside Passage and fishing and hunting trips to easterners and movie stars. The Westward is still in operation – though I'm guessing they no longer let passengers use the harpoon on whales:
Church also had an interesting connection to the Pioneer Father and Pioneer Mother sculptures to the north and south of Johnson Hall. These were done by Alexander Proctor in the 1920's. Proctor was a Colorado mountain-man who sold his homestead to go back east and study art. He worked with Augustus Saint Gaudens and Daniel Chester French, and then became famous in his own right, for the tigers at Princeton, and many equestrian ones, including President Teddy Roosevelt (In Portland and Sagamore Hill).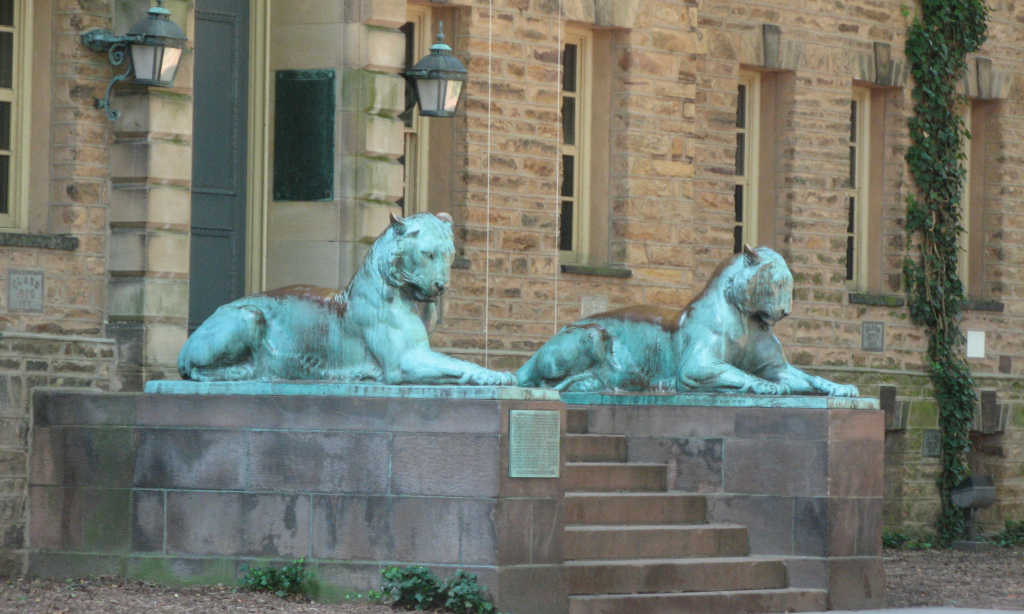 Church made only one confederate monument, of the notorious traitor and white supremacist Robert E. Lee. Proctor's sculpture of Lee was unique in that it included an anonymous confederate soldier on horseback, presumably representing the millions of "useful idiots" who were, and still often are, duped by the rich and powerful to fight against their own economic self-interest and basic human decency to help in the oppression of others. I'm no expert on Diversity, Power, and Agency, but Karl Marx sure got that part right. As of 2017, it was all removed from it's prominent location in a Dallas Park and is now in storage in a warehouse somewhere outside Dallas. Sic Semper Tyrannis.
In 2014 the Met had an exhibition on Western American bronzes, which includes a fascinating interview with Proctor's grandson, Sandy Church:
Sandy Church: Yes, Granddad was a great hunter and outdoorsman. He hunted in conjunction with his art, and if he killed a deer, an elk, or a moose, he would dissect the animal to better understand its anatomy and muscle structure. When he was working on Stalking Panther (1891–93) while living in Paris, he adopted a stray alley cat and brought it back to his studio to study the musculature of the cat in motion in order to improve upon his plaster. He ended up keeping the cat and took care of it for years. When he finished Stalking Panther, he put the bronze on the living room floor and he described the cat coming around the corner, seeing the sculpture, jumping up in the air and then running away in fear. It was a successful work!
More on Proctor here: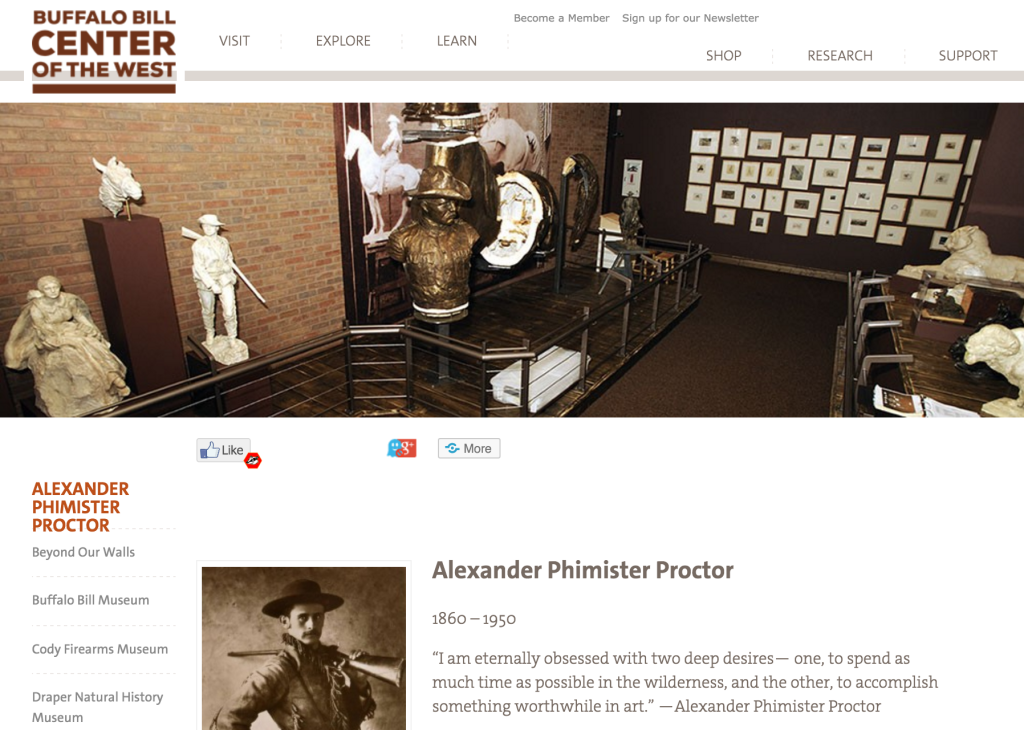 (In the interest of full disclosure, I have to report that when I worked in the Wyoming oil fields our crew boss thought we needed some culture, so he arranged a special tour of the Cody museum for us. They opened the place up on a winter Sunday, just for 30 seismic roughnecks. This was before they had the Proctor work, but the curator showed us all sorts of other things, from Remington sculptures to rifles, Thomas Moran paintings and George Catlin sketches, and of course Charlie Russell, who was everyone's favorite. I was about 20, this was the year after I left Columbia University to spend some time out west. I don't remember that boss's name but god bless him, and I sure remember standing around a Russell painting with a bunch of high school dropout guys who would scare the shit out of you in a bar, and half of whom had done at least a little time, and talking about art and being embarrassed they got it more than I did.)
Anyway, when Proctor came to Eugene to work on the Pioneer Mother and Father he brought his family. Church's son and Proctor's daughter were soon married: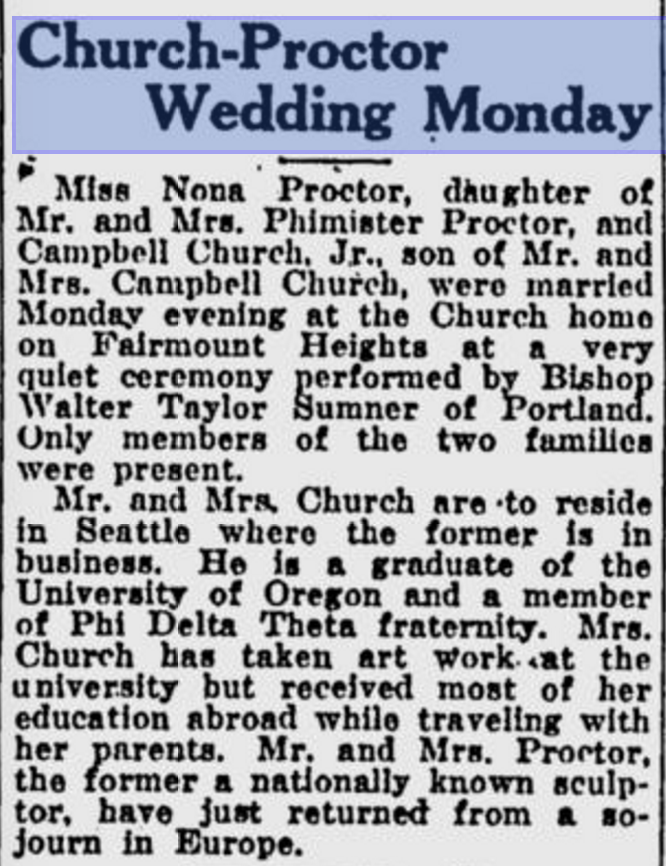 When Church's wife died, he moved to California to be with his daughter. Before he left, Irene Hazard Gerlinger, the first woman member of the UO Board of Regents convinced him to give Treetops to UO. The state had recently decided to consolidate the independent university boards into what became OUS.
Ms Gerlinger was a formidable UO supporter, and she wanted to make sure the state board and its new Chancellor would be in Eugene and under UO's control. So she had Church make the gift conditional on the Chancellor (or UO president) living in the house – otherwise it would go back to the heirs. As the remarkably prescient Ms Gerlinger wrote, "politically appointed boards do strange things".
Her plan worked for 65 years. Then, in 2003, Oregon Governor Ted Kulongoski appointed Neil Goldschmidt as chair of the OUS Board. Goldschmidt was a former Portland mayor, US Secretary of Transportation and Oregon Governor, who mysteriously dropped out of his 1990 re-election campaign to retire to southern France.
Kulongoski brought back Goldschmidt, to fix Oregon higher education. As OUS board chair, Goldschmidt then brought in George Pernsteiner as Interim Chancellor.
Soon after that Nigel Jaquiss of Willamette Week broke the story about Goldschmidt's statutory rape of the 13-year-old daughter of a political friend, starting in the 1970's.  Or, as Goldschmidt preferred to call it, "an affair". Goldschmidt kept it going while the girl was a UO Honors College student. She later committed suicide.
This story had apparently been long rumored in Oregon's political circles, but had been kept hidden from the public. It may have been used by 1990 Republican gubernatorial candidate Dave Frohnmayer to get Goldschmidt to drop out of his 1990 re-election campaign. (Frohnmayer then lost to a third party candidate.) Oregon legislator Vicki Walker had known about the "affair" and had kept quiet along with everyone else, but she couldn't stomach seeing Goldschmidt with an education job, and so she went to Jaquiss, who got a Pulitzer prize for the story.
In the resulting chaos, Pernsteiner got the job as permanent chancellor, without a search. The RG called him "the non-chancellor". Because of the Campbell Church gift letter, Pernsteiner had to pretend that he lived at Treetops, even though OUS was paying him a $25K housing allowance for his own house in Portland. This led to some dubious statements from Bill Gary of Harrang, Long, etc, about Pernsteiner's plans to return to Treetops, someday:
…
 …
Meanwhile Pernsteiner's kids and their friends lived in the mansion while they were college students at UO. Why not – the state paid for their maid service.
Alas, Pernsteiner's dream of returning to Treetops didn't work out. After firing UO President Lariviere, and getting fired himself in turn, he went a little wild, accusing the Lane County Voter's Registrar of "a specious challenge to my citizenship" for doubting his right to vote in Lane County just because he really lived in Portland (and owned another house in Gearhart):
But that's all water under the bridge. UO is now back to where we were in 1929, with our own independent Board. Ms Gerlinger would be very, very happy.
So, what to do about TreeTops? We've no longer got a state system or a chancellor, and we've got another house for the UO president at McMorran House. And, judging from the Oregon DOJ docs from 1980, when the heirs sued to get the house back, it needs a little work: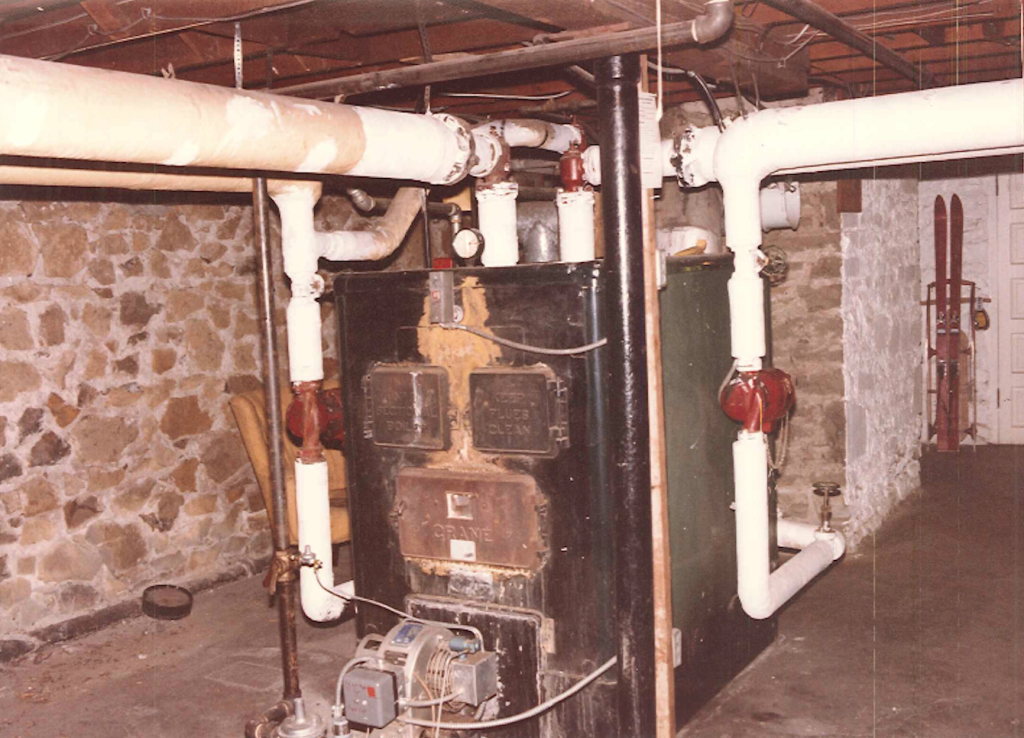 And now that Paul Weinhold's UO Foundation has the title back from OUS, the City of Eugene wants them to start paying taxes: