The Senate will vote on this proposal on Wednesday – but where's the $20M?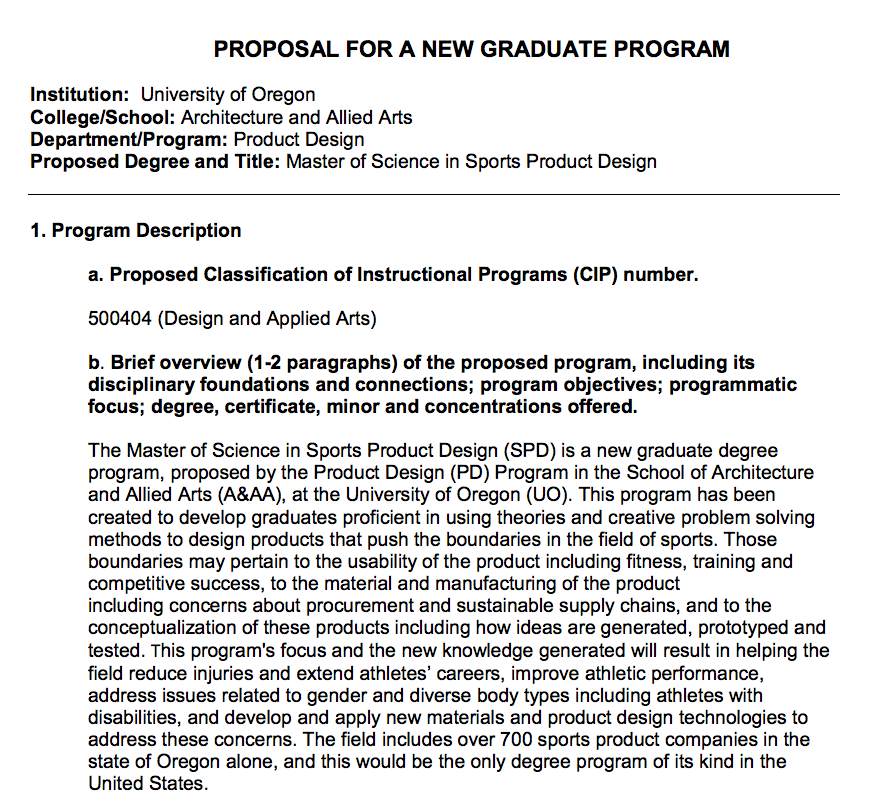 The project has a long history. Here's Diane Dietz in the RG, August 2014:
The University of Oregon wants to embrace its inner shoe designer and forge a strong link with Portland area sports products companies, including Nike Inc.
In the works are two new sports-centric master's degrees — one in product design and another in the management of product design teams — and a new, UO design laboratory under Portland's Burnside Bridge.
To animate the programs, the UO business and architecture schools are proposing a "cluster hire" of four professors: two in product design, one in marketing strategy and retailing, and one in product development management.
It sprung from Jim Bean's "spires of excellence" vision:
"There are different measures of excellence in the academic side and in the athletic side, but there are also commonalities of how you progress from mediocrity to spires of excellence to a culture of excellence."
The plan hinges on raising about $20 million from donors. The plan's advocates expressed little doubt that they could raise the money.
The cluster of professors would play to the Portland area concentration of athletic and outdoor firms, said Jim Bean, senior associate dean for academic programs at the Lundquist College of Business.
In November 2014, after Board of Trustees chair Chuck Lillis gave a speech in support, the Senate passed the proposal for the sister Sports Product Management program, and sent it to the UO Board. Diane Dietz covered this in the RG as well. One concern from the business school mentioned in the RG story was "sucking off resources that would be going to Portland", and there certainly has been some:
New Tenure Related Faculty Position: Sports Product Management
AAA and LCB jointly submit a strategic initiative in Sports Products that seeks to educate product designers and design process managers for the state's largest, homegrown, alpha-cluster of companies, and to conduct research critical to their continued success. This collaboration addresses an academic opportunity, to launch a program which enables two critical components that Oregon owns: one is that of connecting design and hands-on learning with strategic management practices; two propels a model of embodied learning, where action art/athletics/physical health/sports are a rich part of an intellectual and learning continuum.
School of Architecture and Allied Arts/ Lundquist College of Business
$140K recurring , $450K start up
Coltrane's process prompted an angry letter from many UO department heads. But back to the money. If you count Jim Bean's well remunerated efforts, UO has spent more than $1M on startup for these programs. To house them (and others) the UO Foundation recently announced it was spending $43 million to buy the White Stag building in Portland, and apparently the SPD program will require even more Portland space. The budget that was sent to the Senate glosses over all this: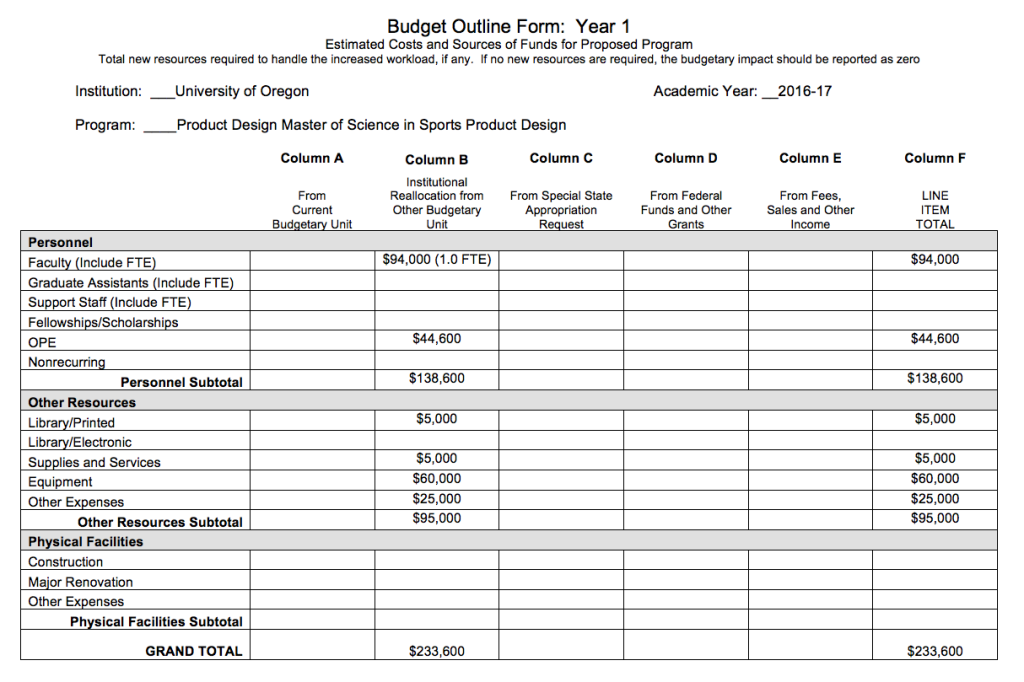 So here's hoping we'll get more than "trust us" from the administration before we vote on it.