5/21/2015: Bargaining XII
Live blogging will be light, so check the UAUO facebook blog here.
They're on parking. Check out this classic Daily Emerald story on how UO parking fees from faculty, staff, and students subsidized the Matt Court underground parking garage, here. Then there's the athlete only parking lot Phil Knight made UO build as part of the Jock Box "gift". More here, here, ad infinitum.
Now it's Ethics and Professional Responsibility, Article 36. This was one of Sharon Rudnick and Tim Gleason's favorite articles last time around. They wanted a loose definition of harassment, which would allow the administration to discipline faculty at their discretion. Cecil and Mauer insisted on using the standard definition of "illegal harassment". Now Bill Brady and the admin team are trying to bring back the looser definition. What would count? Incivility – as defined by whom? Inappropriate sighing during faculty meetings? Don't go after me for being ironic, it's happened:
[Professor of English] Thomas Docherty was banned from the University of Warwick in January for allegedly giving off "negative vibes" and undermining the authority of the former head of his department.
The case against him included "inappropriate sighing", "making ironic comments" and "projecting negative body language".
In other news, the administration will make a response to the union's raise proposal at next Thursday's session. Be there.
5/14/2015: Bargaining XI: The admins have been telling President Schill that the *union* opposes merit pay?
Cocktail party version:
The faculty union's initial proposal for 2015-17 pay included 6% for merit. The administration's bargaining team response was 1%. And yet yesterday President Schill told the Senate that his understanding was that faculty union was opposed to merit pay. I wonder which administrator spun it that way?
Today the union came back with a proposal for 3% for merit. I wonder what the the admins new spin will be.
Overall, including ATB and equity, the union proposal is 5% for 2016 and 5% for 2017. Details at bottom.
5/14/2015: Bargaining in the Knight library collaboration room, 2-6PM Thursday. Check Luebke's blog too.
Live-blog of the faculty union's initial salary proposal from Feb is here,  It would have got faculty pay to the Lariviere target of the average AAU-public – with plenty of allowance for merit variation.
Our administration's response was "sorry, we spent all that money on administrators":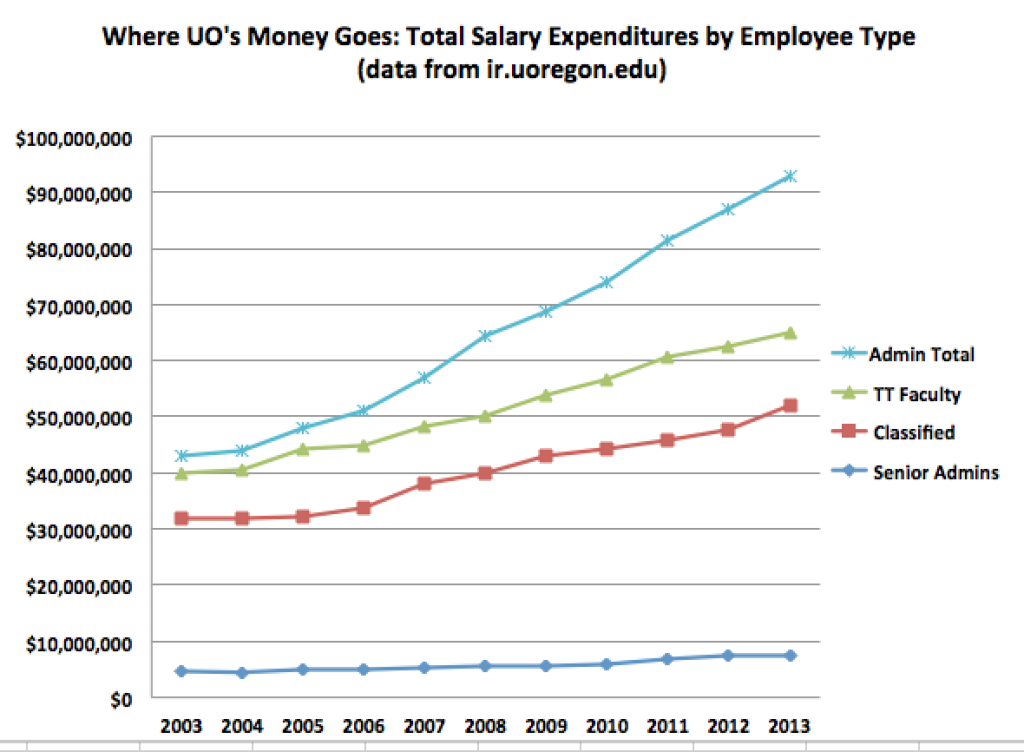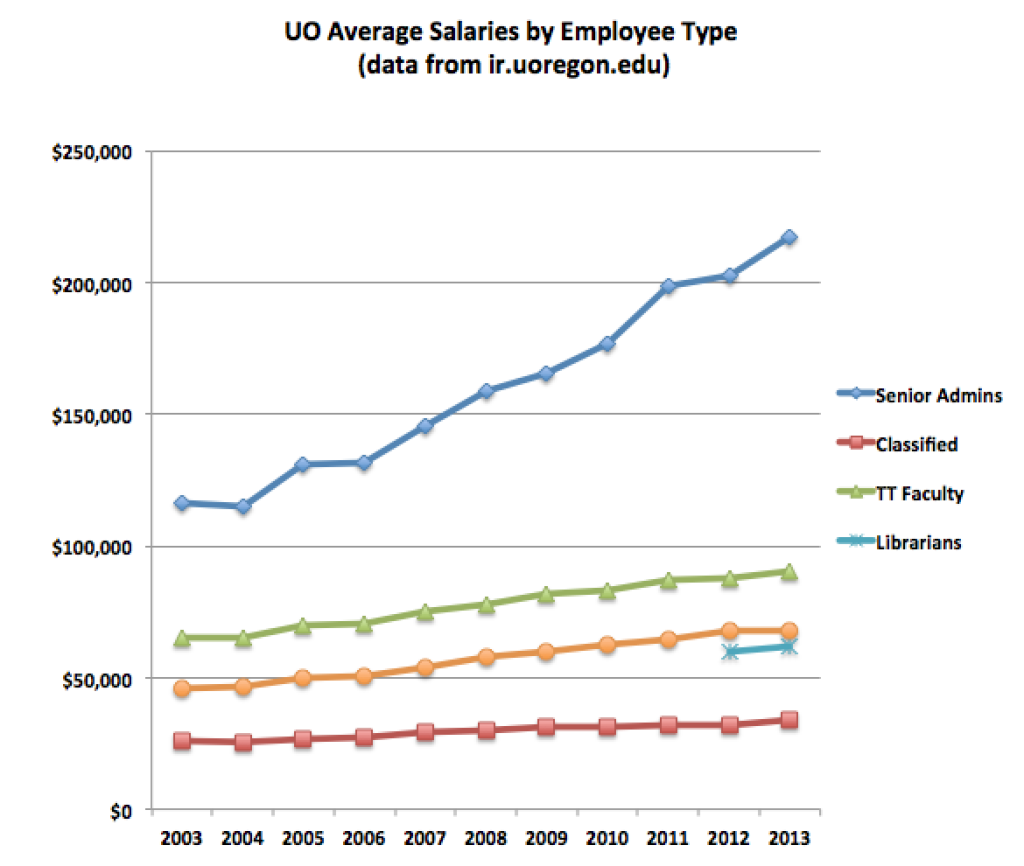 The pdf of the union's February proposal is here. The NTTF and TTF proposals were similar, I'll focus on the TTF:
July 2015:
2.5% ATB
2.0% Merit
1.0% Internal equity pool for each department
1.5% External equity pool, to be allocated across rank and dept. based on AAU public averages. No external equity raise from this pool to exceed 5%.
July 2016:
2.5% ATB
4.0% Merit
As you can see, the union put a substantial weight on merit. The largest weight. Over the two years, 6% for merit, 2.5% for equity, and 5% for across the board.
Based on his Senate comments yesterday, someone on the administration's bargaining team seems to have drastically misinformed incoming President Michael Schill about the union's objectives. He'd apparently been told it was the union that was opposed to merit. No.
On April 10th, the administration's bargainers came back with a counter-proposal. It would eliminate all but 1% of the union's proposed merit increases, and delay even that 1% until the last 6 months of the contract. PDF here: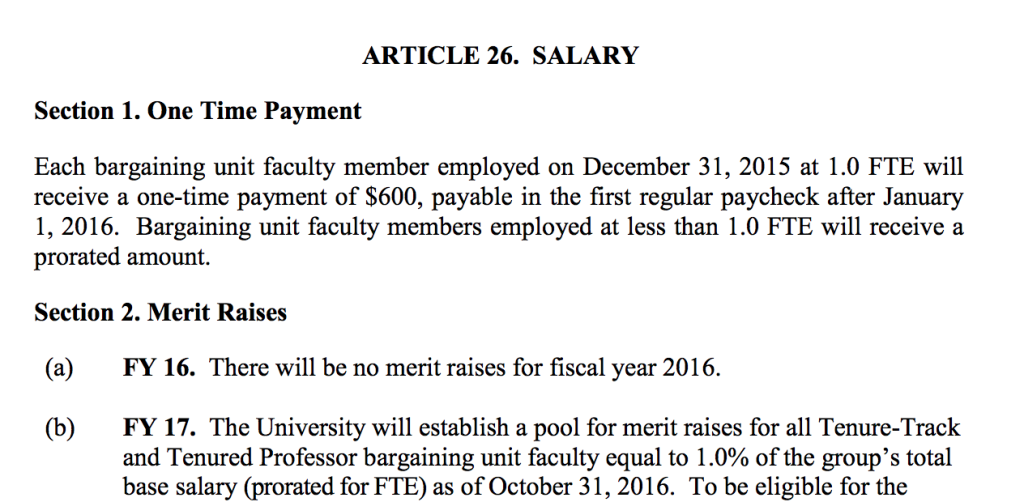 The administration also eliminated the ATB, and all the equity pool, replacing it with a onetime flat $600. What does that reveal about the administration's supposed focus on merit?
On equity, the union's proposal in February was focused on getting faculty to the AAU peer objective laid out by Richard Lariviere and Jim Bean, years ago. Here's the TTF language: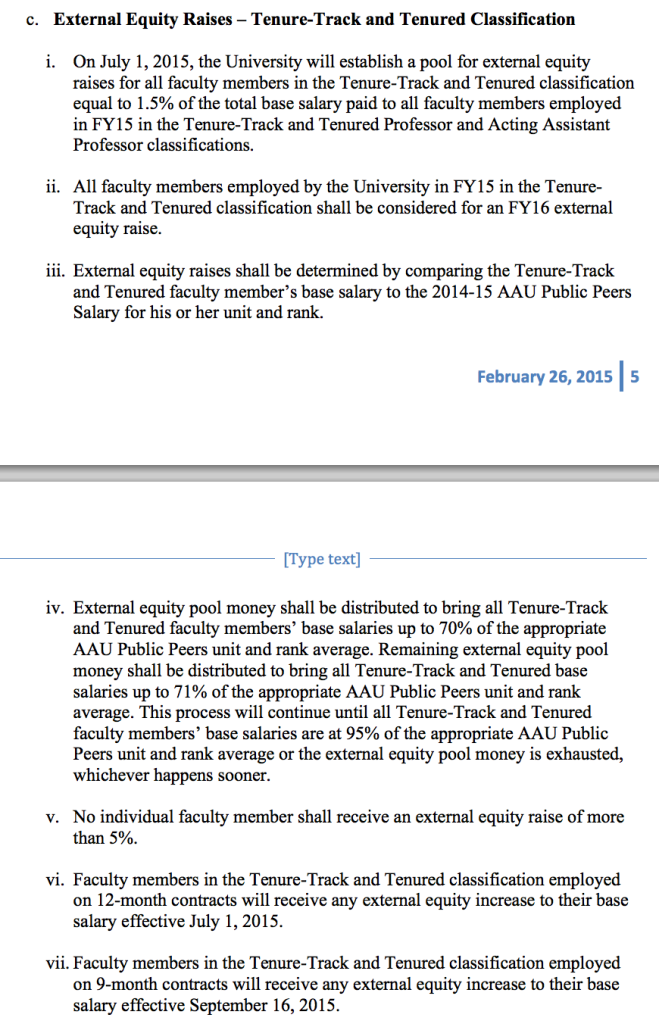 2:35 PM today. Cecil presents the union response to the administration's 0%/1% counter:
Bill Brady says something odd about theApril 0%/1% not being a counter-proposal. He seems upset. Anyway, here's the union counter to the admin's counter:
Jan 2016:
2.5% ATB
1.5% Merit
1.0% External equity pool, to be allocated across rank and dept. based on AAU public averages. No external equity raise from this pool to exceed 10%.
Jan 2017:
2.5% ATB
1.5% Merit
1.0% Internal equity pool for each department
Cecil does a great great job explaining all this. The UAUO proposal should be on the website here, soon. (It's article 26. It also includes 6 year review raises, floors for NTTF's, etc.)
The admin team leaves for a brief caucus, comes back but with no response. WTF?
I've got to go, bargaining XII will be next Th at 2PM, meanwhile check Luebke's blog.