Lots of interesting budget bucket tidbits in the Federally required EADA report on Duck athletic finances. This was one of their smaller expenditures:

I assume that mostly went to Mark Helfrich, who was fired in Fall 2016 after getting a fat contract from Chuck Lillis and our Board of Trustees the previous year, on the enthusiastic endorsement of AD Rob Mullens and Scott Coltrane, and without any signs of due diligence from our Board of Trustees or their Chair Chuck Lillis. I forget next coach's name, but he didn't last long either. The new coach (Cristobal?) has even bigger severance guarantees. President Schill's new contract also includes some pretty expensive ones.
From a previous post:
In February [2015] the UO Board of Trustees gave big raises to Duck AD Rob Mullens and football coach Mark Helfrich, after a second place finish in last year's championship. Board Secretary Angela Wilhelms kept the purpose of the meeting secret until the last minute, and even left the contracts off the docket of meeting materials. The board approved them with no discussion, after then Interim President Scott Coltrane enthusiastically endorsed the raises: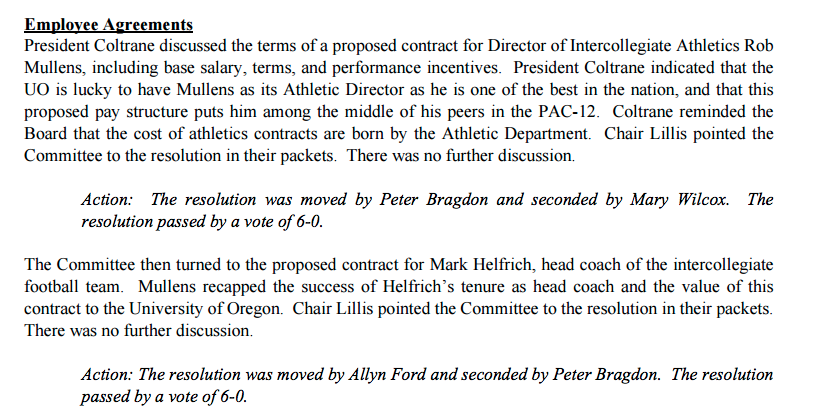 His full porkalicious contract is below the break.