12/6/2014 update: New reports on legal and consulting expenses, here. Some to HLGR for GTFF bargaining, some for the UOPD union, some for things JH really doesn't want to attach an accounting code to:
Legal: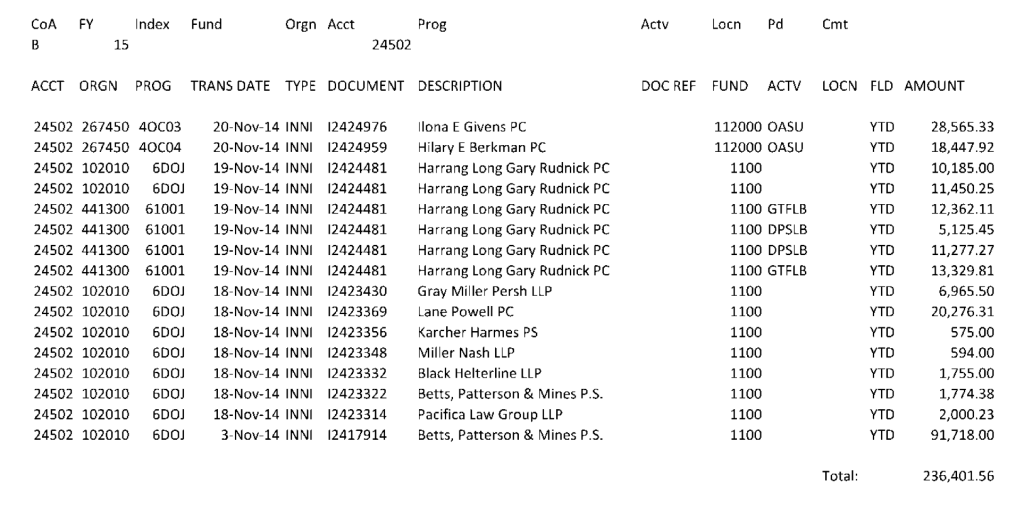 Consulting:
11/6/2014 update: I don't know, I'm crowd-sourcing this one:
In response to questions about the total cost of the hiring HLGR for the GTFF bargaining, here are links to some public records on legal (and consulting) expenses. File dates are approximate and a mix of xls and the badly scanned pdfs Dave Hubin's public records office sends out to make life harder, but I think I've got complete coverage from 2011 to the end of October. If someone wants to put together a spreadsheet for just the GTFF costs please email me a copy and I'll post it.
1/1/2013-9/15/2014 consulting and 6/1/2014-9/18/2014 legal
Sept and October 2014 legal and consulting.
(new) October 2014 legal and consulting.
(link fixed)
Here's a sample of a detailed HLGR invoice from the faculty union bargaining, after redactions by our General Counsel's office:
I've made a PR request for the September 2014 invoices, which should show more about what Rudnick, Matthews, and Grado are doing to justify the astonishingly expensive GTFF bargaining:
Subject: Re: Public Records Request 2015-PRR-092
Date: November 5, 2014 at 4:48:17 PM PST
Cc: doug park
To: Lisa Thornton
Dear Ms Thornton –
Thanks for these accounting reports.
This is a public records request for the six detailed HLGR invoices with transactions dates of 24-Sep-14.
I ask for a fee waiver on the basis of public interest. Because of the timeliness of issues around HLGR's work for UO on GTFF bargaining and other issues, I would appreciate it you could expedite this request.
I'm ccing Doug Park on this request as his office has these documents and can easily make them available.
Thanks,
Bill Harbaugh
UO Prof of Economics
http://harbaugh.org
11/5/2014: Coltrane still letting Frohnmayer's HLGR firm rake in the billable hours
It took another petition to the Lane County DA, but at least Doug Park didn't accuse me of harassment this time. here are the latest HLGR billing numbers. Presumably UO was sitting on these because they didn't want the grad students to know how much Coltrane was willing to pay noted tobacco company lawyer Sharon Rudnick and Jeff Matthews to bargain against them:
Of course some of those invoices are probably for other things, like negotiating Gottfredson's buyout, or perhaps for dealing with the rape allegation cover-up. And here are the consulting payments – looks like Huron is back:

9/26/2014: Has Coltrane fired Sharon Rudnick and Frohnmayer's HLGR law firm?