20 21 22 days and counting for a response from Mr. Henley to this public records request:
Requester: Harbaugh, Bill
Organization:  Private
Initial Request Date: 03/30/2018
Status:  Requesting/Reviewing Records
This is a public records request for copies of any proposals submitted in response to RFQ for Brand Awareness Study – University Communications, University Communications > Digital Communications, Purchasing & Contracting Services PCS #520200-00134-RFQ which closed on Dec 22 2017.
I will post these on the internet at a site frequently visited by journalists and others interested in UO matters, and I ask for a fee waiver on the basis of public interest. I'm ccing VP for Comm Kyle Henley, as he should have these documents readily at hand, and is well compensated for helping UO communicate with the public.
Request ID: 2018-PRR-344
What's this about? Henley needs to show the Board and President Schill that all the money he has spent on branding and communications – money which could have been spent on teaching, research, and scholarships for our students – has increased "brand awareness":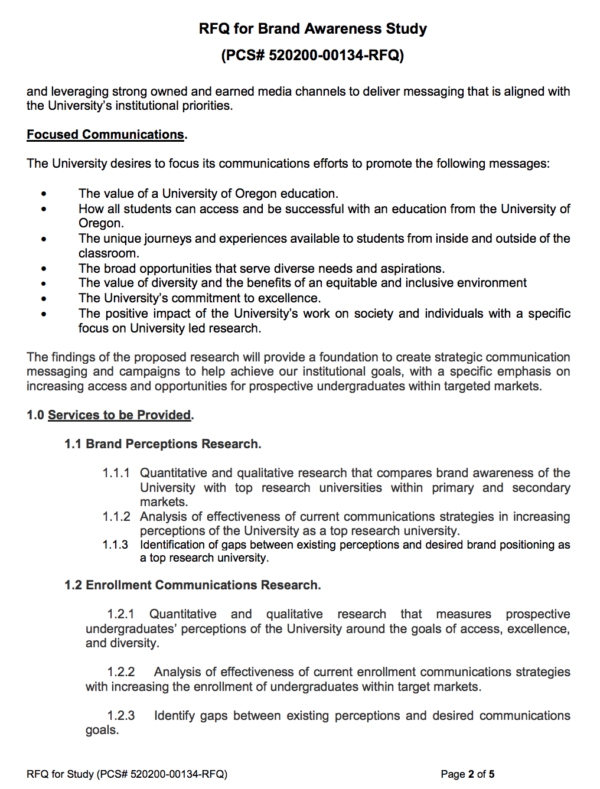 Given UO's falling enrollment numbers and the unremarkable google trends data for UO's brand under Henley's watch, this will be a difficult task. Presumably the winning brand consultants will be well paid for some creative spin that makes this look good: