8/25/2017: While the Ducks are so broke they can't pay for tutoring their student-athletes, they've got no problem paying Southern Utah $500K to show up and lose the football season's opener next weekend. The contract is below.
10/13/2015: It's not really a fair contest. While for years the UO administration has used its Public Records Office and their $300K budget to delay, redact, and charge excessive fees to frustrate the intent of Oregon's public records law, the PRO's at most other universities are in the business of making public records public. Here's the latest example.
Monday morning I emailed identical public records requests to UO and Southern Utah University, asking for copies of the contract for the football body-bag game scheduled for September 2017:
Date: October 12, 2015 at 10:14:21 AM PDT
To: Lisa Thornton <pubrec@uoregon.edu>
Subject: public records request, football game contract with SUU
Dear Ms Thornton –
This is a public records request for a copy of the football game contract between SUU and UO, for the game to be played in the fall of 2017.
A sample of the sort of contract I am looking for is here: https://dl.dropboxusercontent.com/u/971644/uomatters/IAC/Football%20contract%20-%20Georgia%20State%20(Final%20Executed%20Version).pdf
I edit a news and opinion blog about the University of Oregon, and I ask for a fee waiver on the basis of public interest.
I would appreciate it if you could send a pdf copy of this contract to this email address.
Thanks for your assistance
This sort of request typically takes UO a week or two. But SUU responded in less than 24 hours:
From: Jennifer Oberhelman
Date: October 13, 2015 at 9:13:01 AM PDT
To: uomatters@gmail.com
Subject: GRAMA Response
Good morning Mr. Harbaugh,
Attached is the contract between Southern Utah University and University of Oregon for a football game set for 9/2/17 in Eugene, OR requested 10/12 in the form of a GRAMA request.
Please contact me if you have any additional questions.
Thank you.
Jennifer Oberhelman
Exec. Asst. for Administration
"We don't quit playing because we grow old, we grow old because we quit playing."
Not bad, though the record is still the 50 minutes it took Georgia State to provide their contract, and Eastern Washington's General Counsel only took 3 hours.
So Rob Mullens will pay SUU $500K to come to Eugene. Presumably AAD Eric Roedl will get the cash by raising the price he charges ASUO for "free" student tickets  to these body-bag games: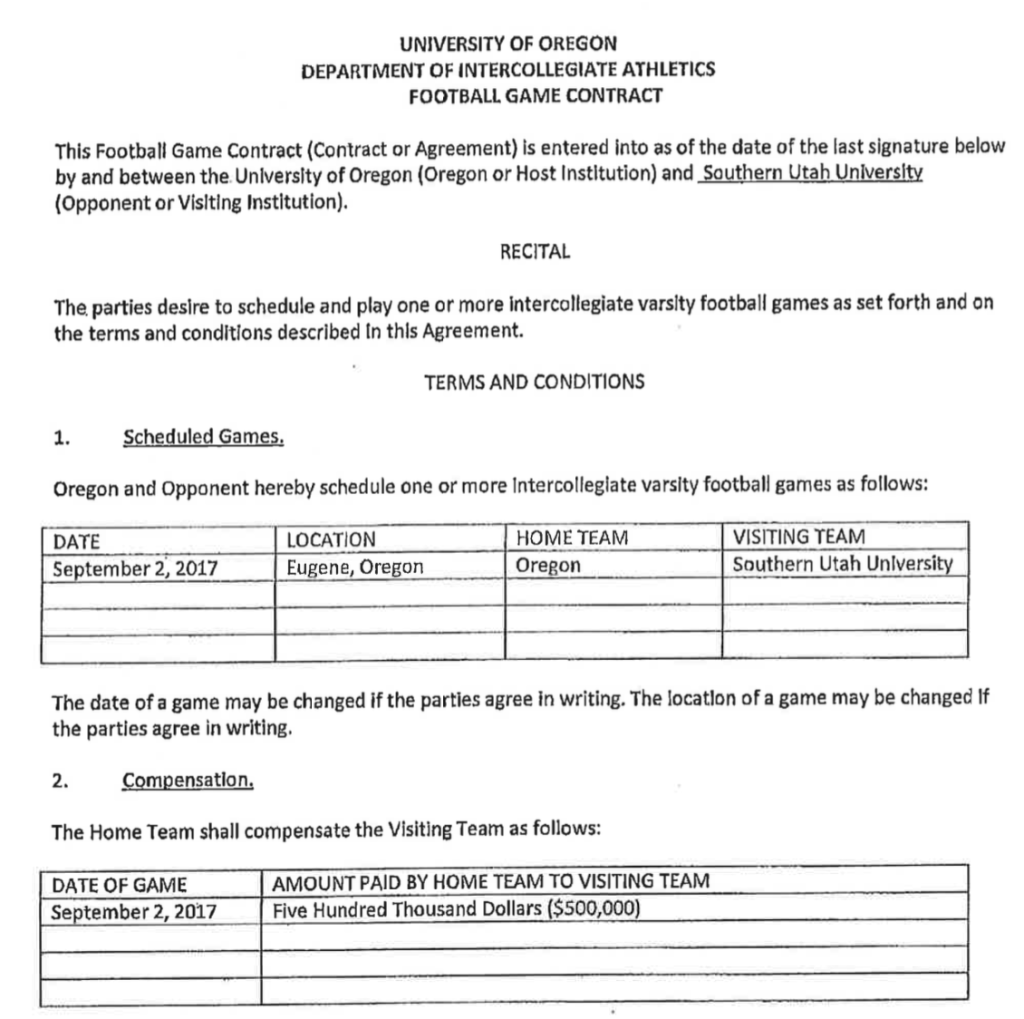 …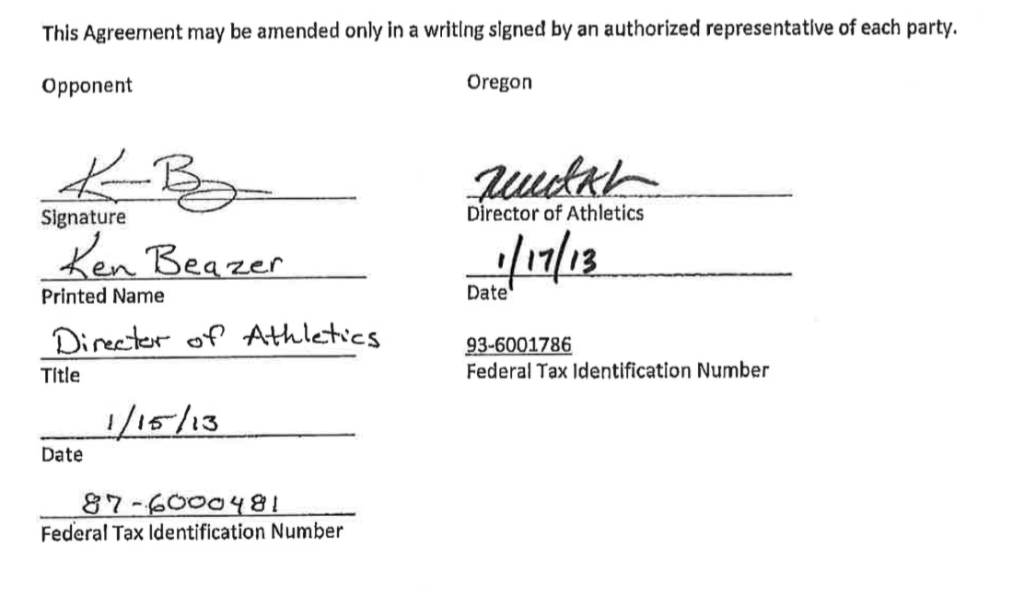 9/14/2015: Georgia State Panthers whip Oregon Ducks in football public records release