Reporter Noah McGraw has the scoop in the Daily Emerald here on the cost so far. Excellent reporting, read it all there, here's a snippet:
… UO also has its own attorney fees. UO was represented by Eugene firm Harrang, Long, Gary and Rudnick. The total of all their approved fees is $394,925.70, according to the Office of the General Counsel. The university's insurance policy has so far paid $281,867 to Harrang, Long, Gary and Rudnick.
UO has an insurance policy that will pay all $1.6 million. The Public Universities Risk Management and Insurance Trust, PURMIT, covers the seven public universities in Oregon.
"The University of Oregon has comprehensive insurance for situations involving University employees, officers and volunteers as well as the buildings, vehicles and other assets," Julie Brown, the Campus Relations Director of Enterprise Risk Management, said. "The insurance program covers everything from earthquake damage to art collections."
The PURMIT website, here, is not exactly a model of transparency regarding the expenditure of millions in public funds. Some minutes are posted, but apparently not all. No meeting materials are available. Budgets? Audits? Spending? Nope. They do have a list of who is responsible though:
Chair Eric Yahnke (WOU); Patrick Hughes (OSU); George Marlton (OIT); Brian Roy (PSU); Vice Chair Lara Moore (EOU); Craig Morris (SOU); Jamie Moffitt (UO)
From what I can figure out PURMIT is a risk-sharing pool for Oregon's seven public universities, with outside reinsurance for losses beyond some threshold.
Which means that it is very likely that the costs of this case, and the Jane Doe lawsuit, and the James Fox settlement, etc., etc., are not being "paid by the insurance company" but instead are being spread out among UO, OSU, PSU, WOU, SOU, EOU, and OIT. Assuming the sharing is in proportion to budgets, this means UO is paying about 1/3 and the Beavers are covering about 1/3.
And this one's not over yet. HLGR lawyer Andrea Coit has just filed a request with the Honorable Judge David O. Carter, asking him to set aside the jury's decision: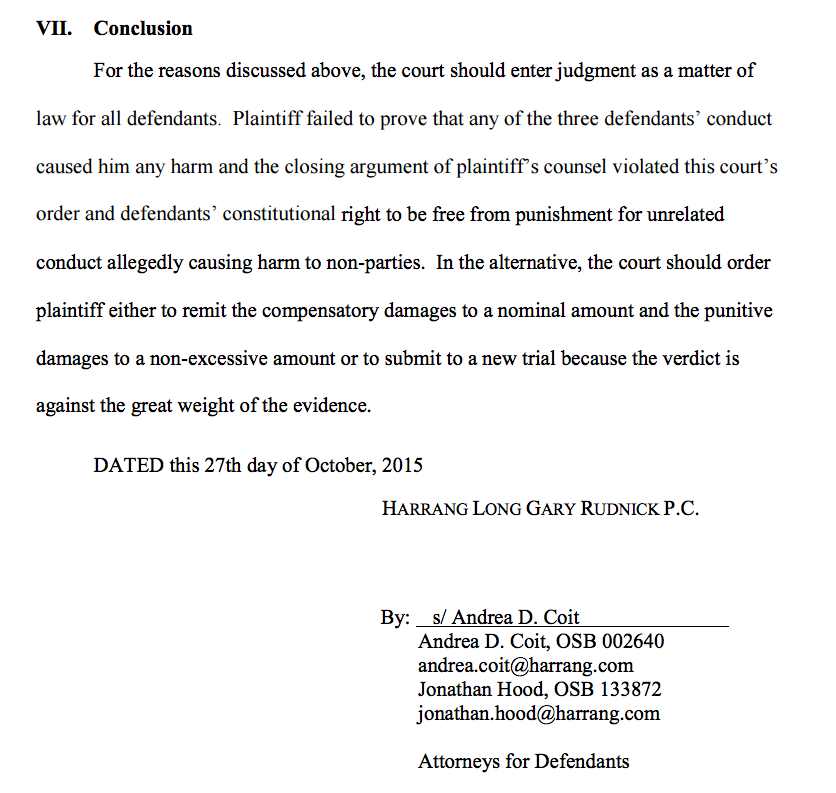 I'm no lawyer, but I'm thinking this is so not going to happen.
The US DOJ spent who knows how much money to bring in an out-of-state judge and run this trial. Not to mention the valuable time of 8 Jurors, for almost 2 weeks. From what I can tell Judge Carter was on top of things every step of the way. Coit agreed to the jury instructions. But she hears the jury's verdict and *then* wants a do-over? That's got to be a high bar.
I guess it's worth a shot when you bill by the hour though. Her full request is here, attachments here, and more on the jury instructions etc. in the (free but incomplete) docket here.
Suck it up, Beavers.